Growing your Etsy store is dependent on several elements. Those are traffic, conversion, and returning customers. Getting all three right is what'll make your store successful.
What's interesting is that getting a review on Etsy will positively impact all three elements.
That's why we're going to explore how you can ask customers for a review on Etsy. Before we start, let's first explore why reviews are so critical.
What is Etsy?

A community doing good
Etsy is a global online marketplace, where people come together to make, sell, buy and collect unique items. We're also a community pushing for positive change for small businesses, people, and the planet. Here are some of the ways we're making a positive impact, together.
Support independent creators
There's no Etsy warehouse – just millions of people selling the things they love. We make the whole process easy, helping you connect directly with makers to find something extraordinary.
Peace of mind
Your privacy is the highest priority of our dedicated team. And if you ever need assistance, we are always ready to step in for support.
Why Etsy Reviews Important
There's a wide range of benefits around having more product reviews. One of the most important ones is customer trust.
Product reviews are the online version of word of mouth marketing. Given that 84% of people trust them as much as a personal recommendation, it's clear how important they are.
The more potential customers trust your store, the higher the conversion rates will be, resulting in higher revenue and profit.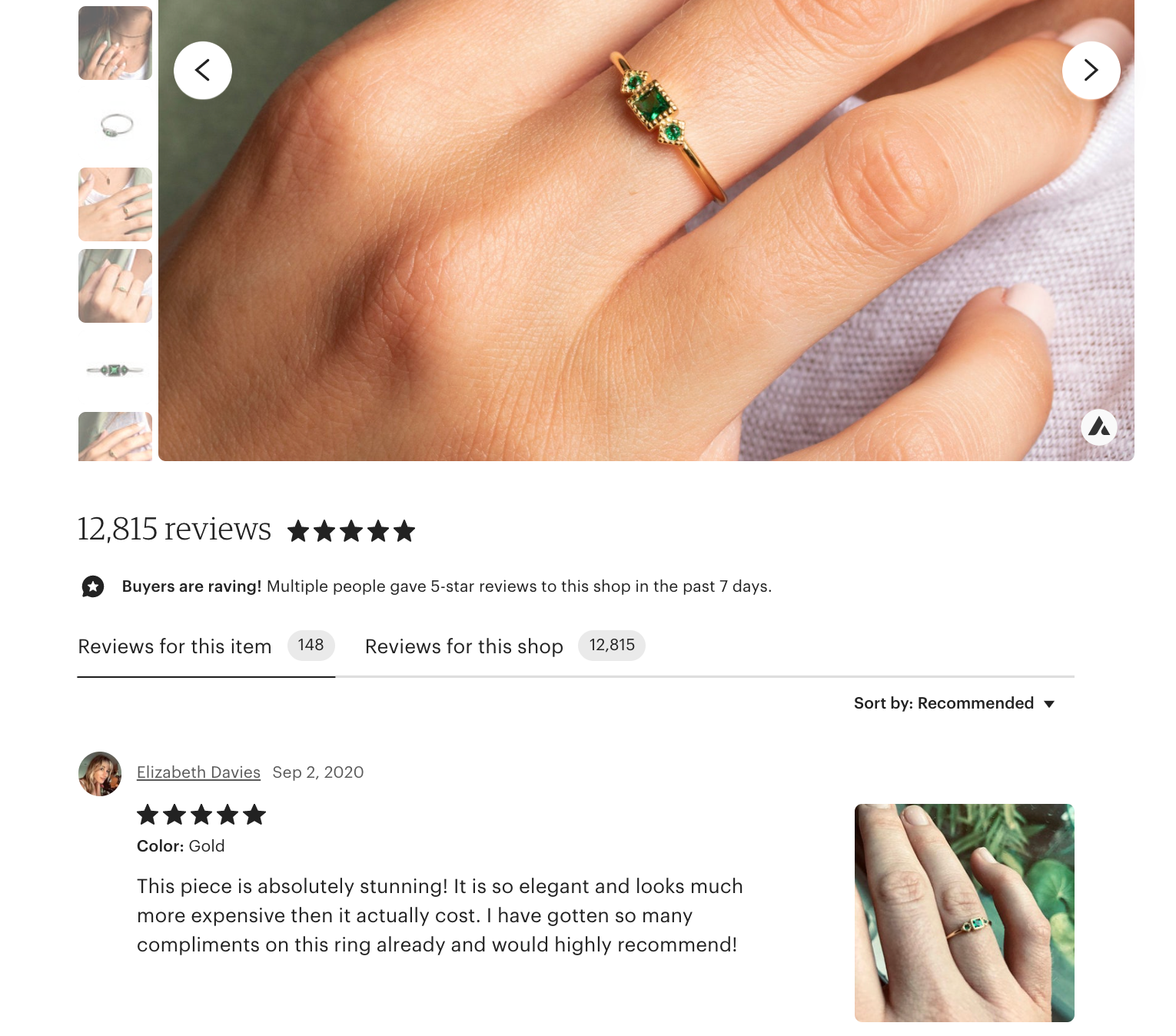 When to Ask for a Review
Many sellers dwell on whether they should ask for reviews and when's the right time. As it's evident that you should ask for a review, let's focus more on the right time to do it.
There are two things to consider when answering this question.
The first one is the time of day you're making the request. And the second one is which part of your buyer's journey.
When it comes to time of day, the best time to aim for would be around 2-3 PM and 6-7 PM. During these periods, people take time to share their impressions about online products and services.
When it comes to the buyer's journey, it's logical to ask for feedback once the product's in the customer's hands.
Let's explore how you could ask for a review on Etsy.
How to Ask for Reviews on Etsy
Before you ask for a review of your product and service, make sure that they are outstanding. Deliver on the following points.
Product quality
Transparency
Overdelivery
Provide outstanding customer support
Follow-up
Meeting these standards will positively affect your customers' satisfaction. That way, when you ask for feedback, you can rest assured that it'll be a positive one. You can use the following contact points to ask for a review.
Confirmation Page and Email
Upon completing a purchase, buyers end up on the confirmation page, and they receive an email too. That's the first point of contact where you get to address your customers.
Even though they're not going to provide a review before receiving your product, you can still use the automated message as the first reminder.
You can set up this message in your Info & Appearance section, on your shop settings page.
Using insert cards is an inexpensive way to make your buyers feel special. Additionally, it's another way of getting a message to your customers. Besides saying thank you, you can also communicate how much a review means to you and your store.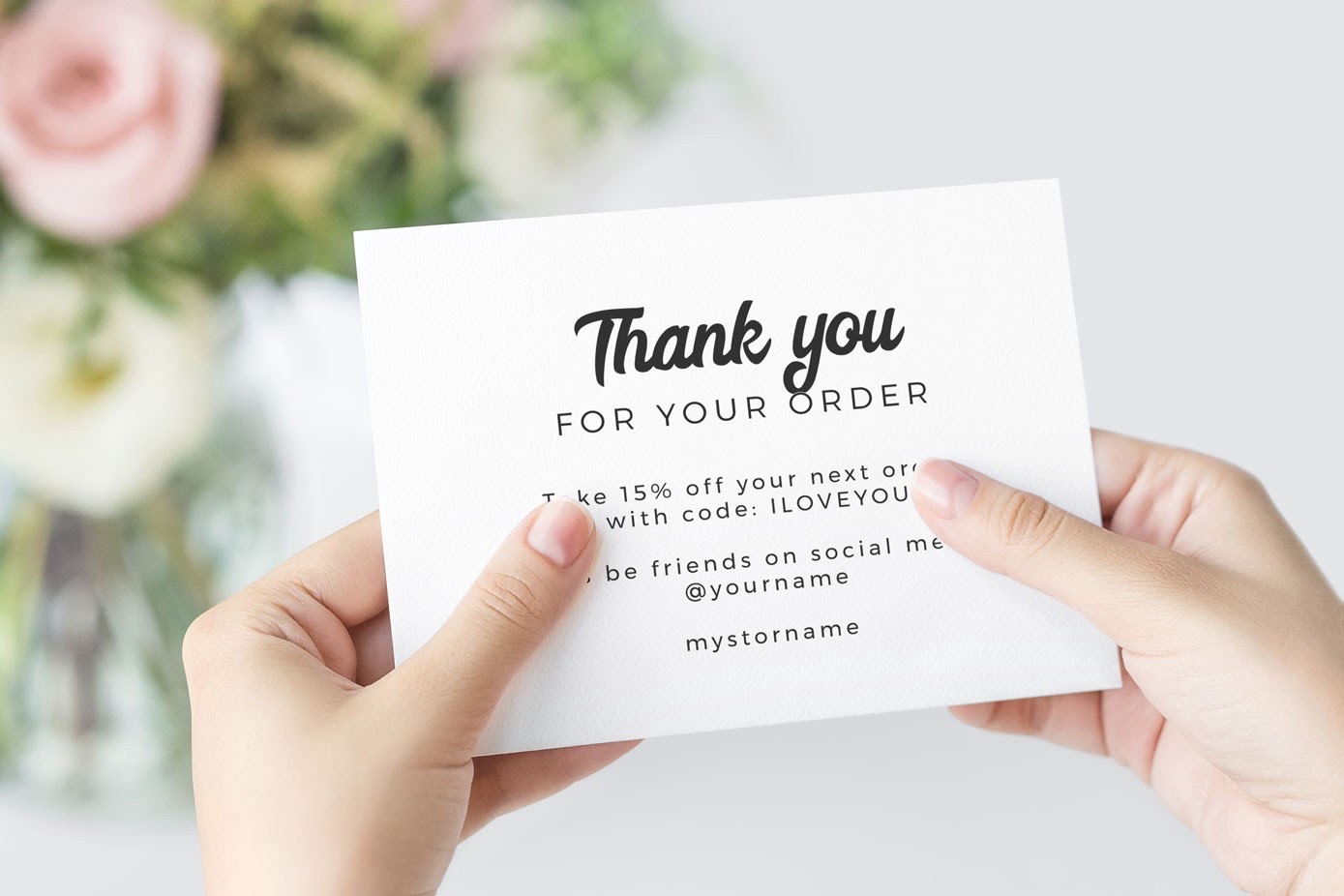 Make sure that your message is concise and written in first-person. It'll sound more personal.
Sending a follow-up message once the buyer gets the order is the perfect moment to ask for a review. Simply head over to the "Orders & Shipping" in the Shop Manager and click on the order's Message button.
Use the message to see whether they're happy with their purchase, and briefly remind them to post a review.
Don't send multiple messages to your buyers; the last thing you want is to spam them.
Etsy sends an automated follow-up message after the customers receive their orders. You can enable and disable this feature. A thing to keep in mind is that this is an automatic and impersonal reminder.
Additionally, buyers can opt-out of receiving this message. While you can keep using it, we suggest that you stick with the personalized follow-up message from the step above.
Use Alura to Simplify the Process
Here at Alura, we understand how critical product reviews are. That's why we offer a tool that makes sending the follow-up message simple.
If you're eager to learn more do's and don'ts of asking reviews on Etsy, look at our Followup Reminder tool.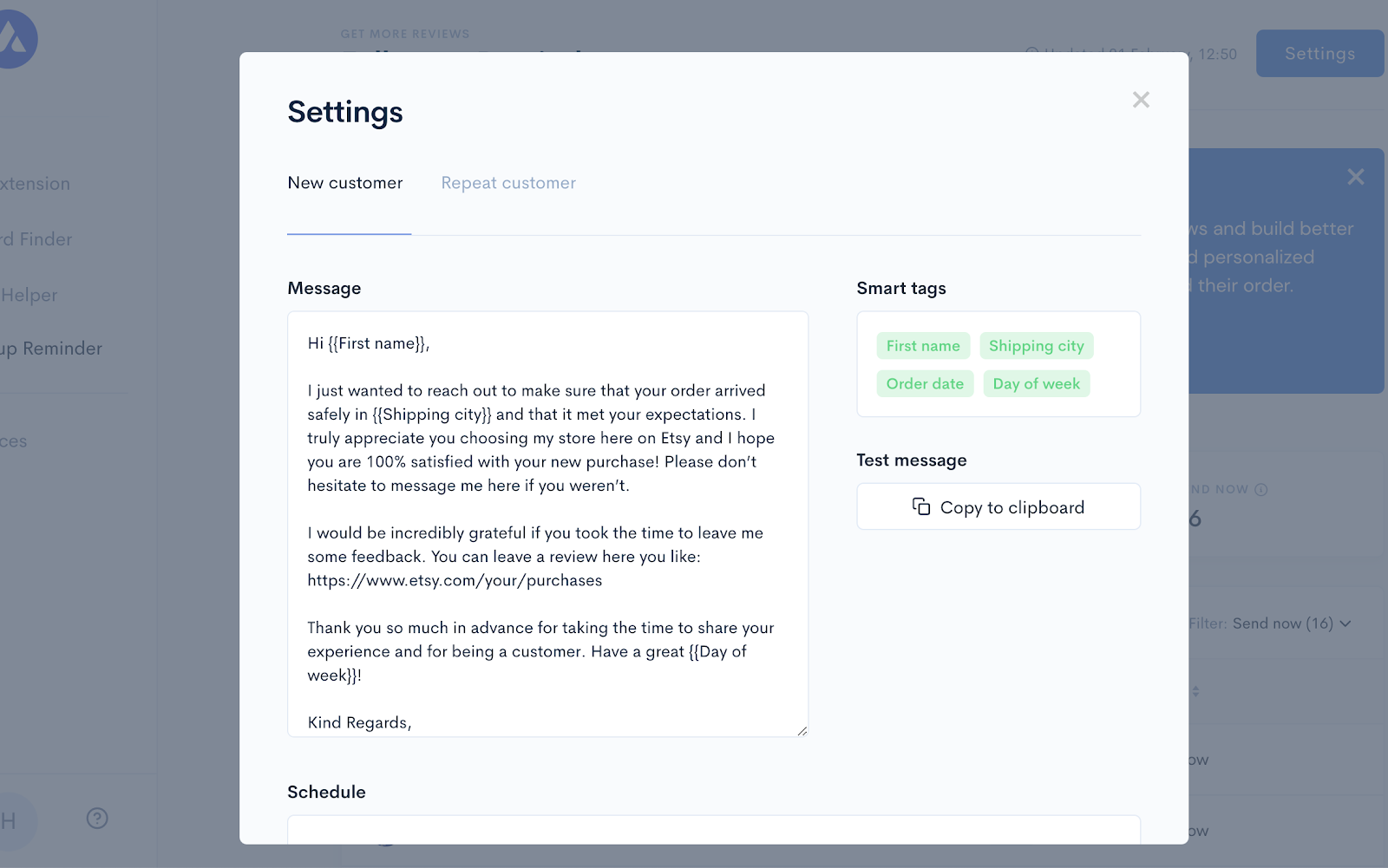 A Couple of Ideas for You
In case you're wondering how your request should look, we've prepared a couple of examples for you.
Dear [Customer Name],
Thank you for trusting me with your purchase. I'll dispatch the order on [date]. You can expect it in [period] from that moment.
Please contact me if you have any questions. I'll be more than happy to help.
If you love my product, it would mean a world to me if you could review it.
Thank you so much,
[Seller's name]
This sample provides all the relevant details about the order and briefly reminds the customer to review it in the future.
Thank you for your purchase!
I hope that you're going to enjoy using [product name]!
If you're happy with what you've got, share your thoughts on:
[Etsy store name]
[Social media handles]
[Your store's social media hashtag]
Thank you for helping [store name] grow! I'm incredibly grateful.
In this example, you will notice a bit more brand promotion towards the end. Don't forget to include your store's logo.
When it comes to cards, you should remain as brief as possible. However, keep it as personal as possible. The customer's likely to take a quick look at it and continue opening the package.
Subject: How was your experience?
Dear [Customer Name],
I genuinely hope that you like [product name]. As I'm continuously improving my store, I would appreciate you taking the time to review our products and services.
With regards,
[Your signature]
As you can see, the message is to the point. Adding a signature at the end is a great way to personalize it more.
The point is to get as creative as possible, as the message will motivate your customers to leave reviews on your Etsy store.
Before we go on, there's a big no-no when it comes to asking a customer for a review. You can't offer any additional goods in exchange for a positive review. Etsy prohibits that sort of behavior.
What to Do After Successfully Getting a Review
Once your customers leave a review, you must reach out to them. Let them know how much you appreciate their feedback.
Taking this step will build a connection with your buyers, allowing you to create a community of returning customers.
Discover More About Your Etsy Store with Alura
Are you eager to learn more about your Etsy listing? Take a look at Alura. Our features will bring your Etsy store more sales. Contact us to learn more about our Etsy tool.

Preventing Bad Reviews In The Future
Negative reviews can sometimes contain valuable information that you can extract and use. Improving the specific problems mentioned in the review could prevent the same situation from happening in the future.
Inaccurate Size
Put size references with your product. Find common objects for easy size comparison, or have a model to put your product on. For example, jewelry would be best if modelled by a human so the customer can have a clear image of how big or small it is.
Inaccurate Colors
Ask customers to view it on different screens for more accurate colors (mobile phones usually display more vibrant colors). Or consider desaturating the color of some photos.
Slow Shipping
Make sure the shipping information is clearly displayed. Maybe in more than one location if necessary, like in the shipping policy and the order confirmation message.