Pat McGrath is a legendary makeup artist with a storied, two-decade career that found her creating iconic Fashion Week looks as well as working with top models and photographers around the world. She is known as a visionary with a distinct touch that makes one think of surreal alien glamour, and this aesthetic is reflected in her eponymous makeup line. If you love intense shimmer and seductive colors, then you will enjoy playing with Pat McGrath Labs, which is now available in Sephora.ph.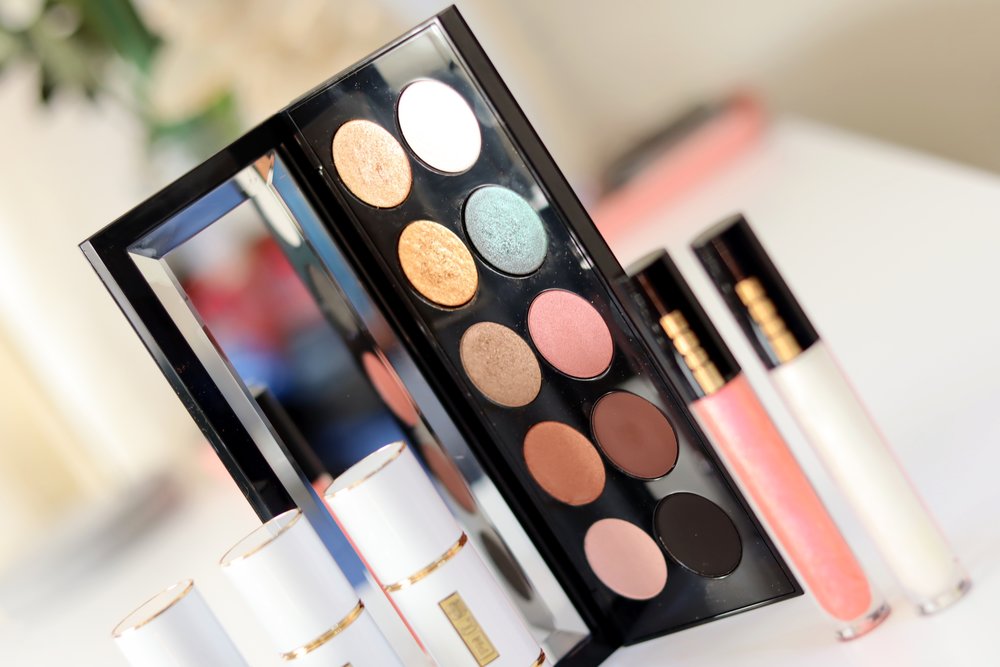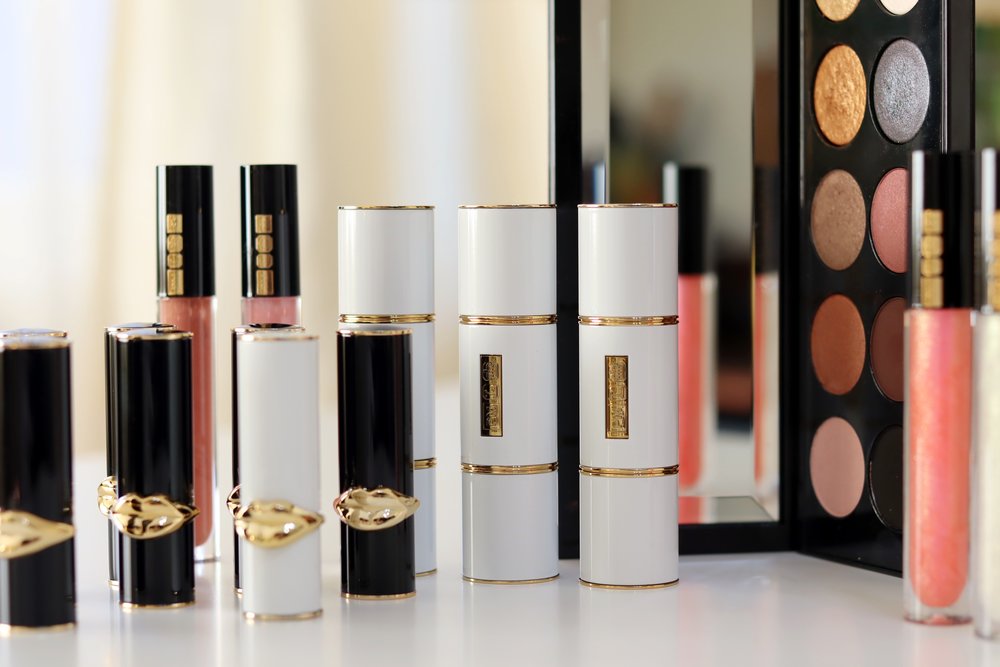 Sephora recently sent me quite a few Pat McGrath items so I thought of sharing my review in one massive post. First things first: PMG is expensive. And I mean, really expensive – not high-end department store brand expensive, but luxury expensive. Her products range from P1,630 for the cheapest items (brush and eyeliner) up to P8,000 for the ten-color palettes. You can get these cheaper in the US (I bought a six-color palette in SoHo for 55 USD or PHP 2,900, while the same item is PHP 3,500 in Sephora PH), but for convenience's sake, Sephora PH is the most direct source.
The price tag on Pat McGrath items is definitely not for everyone, but I can tell you now that if you are willing to splurge on makeup, you will find many of the products to be worth the treat. Let's get started!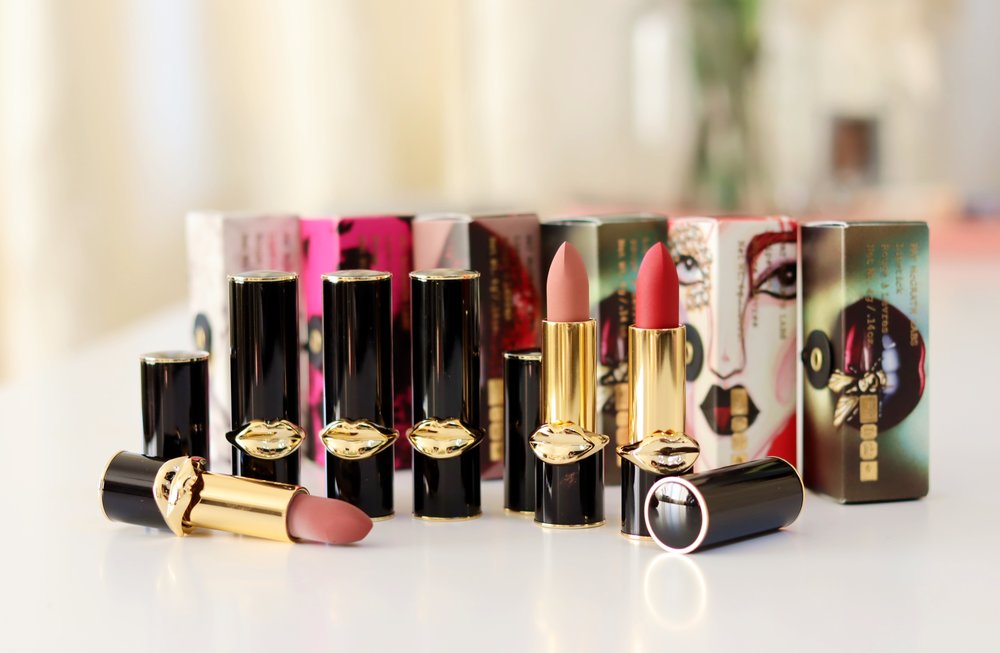 By now, the Pat McGrath MatteTrance Lipstick (P2,590 at Sephora.ph) has joined the pantheon of iconic lipsticks at least in terms of packaging. The golden lip that rings every sleek bullet is unforgettable and unmistakable to us avid makeup fans. But how about the formula? Are we just paying for packaging? I'm happy to report that no, we are also paying for a good tube of lipstick! The MatteTrance lippies glide on like butter on the lips, with barely any drag, and has a true matte finish once it sets dry. It's super comfortable; it feels like nothing on the lips, almost!
The pigmentation is also opaque in literally one swipe, across the six shades that I have here. It stays on for about four to five hours on me and fades into a dignified stain. The MatteTrance is possibly the best matte lipstick formula I've tried at this point in my beauty career – and I don't say this lightly.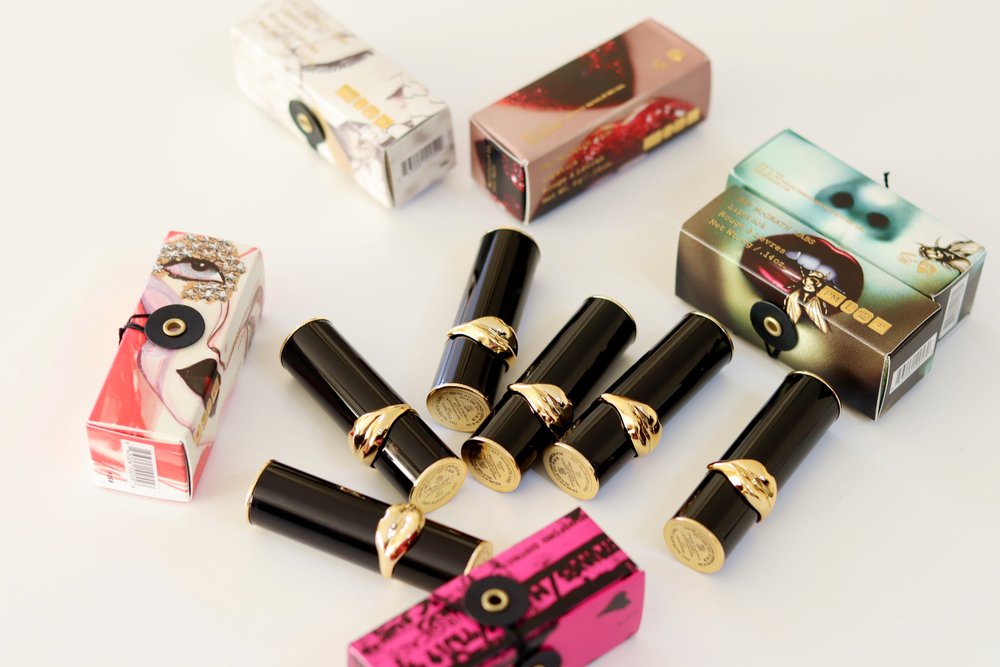 I have six shades here that I've been using on heavy rotation. Omi is a warm pink that suits me as an MLBB (my lips but better shade). This is a great everyday color for work or school! 1995 is a warm nude that works for my medium yellow skin tone; it has a strong brown base that doesn't make me look pale. I think this will be marvelous with smoky eyes. Flesh 3 is a deep brown rose, while Full Panic is a screaming hot pink that's just in time for summer. I feel like hot pink is the next big color in lipstick! It went out of style for a while but I see it pop up a lot in the runways and on the red carpet recently.
I've got two reds: Obsessed! a bright red with orange undertones and Elson 2, a retro red with bluish undertones. I thought I wouldn't be into Obsessed! all that much, but I find that I love it equally as I do Elson 2. These are both excellent classic reds that will never go out of style.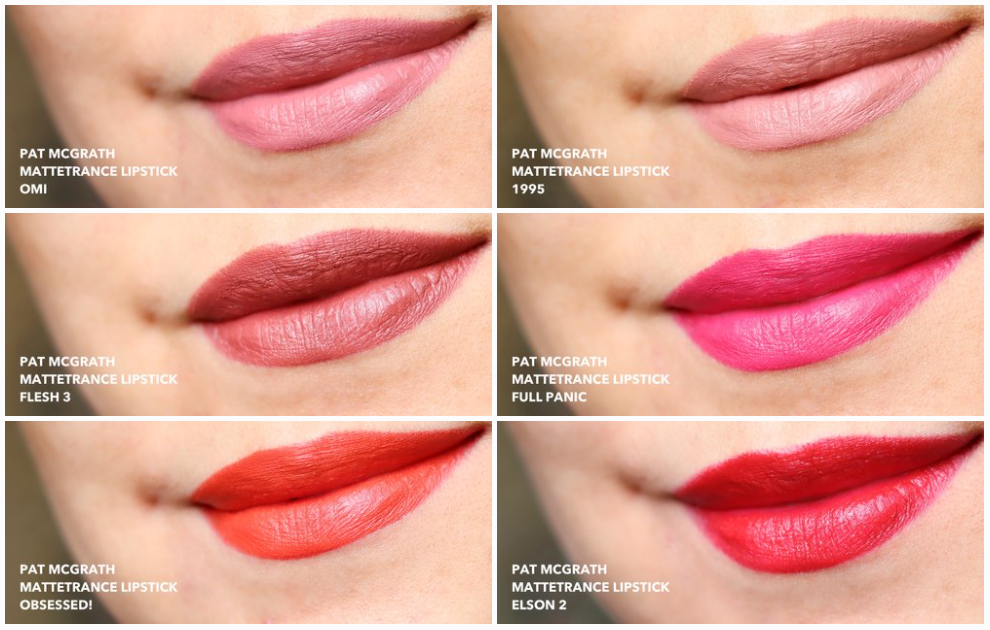 Next up is the Pat McGrath Lust: Gloss Lip Gloss (P1,800 at Sephora.ph). These glosses are quite comfortable as glosses go. They have a fairly thin texture and never feels like glue on the lips; they also feature a yummy vanilla scent that's all subtlety and class as it wafts from the wand. Glosses are trendy again this year so these might be a good splurge in that direction.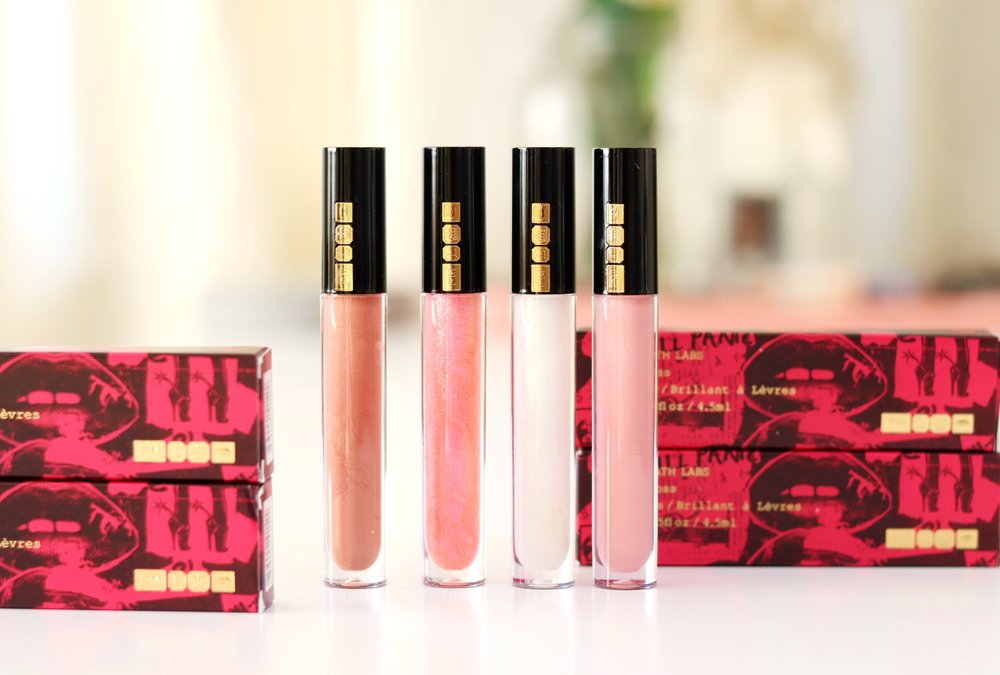 I have four shades here, all of which are sheer and can be worn on top of any lipstick without the addition of much color. Aliengelic looks white in the tube and goes on clear, except for the fine sparkly pink and gold shimmer that it offers for dramatic effect. Pale Fire Nectar looks pink in the tube but applies exactly the same as Aliengelic, with the same shimmer mix to boot. Flesh Astral and Dare To Bare are of a similar class of translucent nude gloss, but Flesh Astral is more of a warm peach nude while Dare To Bare is a milky pink nude.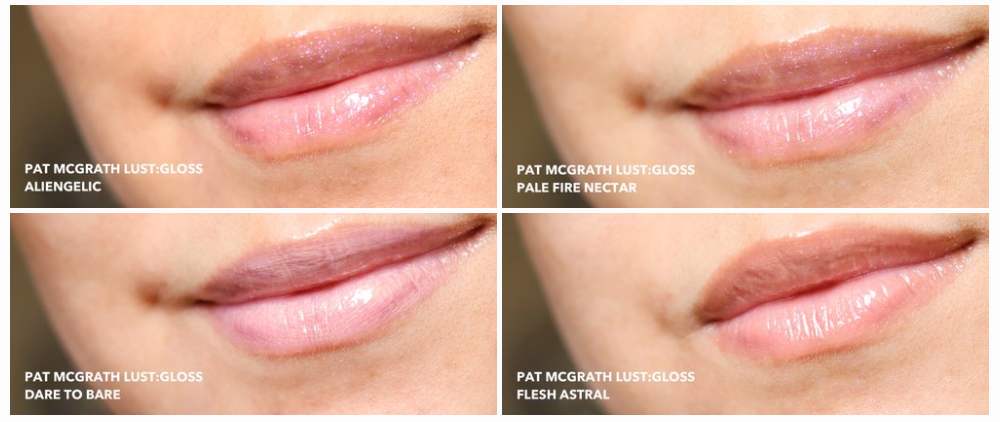 These glosses can stay on for up to three to four hours without eating or drinking, but once you touch your lips to anything, they will as all glosses do, come off. I do like that they don't feel drying nor break apart the lipstick you have underneath.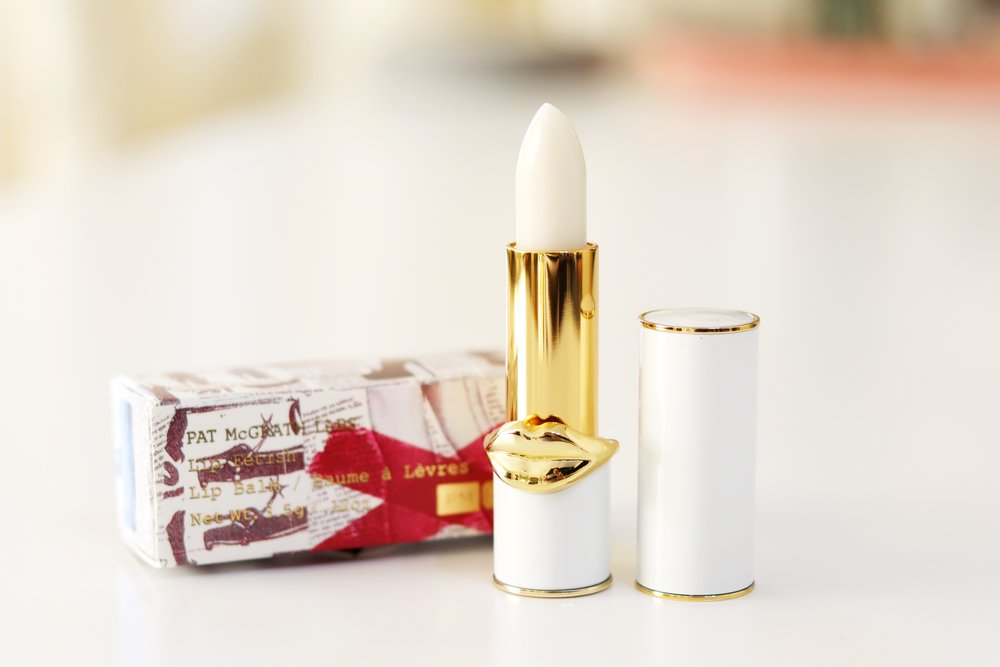 I have to mention the Pat McGrath Lip Fetish Lip Balm in Clear (P2,490 at Sephora.ph). It's a good enough lip balm – tasteless, scentless, colorless, and hydrating enough without giving lips a waxy feel – but I don't see why it's worth P2,490 even with the packaging. Just get any ol' lip balm! I do know that it comes in other sheer colors so those might be more interesting.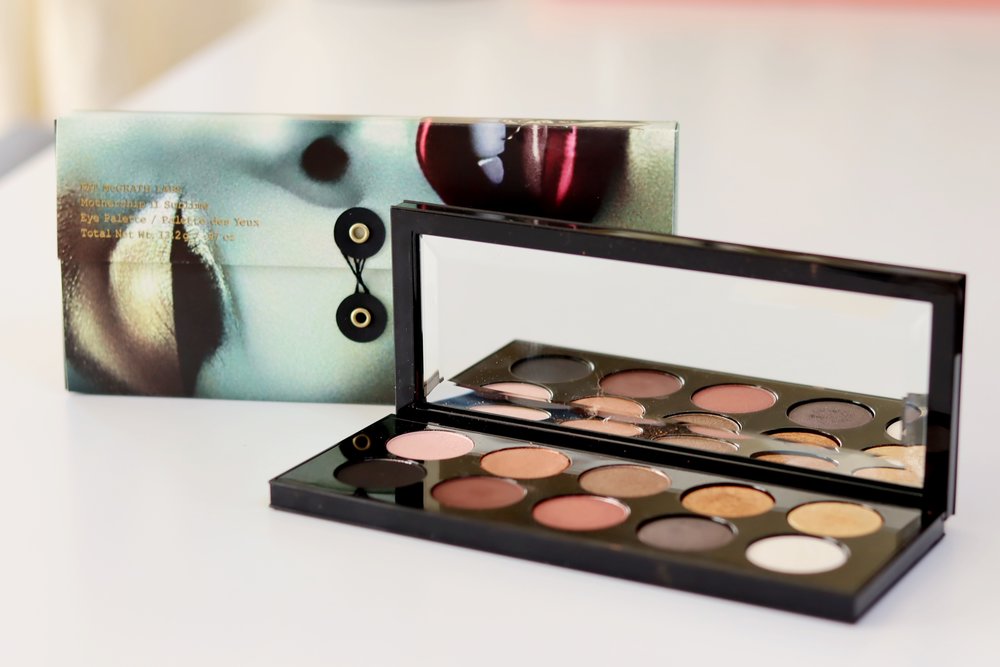 Ah, and now for the piece de resistance. The Pat McGrath Mothership Eyeshadow Palette in II Sublime (P8,000 from Sephora.ph) features ten eyeshadow shades in different finishes. It has a good mix of stunning neutrals with a couple of bright shades and duochrome shimmers thrown in, so I'd say it's a good palette for those who need something they can wear everyday but dress up when needed. Each color is highly pigmented and super easy to work with. The packaging drips of luxury, with its heft and beveled mirror. But is the palette worth 8,000 pesos?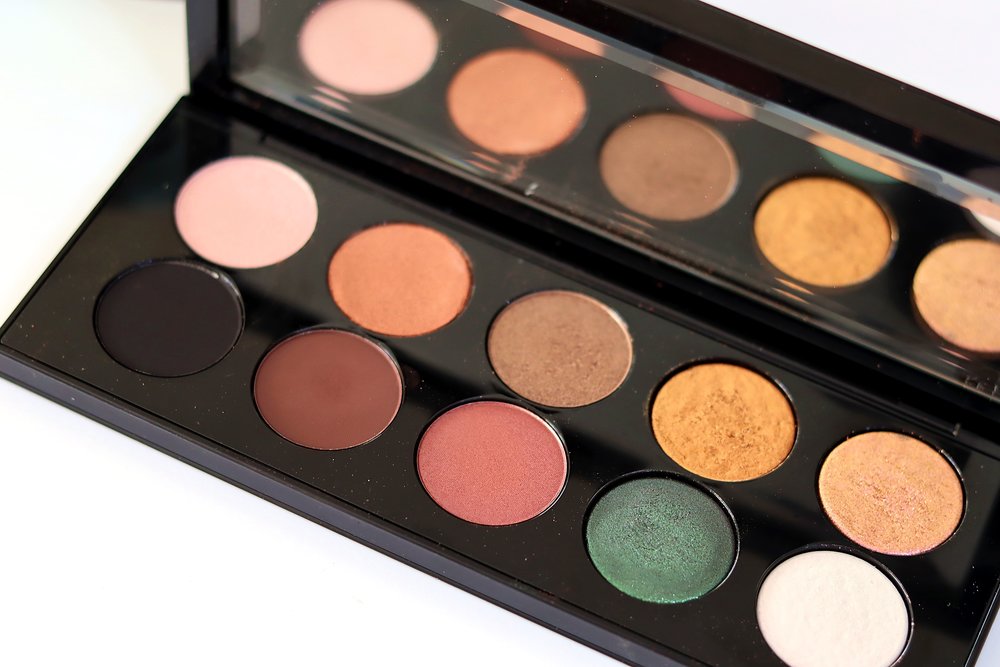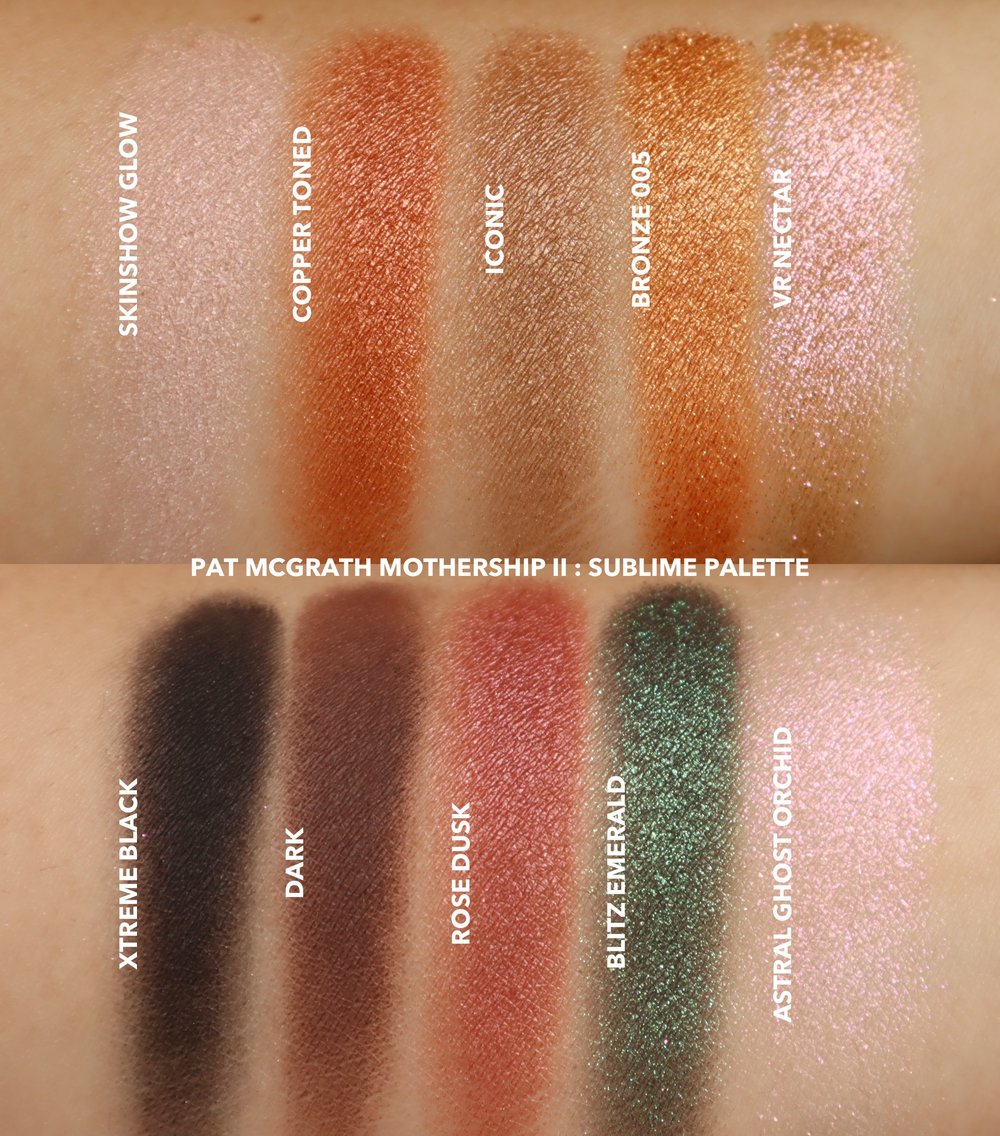 I've only ever purchased one palette in this price range, and that's the Natasha Denona Tropic Eyeshadow Palette (P7,320 at Sephora.ph). That palette has fifteen shades though, so I'd say it was worth it! At only ten colors, I find the PMG Mothership too expensive already. I think it's more sulit to buy the Mthrshp Palette instead, which retails at P3,500 for six colors. I did buy one in Sephora while I was in the US (Mthrshp Subversive La Vie En Rose Palette) but I found myself disappointed since a couple of the shades are unforgivably patchy – that would be Rose Risque and Paranormal. At that price range, that's unacceptable.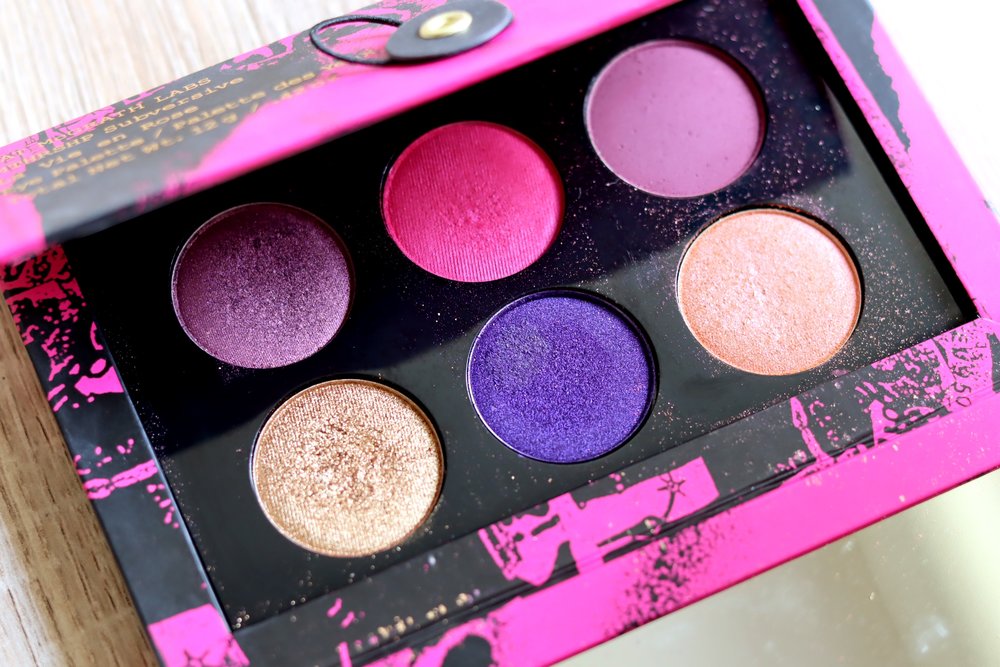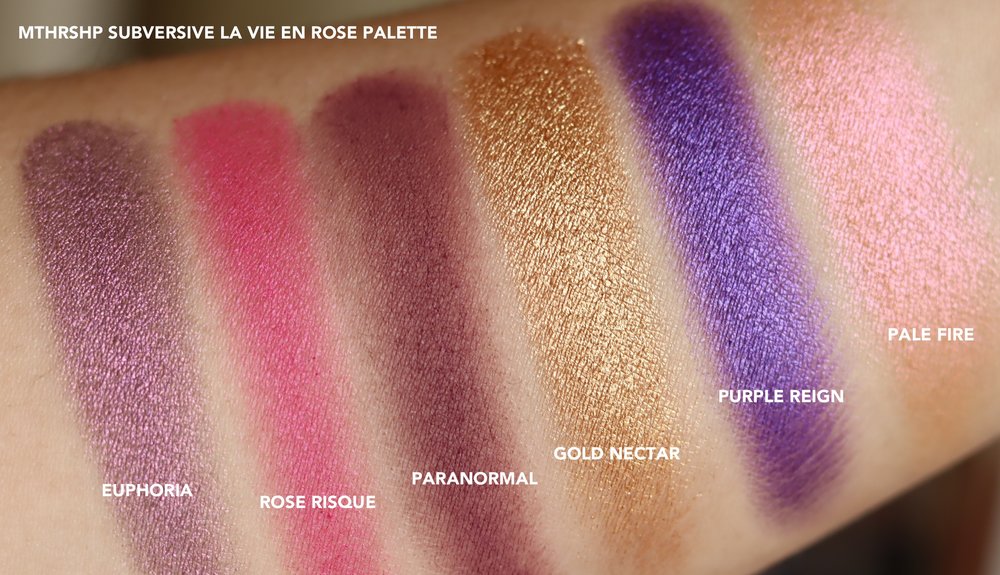 I believe that packaging aside, the Mothership Palette Sublime is not as competitive as what brands like Natasha Denona and Viseart offer right now. It's a great palette that I use ALL the time, but there are a lot of equally good ones out there too.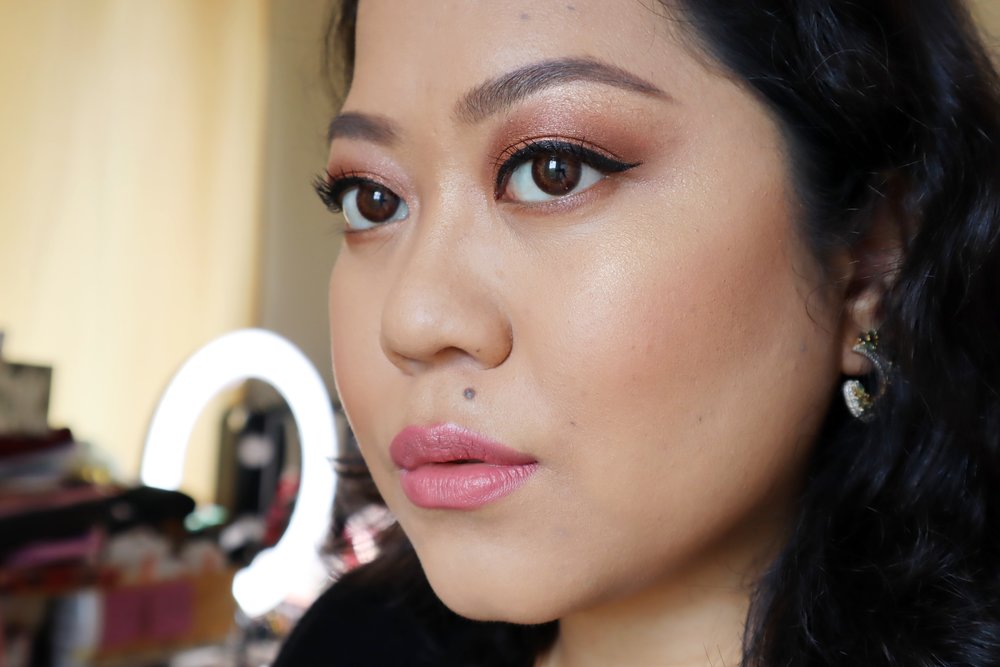 And here we have an unfortunate negative review. I had high hopes for the Pat McGrath Perma Precision Eyeliner (P1,800 at Sephora.ph). I always see this on PMG's Instagram and I loved the black intensity! However, this completely crumbles within one hour of wear. One hour. I haven't even had a chance to sweat or oil up! If my eyes get even the slightest bit teary, this falls apart. I don't recommend this – it's nowhere near waterproof.

Okay, on to the highlighters! I'll save you the suspense and say ahead that the Pat McGrath Sublime Skin Highlighter Trio (P3,550 from Sephora.ph) is singlehandedly the best powder highlighter formula I've tried. It's ridiculously smooth and fine, and the shimmers are beautifully complex! It also stays on for a good 8-10 hours on me without spreading around. One layer and it's already so shiny, so chrome. So pretty.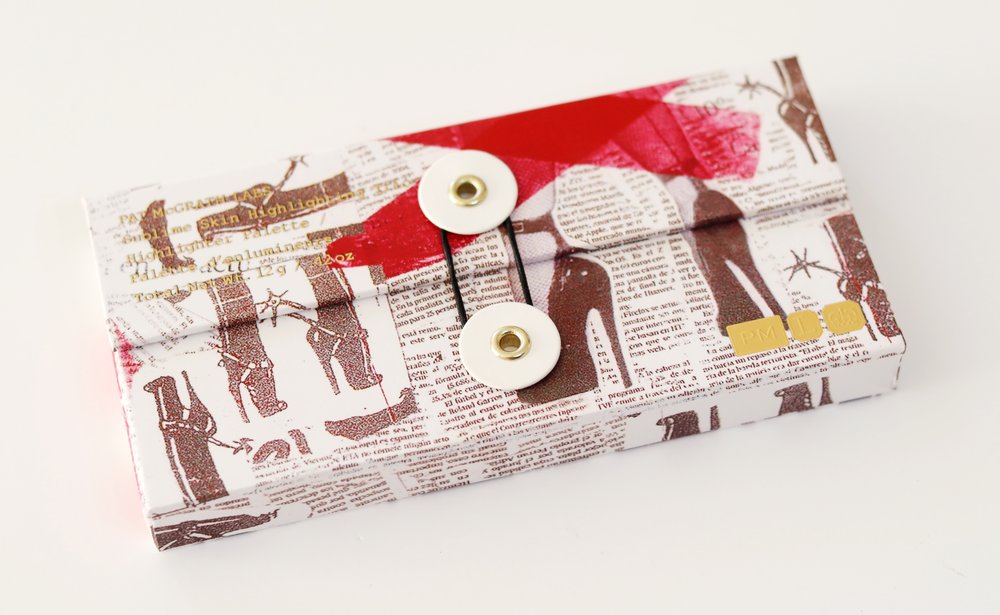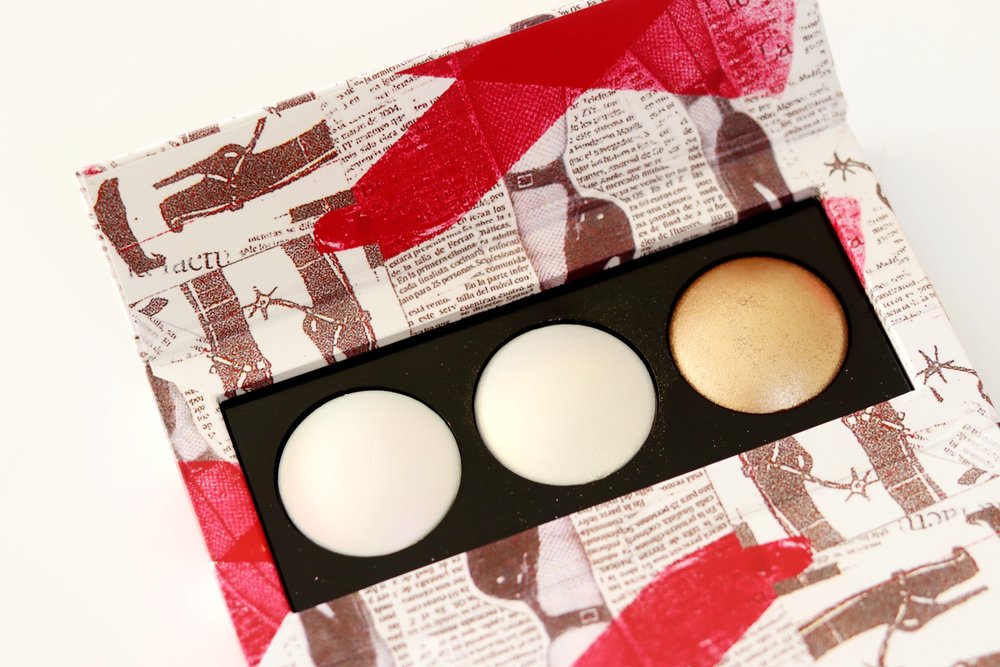 There are three self-describing shades: Iridescent Pink, Fine Gold (this has what looks like green shimmer too but I swear it works), and Bronze Nectar. I use Fine Gold the most since it combines perfectly with my skin tone and highlighting style. I use Iridescent Pink when I'm looking for a more high concept look, while Bronze Nectar is a nice overall sheer bronzer for the face.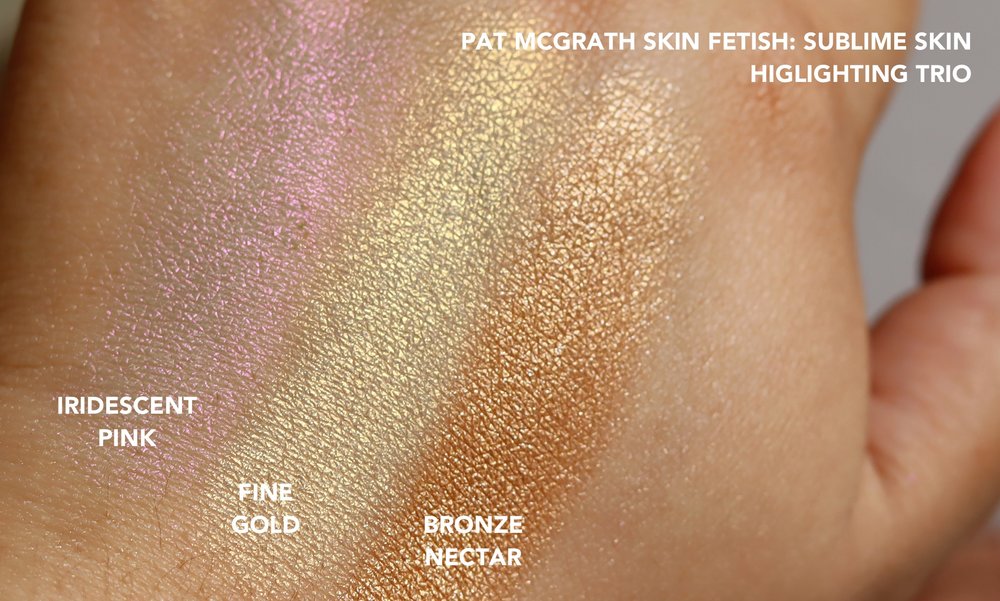 Sephora also sent over the Pat McGrath Skin Fetish Highlighter + Balm Duo (P3,100 at Sephora.ph). I must admit I didn't understand it at first. I get the cream highlighter end just fine – it's soft and diffused, almost skin-like in its finish – but the clear balm is just that. A clear balm, with a greasy feel that doesn't set. I researched about it more and found that this is how Pat McGrath achieves her signature dewy skin effect on models. You slather the balm on the cheekbones and lids and you get that natural sweaty skin look.

That's fine in cooler, drier weather, but not in a tropical country like the Philippines. The balm will just slide around after a couple of hours! I'd recommend the PMG powder highlighters instead, since it doesn't make sense to buy an item where you wouldn't use the other half. Unless you're a makeup artist, I guess, following in Lola Pat's footsteps.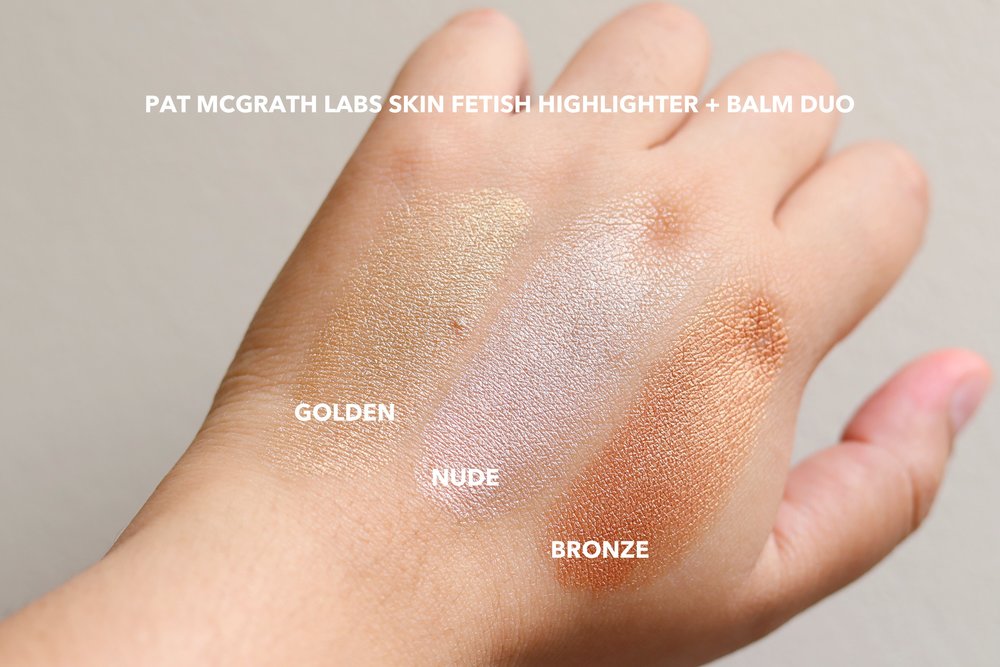 Well, that was a really long review! I hope you enjoyed my photos and swatches (they took hours to do) and my candid thoughts on the brand. Overall, I think you can't go wrong with the MatteTrance Lipstick and Highlighter Trio. These are amazing products worthy of a splurge. The eyeshadow palette is beautiful, too!