Whether you have a website or are still planning to get one must have a deeper sense of understanding of web hosting. A website needs to have a good host. Web hosting benefits the website with great accessibility on the web. Plus, it allows you to have space on a webserver to store the website files. Without a doubt, a successful website is known for its web hosting. It plays a great role in making your website accessible by netizens all across the world.
However, the marketplace is flooded with endless options in web hosting but finding a reliable and trustworthy web host is hard to find. The dark horse of the race is Dreamhost which is remarkably winning the hearts of developers, designers, as well as digital marketers for its uptime and great speed.  In just a short time period, the web-host has earned a reputation of being the most trusted brand in the sphere of web hosting.
About Dreamhost

This web host was founded in 1996 and has served more than 1.5 million websites until now. The customer records of this hosting service provider are more than 400, 000 and WordPress installations are more than 750, 000 in 100plus countries all across the globe. It is the best web hosting service provider in terms of a lot of things that we are going to discuss below.
Web hosting plans by Dreamhost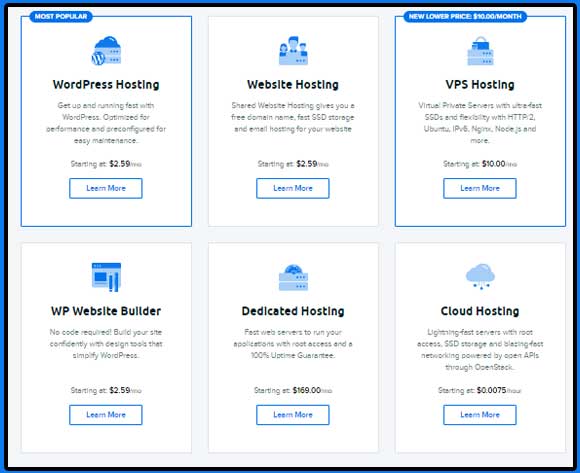 Not many web host providers offer a wide range of plans to their customers. But in the case of Dreamhost, you get an extensive list of web hosting plans to meet your needs.
Shared hosting – this plan has two stages such as starter and unlimited. You can get this plan for either three years, one year, or monthly. The starter plan of shared hosting is best if considered by beginners or small startups. Whereas, the unlimited plan offers you the benefit to host numerous websites. If you don't want to spend much money initially then you can go with this option.
Dedicated hosting – the dedicated server plan of Dreamhost can be available at annual and month-to-month prices. You can either go for a standard or enhanced category wherein both the categories you can select RAM as well as disk space as per your needs. It is a high-quality hosting option for all those who want an exclusive hosting features and benefits.
Cloud hosting – DreamCompute is the option offered to users under cloud hosting. This is the best choice to make if you are looking for more control and less cost. It has flexible pricing options for all. It is a revolutionary and futuristic hosting option offered by the provider.
WordPress hosting – this is the plan for WordPress users. You can get offers like shared hosting for WordPress, managed WordPress hosting, and VPS for WordPress under this plan. It is an apt hosting solution for all WordPress users.
VPS hosting – this hosting plan offers you the benefit of your server resources that helps in speeding up the loading time. Moreover, this plan is super simple to use and allows upgraded storage and RAM after some time.
Amazing benefits of Dreamhost
It is highly affordable for every user, be it a beginner or a professional. You can get their monthly pricing unlimited plan at $10.95/month, annual pricing unlimited plan at $9.95/month, and 3-year deal unlimited plan at $7.95/month.
You will get unlimited bandwidth and good storage across all plans and accounts.
Dreamhost offers a 97-days money-back guarantee to all its users. Thus, one can easily get their money back in case they are not satisfied with the performance.
It is highly beneficial in terms of uptime and speed of your website. It offers an incredible uptime of 99.99% with the help of it's consistent and trustworthy infrastructure in place. In fact, it's loading speeds are also phenomenal. You will not face any kind of lag or wait time even if you are on shared hosting plan.
It doesn't push you buy add-ons, unlike other web-hosting platforms. Thus, it will never ask you for upsells and upgrades.
The backend of Dreamhost is very modern looking. However, if you are used to cPanel dashboards then it will take some time to get your hands on it easily.
The web host offers free SSL to all its users. It has collaborated with Let's Encrypt to offer free secure certificates to it's users.
It is also an incredible website builder. It's popular website building tool Remixer comes with a lot of user-friendly tools, themes, functionalities, and decent performance.
Conclusion
Dreamhost is the best hosting provider for a lot of people. its qualities like genuine prices, full support, unlimited policy, great uptime, and amazing speed, etc. make it exceptionally good than other web hosting providers. Therefore, this the best choice you can ever make to succeed.