I've shopped with maurices for years. Since they carry sizes 0-26, it's a store I frequent with my straight size friends because we can all find things to try on. I love the carefree bohemian vibe of maurices clothes, and I like that the brand has a signature aesthetic. Most everything shares an eclectic folksy feel, with a focused palette of dusky hues, and denim and leather-look fabrics. Their apparel leans casual, with versatile work-and-play blouses, pants, and cardigans you can dress up or down. Read on for a detailed look at maurices, what they do best, and outfit archives featuring their styles.
One-Sentence Summary: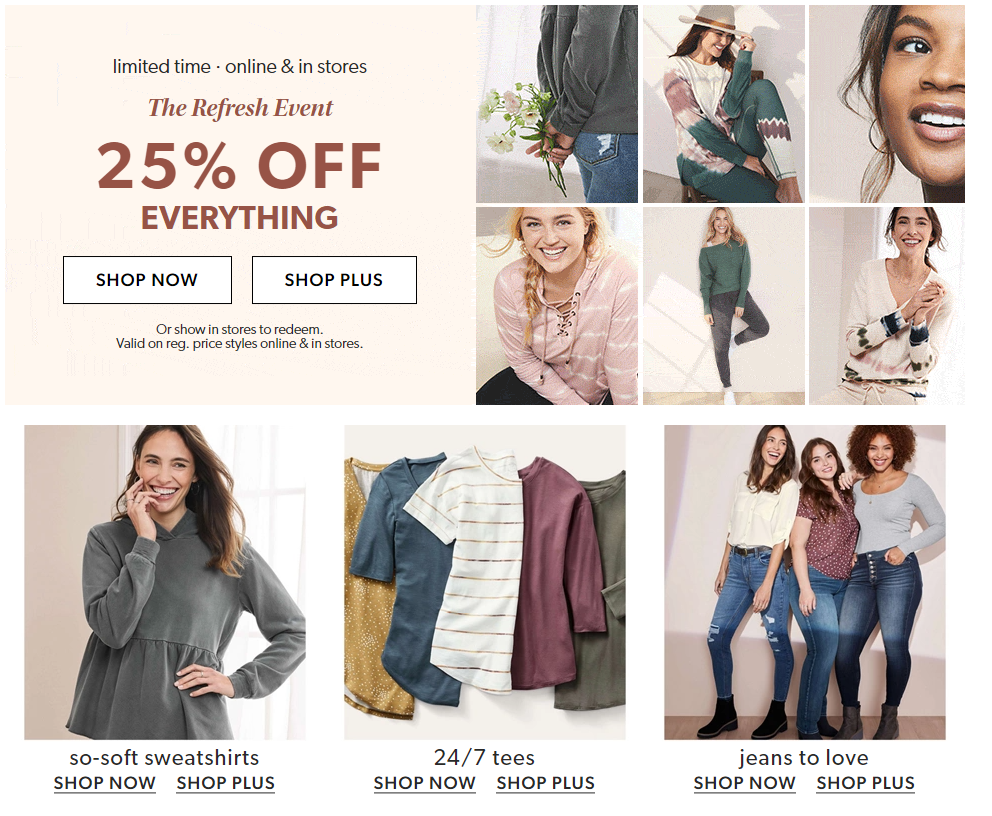 Maurices offers affordable, boho-chic apparel and accessories for the casual dresser who wants a relaxed but fully styled and layered look.
The maurices customer is…
A carefree spirit with a bohemian style sensibility. She likes building layered looks with plenty of pattern, texture, and dimension. She lives for casual weekend dressing but appreciates pieces she can remix for the workweek. She's a curator and collector when it comes to her wardrobe, so she likes buying layering pieces and accessories she can rework in fresh, inspired ways for a different outfit every time.
Sizing & Shipping:
Features sizes 0-26 (xs-4x)
Their straight and plus size lines are two separate departments with some product overlap
Sizing runs true with lots of boxy, oversize silhouettes for flexible fit
As a size 16/18 at most stores, I can wear between a straight xl and plus 2x at maurices
maurices has store locations across the US and Canada (find a store here)
maurices.com also offers international shipping to over 225 countries
Good for:
Casual apparel with a bohemian-chic look
Jeans in a variety of cuts, washes, and designs
Denim jackets, motos, and anoraks
Layering basics like camisoles and cardigans
Earth tones, dusky hues, and soft neutrals
Eclectic patterns and textured fabrics like lace and crochet
A stylish selection of affordable and trendy shooties and boots
Rugged embellishments like studs, grommets, and fringe
Funky accessories like faux leather bags, printed scarves, and Western jewelry
Pricing: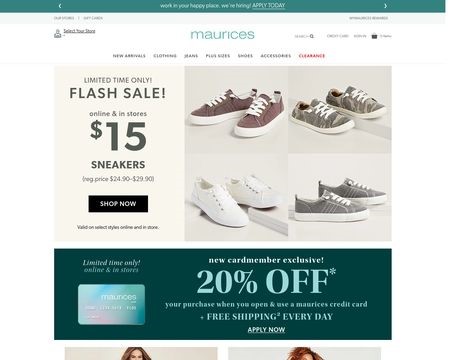 Tops from $20-40
Jeans and pants from $30 to $100 for their designer labels
Dresses from $20-50
Shoes and boots from $60-90
Bags from $30-50
Jewelry, scarves, and accessories from $10-20
Tip:
Most of maurices sales are BOGO events, so you should plan your purchases in pairs and try to find styles that are close in price.
Why I Love maurices:
Maurices has really cute stores, and their fitting room area is welcoming, spacious, and plush. It feels more like a boutique atmosphere where you're encouraged to take your time and try on all the things. I also like that maurices carries straight and plus sizes in store, so I can shop with my girlfriends across the size spectrum. Also, they are the place for classic denim jackets with a figure-flattering fit. I have three denim jackets from maurices in three different washes, and they are some of the most worn pieces in my closet. They're a great value, they have stretch for a comfortable fit, and they go with absolutely everything. I will never shop for denim jackets anywhere else because the ones at maurices are perfect for me.
Here's a look at some of my maurices outfits from the past year, with several items still available on clearance. The tops and jackets pictured below are maurices, with other pieces from different brands. My everyday style is a bit more dressy and romantic than the maurices aesthetic, but still their pieces fit well in my wardrobe. Their plaid shirt and bandana take on a retro 50s vibe with my pink circle skirt and tennies. I reach for their jackets time and time again to dress down my dresses and skirts. And their casual lace top goes glam with white skinnies, hot pink pumps, and feather earrings.
We have several maurices stores in our area, and it's somewhere I like to shop with my blogger friend Anne of Curls and Contours. Anne goes for their easy knits, camo prints, and jackets/vests, while I'm drawn to their more feminine, romantic styles. We have such different styles but always find things we both like at maurices