Wouldn't it be great if there was a fun way to gift your dog a big box of treats and toys every month? Great news, because such a service does, in fact, exist, and it's called BarkBox
As pet lovers, the BarkBox is one of our new favorite subscription services, and it's a super fun way to get new and exciting toys and all-natural treats for your furry friend every month.
In this BarkBox review, we'll tell you exactly how this service works, how much you can expect to pay, weigh the pros and cons of their service, and where you can lock in the best deal.
What is BarkBox?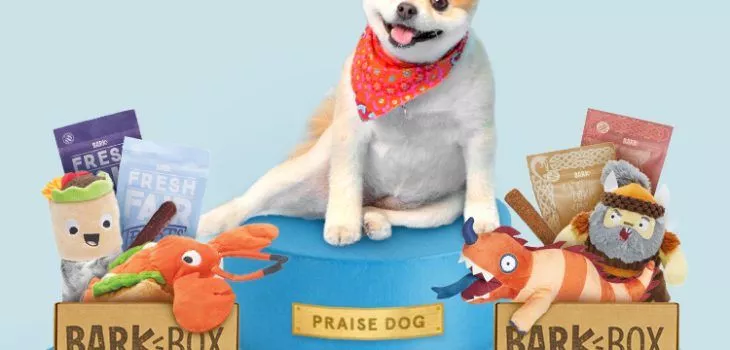 BarkBox is a fully customized box of themed toys and treats, designed just for you dog. They have options for dogs of all sizes, and each month features something new, fun, and recommended by experts [1].
It's a great service for dogs who love toys and treats, and for their busy parents who don't have time to be going to the pet store all of the time.
How Does it Work?
Signing up for BarkBox has never been easier!
Pick the Right Subscription for You & Your Dog: Plans Start at $25/Month.
Your First Box will Ship ASAP
Get Ready for One Happy Pup: A month's supply of treats and toys will be delivered to your home.
Want to see what it's like to get a BarkBox in the mail? Here's Jonathan & Noodles unboxing a BarkBox delivery:
Barkbox Plans
When you go to sign up [2], there are a few BarkBox options to choose from.
Here's the process you'll follow to get signed up:
1. Select Your Dog's Size
Small & Cute: 0-20 LBS
Just Right: 20-50 LBS
Big & Bold: 50 LBS or Bigger
2. Pick Your Monthly Plan
12 Month Subscription – $22/box
6 Month Subscription – $25/box
Month Subscription – $29/box
Do You Have a Playful Dog?
You can choose to add an extra, premium grade toy in each monthly box for an extra $9 bucks.
3. Create Your Account, Wait for Your BarkBox!
The final step in the process will be to create an account with BarkBox. For this, you'll need an email address, and then you'll have to supply shipping and payment information, so you'll want to have a credit card handy – they accept Visa, Discover, MasterCard, and American Express. You can also use PayPal.
That's it…
Now all you have to do is sit back and wait for your BarkBox to arrive. It typically takes 2-8 Business days for your box to arrive if you're in the United States. Canadian customers can expect a 7-12 business day delivery time.
What Comes in a BarkBox Shipment?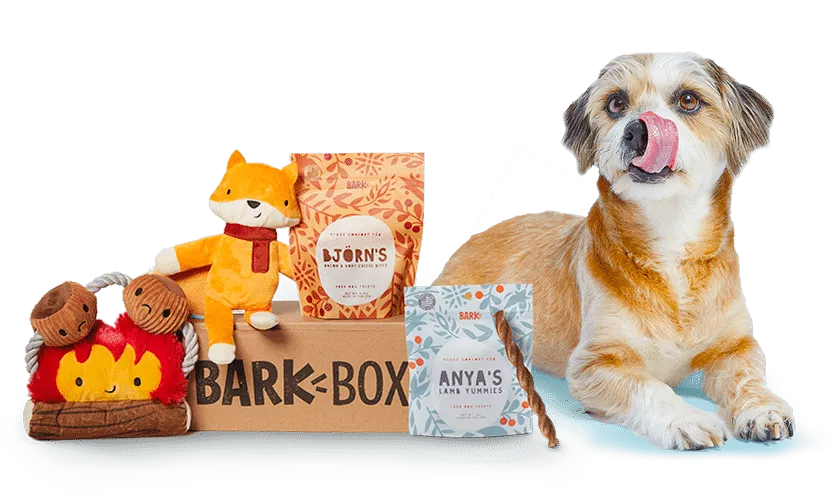 Every month, BarkBox comes up with a new theme for their boxes. While the themes will be different, here's what you can expect to get every month:
At Least 2 Cool Toys
2 All Natural Bags of Treats
1 Dog Chew
The best part is, all of their awesome dog toys designed by dog-lovers, and are canine-approved! Plus, the treats are all made in the USA or Canada.
How Much Does BarkBox Cost?
BarkBox has three main options to choose from, which range in price from $22 to $29 per month. The more months you're willing to pre-pay for, the better the monthly price.
Do They Accept Returns?
No worries there! If your dog doesn't totally love something in their Bark Box, they will send them a replacement, totally FREE of charge. They don't want any disappointed pups or parents, so they're willing to go above and beyond to make sure you're happy!
Real Customer Testimonials & Complaints
From our experience, we haven't had anything to complain about when it comes BarkBox. Their service is fast, affordable and fun.
We wanted to share some other verified testimonials with out, though, to give you the big picture when it comes to BarkBox.
For that, we went to Trust Pilot [3]. They have a large body of verified reviews, both good and bad. Here's what a few verified customers had to say about their BarkBox experience:
Postive
Rebecca was happy with her BarkBox, but advises reading the fine print before signing up:
"I love BarkBox and have used it off and on for two years. For the people on this site complaining about their auto-renewal policy- it very clearly states all of this info when you sign up. You can cancel your auto-renewal as soon as you sign up, too- I usually do this so I don't have to worry about handling it later. I love the themes boxes and diversity in texture, shape, and size with their toys."
Rokon Rae has been more than happy with BarkBox's service:
"I love Bark Box. Out of the three subscriptions I get (two being make-up/skin care boxes) Bark Box is my favorite and it's not even technically for me. The toys that they send for my dogs very rarely have squeakers that are too small for my large dogs. And more often than not there is very minimal stuffing. The treats are always high quality. I've even gone so far as to order from the Bark Shop with absolutely no issues.I recommend Bark Box every chance I get."
Complaints
For the most part, BarkBox complaints seem to center around their auto-delivery service. It's important to note that when you sign up, you're enrolling in a subscription service – that means they'll automatically ship you a new box every month, until you cancel your subscription.
As long as you know that out of the gates, you should have a better experience than these people did:
"I have been trying to reach them for four days now with no response. They do not call they do not respond to messenger they do not respond to text they do not respond to email they are either off-line their chat does not work or they just don't respond!"
"They make it impossible to unsubscribe, even after your subscription has terminated. They will continue to bill you forever, even after numerous requests in writing."
Again, you can cancel, you just have to know how to do it – filling out a contact form or something along those lines probably won't get it done – you HAVE to contact customer service, and then the cancellation process should be very easy. You can call them at 1-855-520-2275 to get your cancellation started, or use the live chat feature on their website. It's literally that easy.
BarkBox Pros & Cons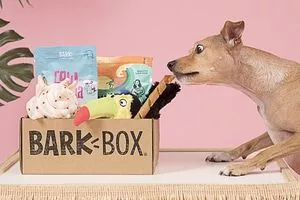 Pros
They Know What Dogs Like: These guys are experts, and know what dogs love!
Say Goodbye to Shopping – Barkbox cuts way down on trips to the pet store, or online shopping!
So Fun For Your Dog – Your dog is going to love getting this awesome box of treats and toys every month!
Affordable – Barkbox won't break the bank and right now they're offering some awesome deals!
Cons
When it comes to the downsides of the Barkbox, we don't really see too many cons. That's because this is a great deal, and an awesome subscription box for people with dogs.
That said, here are a couple of minor cons that we could think of:
Requires Monthly Financial Commitment
They Pick out the Treats and Toys – For hands on folks, this could be a downside
Review Summary
Wouldn't it be great if there was a fun and exciting way to have treats and toys delivered to your dog every month? GOOD NEWS! There is….Meet the BarkBox.
With their awesome monthly subscription boxes, your pooch will be treated to all-natural treats, chews, and toys that are hand-picked by dog-lovers each and every month.
They come up with a new theme every month, so you'll get some new and exciting every month. Signing up is super quick and easy, and right now if you can get signed up for as low as $20 per month, plus shipping is always FREE.
Barkbox ships to anywhere in the United States and Canada, and they're offering some pretty great deals right now for new customers.