If you are constantly searching for the best dog toys and treats for your pup, you may have come across the name BarkBox once or twice. BarkBox is a monthly subscription service providing dog products and services to your doorstep. But is BarkBox worth it?
Let's take a look at BarkBox reviews so you can find out whether BarkBox may be your dog's new best friend.
Let's get started!
What Is BarkBox?
Imagine getting a box full of dog treats and toys for your furry friend every single month. Well, that's exactly what BarkBox offers for you and your dog. Each month, BarkBox sends a box that contains a variety of toys and treats based on that month's theme. What's more is that every box is a surprise, making it extra exciting for you and your pup.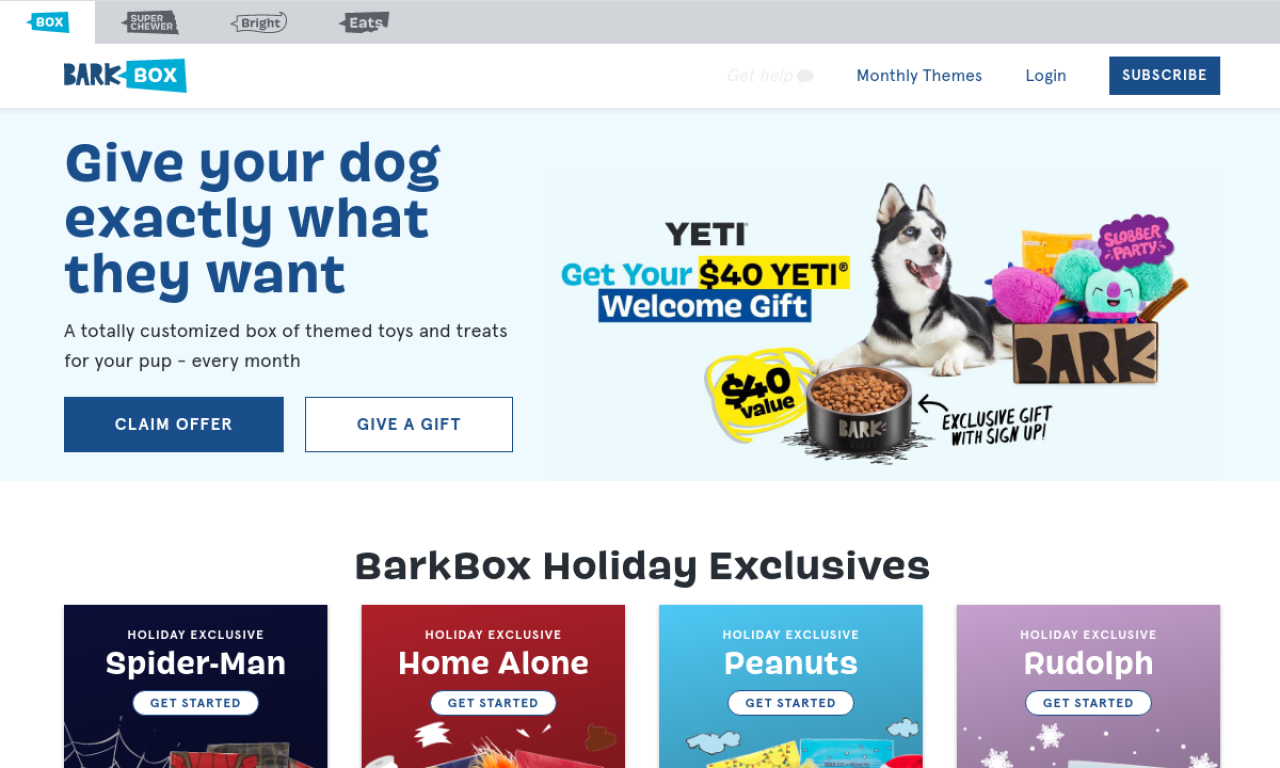 How Does BarkBox Work?
Signing up to have BarkBox delivered to your home is very simple. First, you'll need to sign in to BarkBox and answer a few questions about your dog's specific needs. You'll also need to choose which plan you want to try: one month, six months or 12 months. Once you've submitted your order, you can expect your BarkBox to ship that same month (if you ordered before the 28th).
You and your pup will receive one box a month for however long you signed up to receive them.
What Is Inside a BarkBox?
Although the items inside your BarkBox will vary with the theme, every BarkBox will contain a variety of toys, treats, and chews. A classic box includes the following items: two durable toys, two large bags of treats and one long-lasting chew. You can easily customize your BarkBox, however, so that your dog receives more or fewer goodies each month.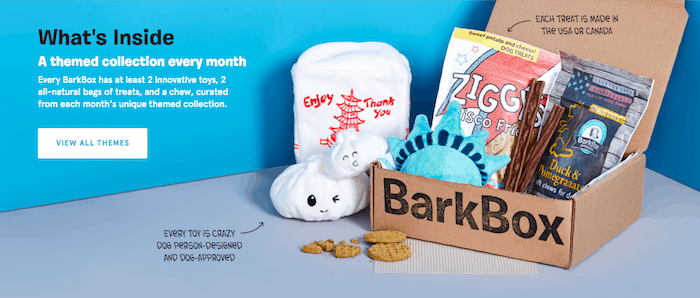 BarkBox toys often include stuffing, squeakers or crinkle material. They are designed by BarkBox's in-house designers and are created in all sorts of cute shapes and designs. Similar to their toys, BarkBox creates its treats and chews in the United States with high-quality ingredients. If your dog has allergies, you can customize the box to exclude treats with those ingredients.
Types of BarkBox
What makes BarkBox fun is that each BarkBox is a surprise. Although you can customize how many treats and toys your BarkBox will include, you won't be able to know what exactly will be arriving in the mail. That is what makes BarkBox extra exciting!
Now let's take a look at previous themes BarkBox has sent out.
Bento & Blossoms
This BarkBox theme was themed after hanami bento, a celebration in Japan marking the blooming of the cherry blossoms. Every year, families in Japan celebrate this festival by picnicking together. That is why this month's theme included every dog toy and treat you could possibly imagine for giving your dog his or her very own hanami bento.
Sniffin' Safari
For all the dogs that want to live on the wild side, this theme was one you wouldn't want to miss. The Sniffin' Safari theme included a variety of toys and treats that would quickly turn your living room into a jungle of fun!
New York City
Dogs that received the New York City BarkBox got a taste of the Big Apple! Packed with at least two toys, two treats and one tasty chew, this BarkBox made it feel as though dogs around the world were actually in New York City.
ThrowBark Thursday
Want to take a journey down memory lane with your dog? Well, that's exactly the purpose of this theme! The ThrowBark Thursday theme was designed with a variety of fun dog toys and treats to recap all the best days of your dog's life, as well as many more to come!
The Good, The Bad, and The Pugly
Even dogs that live in the city got to experience the adventures of the Wild West with this BarkBox theme! This theme was loaded with toys and treats for all dogs looking for a little wild adventure.
Hairy Metal
For all the fans of Hairy Metal, this BarkBox must have been a hit! Designed with wild toys and treats inspired by these superstars, this theme gave dogs and their owners a chance to rock out to their favorite band.
I.M. Slobbering's Candy Shoppe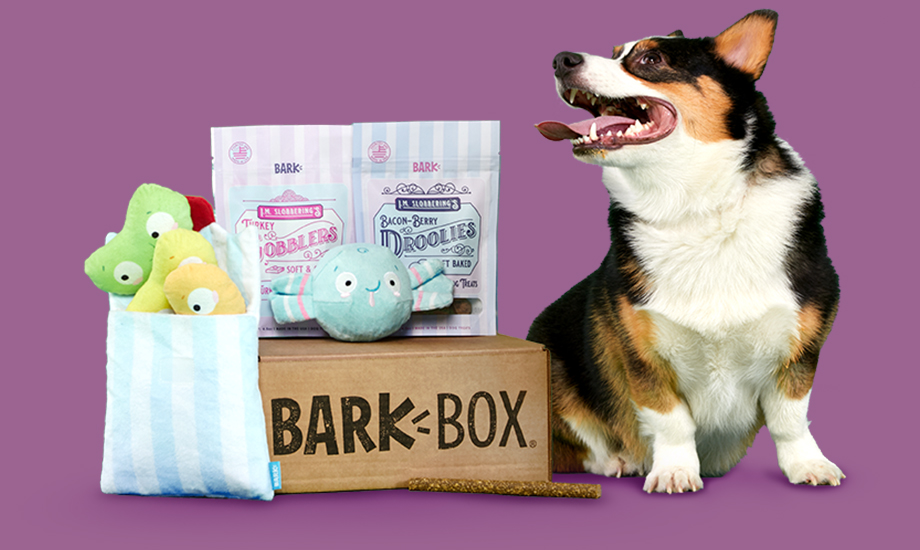 For all the dogs with a sweet tooth, this BarkBox must have been a treat! This theme included a variety of candy-themed toys and treats, making it one of the sweetest BarkBoxes ever!
The Knights of the Hound Table
This BarkBox was surely fit for a king! The Knights of the Hound Table included toys and treats that took dogs on a journey through the age of King Arfur.
The Dog Daze
Pool parties, ice cream and mid-day picnics—what's not to love about summer! The Dog Daze BarkBox was full of fun toys and treats to keep dogs entertained during the hot summer months.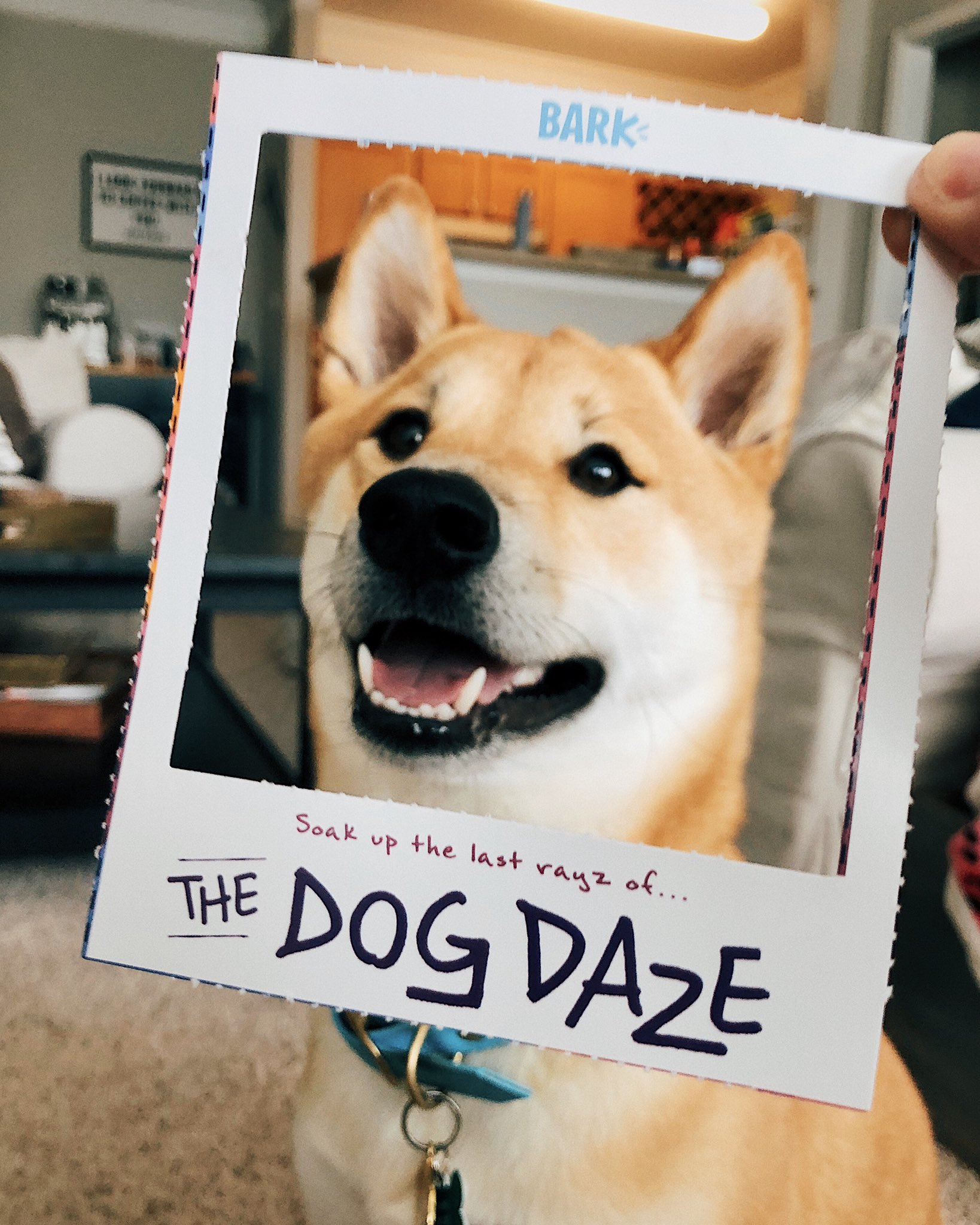 Shakespeare in the Dog Park
Dogs around the world got to take the stage when this BarkBox arrived in the mail. Filled with love, comedy and tragedy, this theme included fun dog toys and delicious treats that made playtime extra-fun.
Secrets of the Rainfurrest
Jungles, wild animals and delicious treats—who wouldn't want to uncover the Secrets of the Rainfurrest! This BarkBox was full of exciting toys and unbelievably tasty treats that made every day turn into a wild adventure.
Chewrassic Bark
Imagine living in a time when dinosaurs still roamed the earth. Well, BarkBox made that experience feel pretty real with this theme. Filled with fun toys and treats, the Chewrassic Bark brought dogs into the age of the dogosaur!
Sniffs from the Abyss
This BarkBox took dogs to the deepest corners of the deep sea, including places where mysterious creatures live and delicious treats await. Sniffs from the Abyss included strange yet cute dog toys and tasty sea-inspired treats that made dogs and their owners feel as if they were exploring the deep sea for themselves.
Thankstuffing
You guessed it: This month's BarkBox was a Thanksgiving-based theme. Featuring food-inspired toys and savory treats, this BarkBox made Thanksgiving one that pups will never forget.
The Muttcracker
The Muttcracker was a Christmas-themed BarkBox that made the holidays feel extra-magical. This theme included a variety of toys and treats that made every day feel like Christmas.
Snowbound Hounds
Who doesn't love to go out to play on a snowy winter day? The Snowbound Hounds theme included fun toys and treats to make winter a playful season.
Is BarkBox Expensive?
Considering all the toys and treats you'll be receiving, BarkBox is a really great deal. The price will depend on which plan you select. Past prices for different plans include $29 for one month, $25 for six months and $21 for 12 months. Whichever plan you choose, you'll be saving a lot of money compared with buying dog treats and toys at a store.
Is BarkBox Worth It?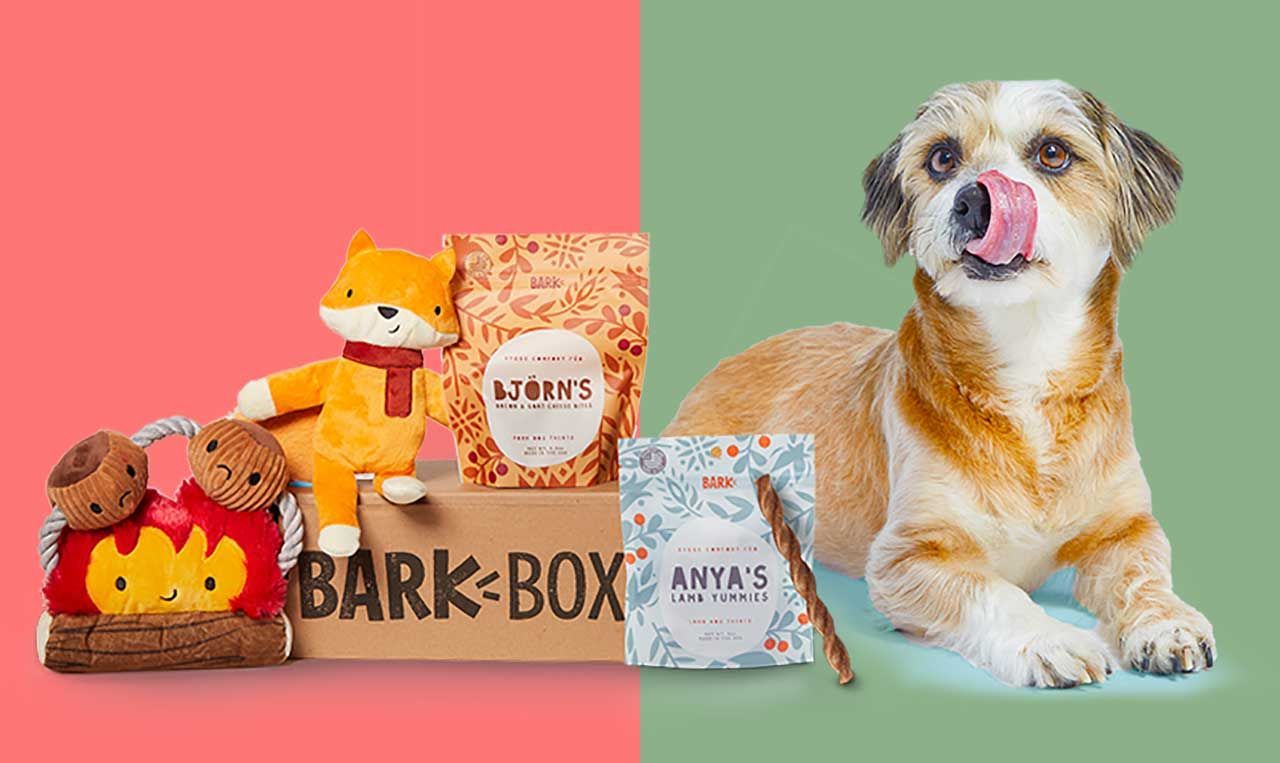 Is it your desire to entertain your dog and prevent him or her from experiencing boredom? Do you enjoy watching your dog play endlessly and do you like to reward your lovable sidekick with treats?
If you answered yes to any of these questions, then BarkBox is totally worth it. Not only is it superfun for you and your dog to look through the box that arrives every month, but you will end up saving a lot of money and time. No longer will you have to shop at the store for expensive treats and toys you're not sure your dog will even like.
Now you'll receive high-quality dog supplies directly to your doorstep and for an affordable price! Overall, dog owners who received this box of goodies left positive BarkBox reviews and recommend everyone to try it.
Frequently Asked Questions About BarkBox
While we've covered a large number of topics and BarkBox reviews, you still may have some questions. Here we'll take a look at frequently asked questions about BarkBox that will hopefully answer any other questions you may have.
Are There Any BarkBox Options for Dogs That Like to Chew a Lot?
Although every BarkBox includes high-quality toys and chews, some dogs may need toys that are extra durable and designed to withstand constant chewing. That's where the Super Chewer comes in. BarkBox created this monthly subscription box specifically for dogs who love to chew. Every Super Chewer box comes with two durable fluff-free toys, two hearty chews and two large bags of treats.
When Will I Receive BarkBox?
BarkBox ships its products on the 15th of every month and has an estimated delivery of two to eight business days in the United States and four to 12 business days in Canada. Depending on when you place your order for your first month's subscription, your BarkBox should ship within that same month.
What If My Dog Has Allergies?
Every dog deserves to enjoy the delicious treats of BarkBox, including dogs with allergies. If your dog has a common food-related allergy such as chicken, turkey or beef, then you can customize which ingredients your dog can't have during the signup. If your dog's allergy is not as common, connect with Bark and they'll be sure to customize your box to fit your dog's needs.
What Size BarkBox Should I Get For My Dog?
BarkBox offers the following sizes:
Small for dogs under 20 pounds
Medium for dogs weighing 20 to 49 pounds
Large for dogs weighing 50 or more pounds.
All sizes cost the same price and can be updated at any time. If your dog is in between any of these weights, it is recommended to go one size up. Similarly, if your dog is a chewer, going one size up will ensure that your dog won't immediately destroy the toys.
Will BarkBox Celebrate My Dog's Birthday?
Not only does BarkBox make every month feel like Christmas, but it also celebrates your pup's birthday. During the month of your dog's birthday, BarkBox allows you to add additional items to your box, including fun birthday-themed products.
Can I Customize My BarkBox?
Customizing your BarkBox is very easy. Simply contact BarkBox to customize the number of dog toys, treats and chews you want in the box as well as specific toy features and edible ingredient preferences you'd like.
Does BarkBox Have Coupons?
Yes, BarkBox does offer coupon codes and promotions and right now I am partnering with them to offer you a discount. Just click here to take advantage of it.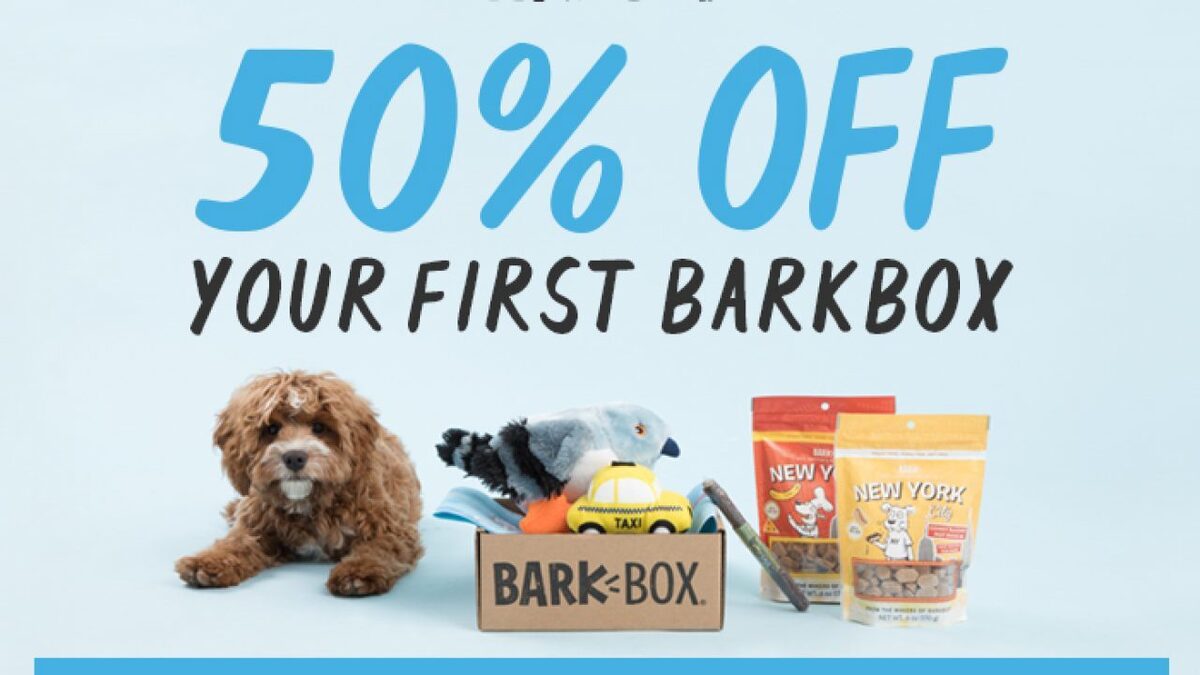 Final Thoughts on BarkBox
Well, there you have it! Hopefully, this guide on BarkBox reviews has helped you decide whether you want to give BarkBox a try. As you can see, BarkBox is full of fun toys and treats, making it an exciting package for your dog to receive. Most customers who leave BarkBox reviews state that their dogs love it and that BarkBox is totally worth buying.