Building a website was a thing that was easy for either coders or people with good money in their pockets to pay. But the times have changed now and anyone can have built their own website with the help of website building tools. Recently, Wix has become a rage among people to create stunning websites. It is an incredible website builder that helps you to create a flawless, stunning, and an effective website without making much effort. The company is known to be in the market for a few years and has become a household name. It is the leading player in helping build websites and currently is hosting over 160 million websites.
The major reason for which Wix is famous that it provides a drag-and-drop website builder feature that is beneficial for creating small websites. Also, it offers over 100s of templates and layouts for free. It also benefits in providing web hosting and domain names which are both paid and free. You can also have access to better functions of Wix like adding photo galleries and eCommerce.
Whether you are initiating a new business, online store, restaurant, etc. Wix can be the perfect choice for you. Even artists like musicians or photographers can have a great shot with Wix.
Price options of Wix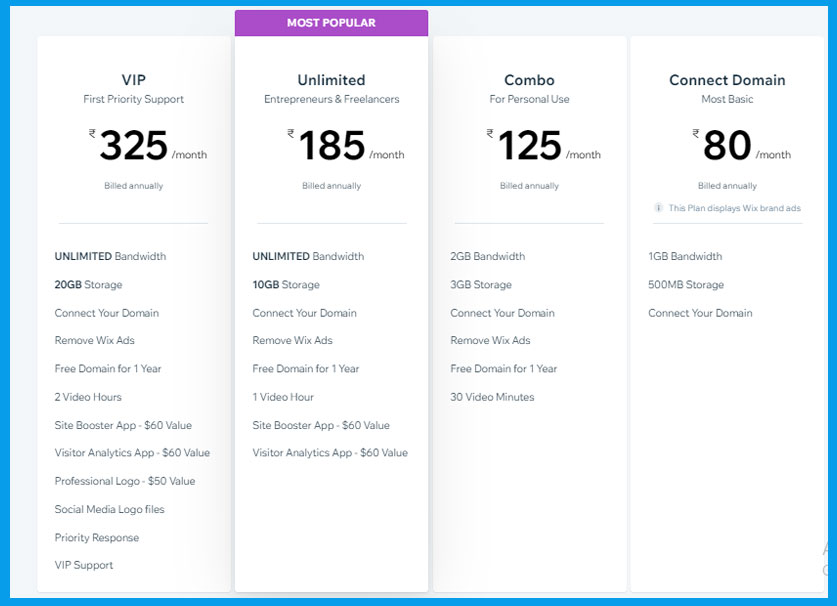 Wix provides both ways to select. You can have access to it for free as long as you desire but it does not include a domain name. Otherwise, if you are looking for professional features from Wix then the best way is to go for premium plans. It has four plans to offer which are mentioned below:
VIP – this plan is available at $39 per month. In this plan, you can get unlimited bandwidth, 200GB storage, you can have a connection to your domain and can remove Wix Ads.
Pro – the business and eCommerce people can opt for a pro price plan. It is best for a complete online brand with great features of the app like Wix Bookings and Wix hotels, etc.
Unlimited – this plan is for entrepreneurs and freelancers. It offers unlimited bandwidth, 10GB storage, connection to domain, and Wix Ads removal option.
Combo – the combo plan is best suitable for small professional websites. This one is at the price of $13 per month where you can get 2GB bandwidth, 3GB storage, connection to your domain and can remove Wix Ads.
Advantages of Wix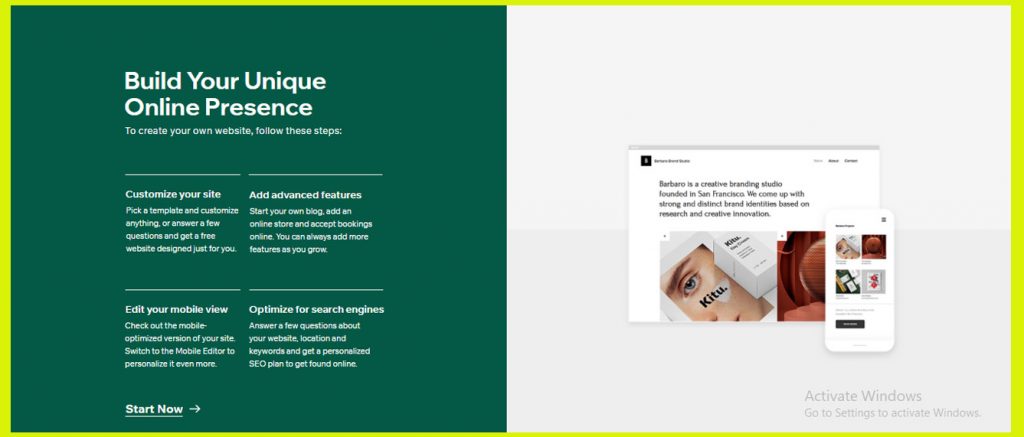 The excellent thing about Wix is that it offers amazing templates. The templates have extremely beautiful designs plus they offer pre-built layouts which is a great thing for you. One can find out a vivid range of templates catering to all businesses and clients.
As compared to other website building apps Wix is highly flexible. You can complete your work with "pixel-perfect". It guides you at every step while giving multiple options to choose from. You don't need to compromise with any of the features, templates, plugins, etc.
While using Wix, users can have access to animate their texts and various other things. This is one of the finest and rarest features that you cannot get anywhere.
It provides automatic website backup. It creates the backup points on itself. The backup can be reinstated anytime. This is the best way to have a hold on your data or information.
It is extremely simple to use. You won't require any extra help or a coder to operate Wix.
Wix also provides features like app market, newsletter tool, and artificial design intelligence.
Wix also offers a versatile range of blogging tools that will help you to create a blog on your website effortlessly. It offers a simple and user-friendly blog-posting interface. One can also add pictures, galleries, and videos in a proper formatted manner.
Wix offers mobile-friendly websites that one can access round the clock on mobile phones. One can also get an option to edit the mobile view, hide certain elements that one doesn't want on mobile screens, etc. On top of that, one can easily add a Mobile Action Bar to help your visitors to contact you via mail or call.
Knowing the fact that website uptime plays a crucial role in keeping your website visible and accessible for the customers all across the world, Wix offers an impressive website uptime. In all the testings, Wix has outperformed and outshined other website building tools in offering stable uptime round the clock. It has its own tool to evaluate uptime efficiency of a site.
Wix also offers round the clock support through various channels. It offers chatbots to give essential site information and solution to your problems. It also offers a Contact Us option for further help. Here, you can find two options, raise a ticket, and get in touch with an agent. Thus, one doesn't need to wait to get a solution from the support team.
Conclusion
Overall, Wix is a great website builder for both small business and personal websites. It offers a great pricing range which is rarely available anywhere. Plus, it has superb templates, marketing tools, SEO, and a lot more. One can easily create a dynamic, result-proven, and effective website without making much effort. In fact, one doesn't need to have technical knowledge to create a website. Wix does it all without giving you any trouble. Therefore, you can definitely try your hands on Wix while creating your dream business or venture website.