Are you in search of a fair Thrive Themes review? Well, you are in the right place then. Thrive Themes is a company that is known to create conversion-focused themes as well as plugins of WordPress. The complete range of products by Thrive Themes are capable enough to turn a website visitor into a client. Getting deep into the details of the company, it was initiated by Shane Melaugh with Paul McCarthy in the year 2013. Both have contributed a lot to make it a successful company. With their combined efforts and forces, Thrive Themes is now the most reputed themes marketplace for WordPress. Since then the company is the highest trusted retailerin the field of digital marketing as well as affiliate marketing space.
The products offered by the company are Thrive themes, Thrive membership, Thrive, architect, Thrive leads, clever widgets, ovation, apprentice, comments, thrive quiz builder ultimatum, Optimize, etc. But out of all the company is popular for its themes and plugins. You can get the deal of 30 days money-back guarantee on all its products. It is highly reliable if you are looking for an association that is long term for your business.
Highly popular themes by Thrive Themes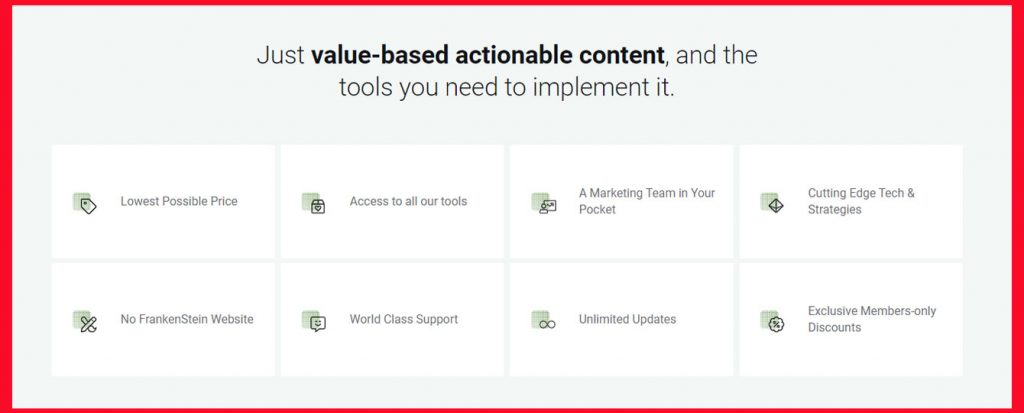 You can certainly not take your eyes off from the collection of themes that Thrive Themes offers to its customers. There is a pool of themes but some of the best out of all are mentioned below:
Rise – this theme is very simple and a smooth working template meant mainly for blogging purpose. The main purpose of this theme is to maintain good speed as well as usability with great marketing. You can use this theme either for your conversion page that sells products/ services and can also use it for a blog too.
Pressive – this gorgeous WordPress theme brings a perfect balance of feature-rich on the table. The theme is very stress-free to use and comes with a pack of amazing features.
Squared – if you are looking for a design that is suitable for a business website then this theme is the best choice. The theme is very sophisticated and is not flashy. However, it is a better choice for calls to action then marketing and conversion. Overall, the themes serve the purpose well.
Focusblog – the name of the theme says it all. It is a superb theme that draws the focus on the blog posts. You can go for this theme for either a blog-led marketing website or a business website.
Perfomag – a theme is a brilliant option for new websites and magazine blogs. It outshines for its simplicity, effectiveness, and smoothness. The theme is amazing for its fast loading ability.
Storied – It is also a very enticing theme offered by Thrive themes. It comes in a story-driven design along with a tile layout to serve all types of multimedia posts. Simultaneously, it also offers marketing and conversion elements.
Voice: It is also an exciting yet simple theme meant mainly for authors and content creators helping them to showcase their work.
Minus: It is very subtle yet beautiful theme designed for those seeking minimalistic themes. It comes with an image box in the center to grab everyone's attention to your business products and services without beating around the bush.
Ignition – it is basically a marketing based theme to sell products and services. With a basic homepage and in-depth product & services pages followed by conversion pages, it offers everything along with an extra set of elements for customization.
Luxe – it is also an impressive yet simple theme which also gives you the privilege to run multiple customizations on all pages.
Pros of Thrive Themes
Thrive Themes benefits in conversion focus. It is some of the few vendors who are renowned for its impressive marketing portfolio and lead generation. It offers several conversion elements and plugins including Headline Optimizer, Ultimatum, Optimize, Thrive Leads, etc. One can use any or all of them to enhance the rate of conversion. Every plugin or element comes with solid marketing drive. Thus, marketing and conversion are the main strength of Thrive themes.
One also gets an instant access to its Landing Page Optimized Templates feature through Thrive Architect. For all marketing people, it is an incredibly powerful feature to create stunning landing pages. Currently, it offers over 276 landing page templates, and most of them come along with plugins.
It comes with a superb user experience due to the fact that it is stress-free to use. One doesn't need to have technical knowledge about different aspects, including HTML, CSS, CMS, etc. With the help of page builders, plugins, elements and tools one can easily design and get started without worrying a little.
There are around 276 templates for the users which are beautifully created with lots of impressive features. Thus, one doesn't need to compromise at all.
The user has the benefit of a 30-days money-back guarantee with Thrive Themes. Thus, there is no compulsion.
This is the best option for creating affiliate as well as marketing websites to accelerate your business.
Pricing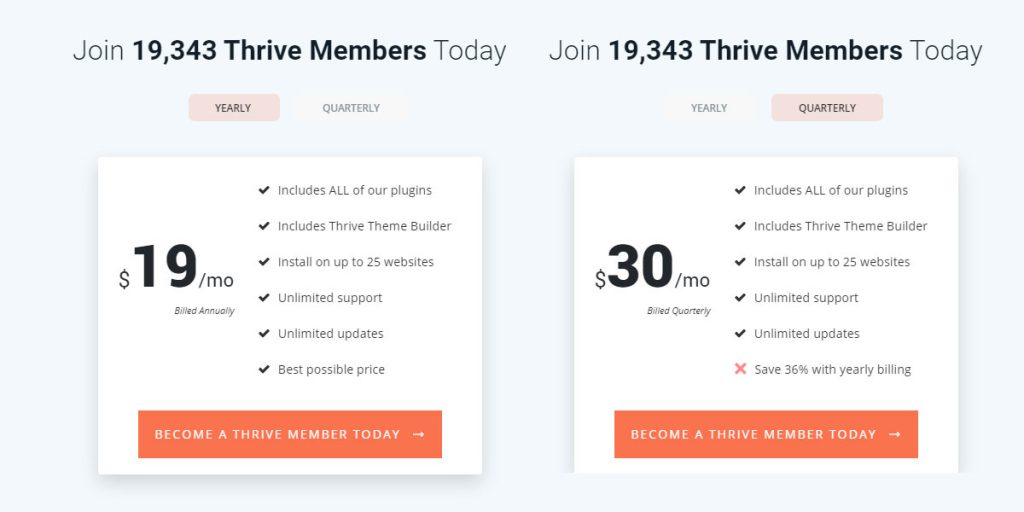 It's membership is meant for individuals and priced at $19/month. The inclusions in the membership are:
Usage of Thrive themes on over 25 website.
Usage of all prominent plugins.
Product updates free of cost.
Full customer support for one year.
However, if you are running an agency, then it offers a different membership plan at a price of $49/month. It's inclusions are:
Access to all Thrive themes for over 50 websites.
Access to all Thrive Plugins.
Free updates on all products.
One year of customer support round the clock.
Conclusion
To sum up the review of Thrive Themes, it is an intelligible package that offers impressive tools that are beneficial to build a website plus convert the users. The company works with the aim to provide you conversions and does not interfere with the consumer experience. It offers value for your money with complete customer satisfaction. Therefore, Thrive Themes is worth investing your money.