Having the support of a good web hosting platform is highly essential in today's world. If you prefer your website to be accessed on the web then it is important to find excellent web hosting services. The website has no relevance if it's not maintained and visible to the global audience. A web-hosting provider takes care of your website round the clock and helps you to store all your web data without losing it at any point. On the contrary, with the prices touching sky high of every web hosting platform, it can be a real daunting task to find one which suits your needs. However, the best solution to your problem can be Hostinger. This web hosting platform is outshining its competition in the market not only because of its excellent features but it being exceptional value for money.
About Hostinger

Hostinger was started in 2004 in Lithuania. Initially, it started off as a small hosting platform. However, in 2011 it managed to gain one million users and eventually turned into a big company with subsidiary companies with data centers in seven countries. Today, the company serves over 29 million customers with around 10000 new registrations every day.
Types of hosting offered by Hostinger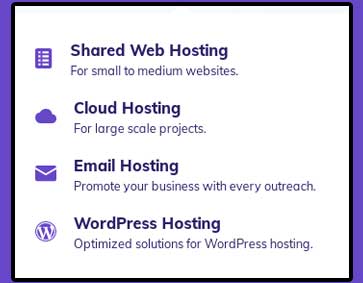 Broadly, Hostinger provides four different hosting programs to serve all types of online businesses and customers.
Shared hosting: It is the cheapest and an effortless way to host your website online. It doesn't charge much from your pocket and offers 100 GB to unlimited bandwidth, weekly/daily backups, one/unlimited accounts, and a free domain.
WordPress hosting: If you have a WordPress site, then you can take the benefits of it's WordPress shared hosting plans at affordable rates. You can choose from single to premium to business hosting plans with unlimited email, bandwidth, and backups.
Cloud hosting: This is a revolutionary and most popular hosting nowadays. Here, you can host your site in the cloud on various servers. One can get a dedicated IP address, unlimited bandwidth, a free domain, over 300 websites, and up to 200 GB SSD storage.
VPS hosting: It is a virtual private hosting wherein you will get a dedicated server with dedicated resources, unlike shared plans. It is an expensive hosting option with a powerful control panel, features, and dedicated speeds.
How it offers excellent value?
A lot of people either do not have the correct knowledge or often into chaotic situations while selecting the right web hosting platform. Thus, it's very important to know everything about a web-hosting provider before taking the plunge. There are certain solid reasons behind Hostinger being excellent value for your business.
Lowest prices – this web hosting has the best plan for its customers in the industry. You will get the lowest price plan of all times with Hostinger. You can have its plan at the price of $1/ month but that plan needs to be for 48months. However, the other hosting plan is $9.99 for one month, $1.59/month under a 24months plan.
Free domain – another reason for this platform to be an excellent value is that it offers free domain after your register it's premium or business plan. Therefore, you save about $10 for one year. This is yet another deal that nobody can say no to.
Reveals server-status – there are not many hosting service providers that reveal current server status but Hostinger does. It has a server monitor that keeps a check on the last 7days uptime, current downtime details, plus fast stats.
H-panel – the platform has its in-house developed H-panel interface. The benefit of this interface is that it is simple to use. The information related to the website remains in one place. Also, it has large icons that make everything easy to operate. The custom dashboard of Hostinger is simple to navigate, clean, and intuitive.
Amazing Pros of Hostinger
Here are some of the amazing pros of Hostinger mentioned below:
Incredible speed – the speed of any website determines its audience traffic as well as engagement. Thus, every visitor to your website expects it to load within one second. The hosting service platform offers your website the highest speed of 299ms to load. The reason behind it offering incredible speed is solid-state drives, customizable server-level caching, and global data centers.
A versatile range of WordPress plans: Hostinger offers a wide range of WordPress plans to make sure that every WordPress user gets easy to use hosting plans.
It offers hosting for both Linux and Windows: Unlike conventional hosting plans, Hostinger offers diverse hosting features that are compatible for both Linux and Windows platforms.
Sturdy SSD Drives offering incredible data access speed: Hostinger offers SSD drives with an incredible data access speed of 35 to 100 ms. More speed means that you can run all types of programs swiftly without facing any kind of lag.
Universal Data Centres: For the best web hosting data centers play a vital role. The web-host has seven data centers in prominent countries, including the US, UK, Brazil, Holland, Indonesia, Lithuania, and Singapore. Every server has static web content and offers super-fast speeds.
Security – another benefit of this hosting platform is its ability to offer excellent security. It has advanced security features such as 'apache mod_security' as well as 'Suhosin PHP hardening. Apache mod_security is known as WAF working with Apache, Nginx as well as IIS. Whereas, Suhosin is a protection system for PHP installations.
It also offers HTTP/2 on its hosting plans. This is a fast and convenient way to secure any website. Through HTTP/2 your data gets delivered via binary code.
Conclusion
Hostinger offers excellent features and benefits to its customers. Plus, the ultimate advantage of this web hosting platform is that it is great value for money. Therefore, you shouldn't think twice before getting hands on it. With an assurance to deliver high speeds, incredible uptimes, round the clock support to customers and a versatile range of hosting plans catering to all types of customers, it leaves no stone unturned to give the best value for money.