I've been spending a lot more time at home.
So I signed up to MasterClass to see what all the fuss was about — and to hopefully become a more well-rounded person along the way.
You've probably heard of MasterClass: it's a platform where masters of their craft give curated video lessons, allowing you to learn from some of the brightest minds in the world.
In my epic MasterClass review, I'll tell you everything you need to know about the platform (including the good and the bad) and walk you through my experience taking 4 classes: Judd Apatow for comedy, Billy Collins for Poetry, Dominique Ansel for pastry making, and Dan Brown for writing thrillers.
I'll also give my verdict on whether MasterClass is worth it for you.
Let's get started.
What is MasterClass?
MasterClass is an online learning platform that allows you to take classes from some of the biggest names in the business.
What big names? Gordon Ramsay, Samuel L. Jackson, Judy Blume, Natalie Portman — and the list gets bigger every month. Each class comprises video lessons (with excellent production quality) and a workbook. It's go-at-your-own-pace.
It's an entertaining, educational platform where celebrities teach you their craft.
With MasterClass, you're paying for the experience of being taught by a celebrity. It's something no other platform has.
But, in all honesty, some celebrities are much better teachers than others. While the production value and entertainment value of each class is high, not every class taught me a lot.
You need to be aware of that. MasterClass isn't strictly education. It's "edutainment."
Think of it as an educating alternative to Netflix.
Why you can trust this review
Here's why you can trust this review: because I'm not going to tell you that MasterClass is perfect.
Most reviews will pretend to review a platform like MasterClass, but then at the end, they'll say "it's totally worth it."
Here's the secret: it may not be worth it for you.
You can trust my review, because I am telling you upfront:
Who will like MasterClass – There are people who will definitely use and love MasterClass
Who will not like MasterClass (spoiler: if you're looking to learn some hard skills, it won't be for you)
The pros and cons of MasterClass
If MasterClass is worth your money.
Full disclosure: for some of you, MasterClass won't be worth your money.
I want to help you find that out before you pull the trigger.
How MasterClass works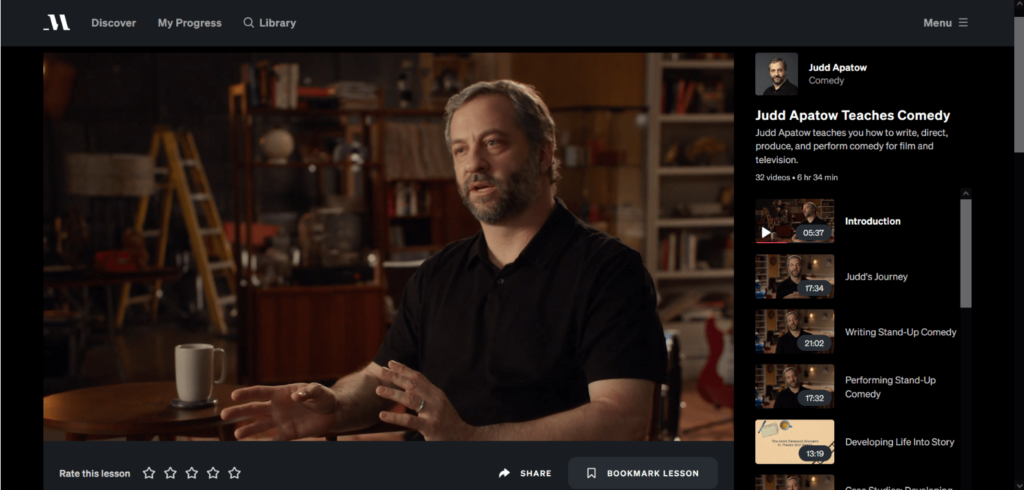 Taking a MasterClass is very intuitive. Once you log in, you can navigate to the Discover tab to see curated courses (ones recommended for you), or simply go to the Library tab to see every course by category.
Click on the course you like to get started. It's that easy.
Most courses have 20 to 25 video lessons. You can also download worksheets and other items to help you learn alongside the instructor.
The video lessons can be watched at your own pace. They are relatively short, so you will never be overwhelmed with the information and anecdotes of the instructors. You don't need to commit to watching anything for hours at a time — unlike other education platforms.
You can expect the following from a typical MasterClass course:
Video lessons from the celebrity teacher. Most classes have around 2 to 5 hours of video content in total
Course notes on each video summarizing the key points
Additional reading resources
A space to log down your own notes
Access to the community. You can join discussions, share your own work, and connect with other students taking this class (however, as I discuss below, this feature of MasterClass wasn't appealing to me).
You can take as many MasterClasses as you'd like at any given time. Binge, browse, and repeat lessons at your own pace.
Who is Masterclass for?
MasterClass is for creative types looking to get their creative juices flowing!
Most of the courses teach you a creative skill – such as photography, writing, or filmmaking. If you're looking to brush up on your novel-writing skills, then Salman Rushdie's writing class is perfect for you.
MasterClass is also great for people who want to know more about the teachers + celebrities on the platform. Each class tries to strike a balance between documentary about the teacher and lessons the teacher provides. Many classes (particularly the cooking and writing ones) do a great job keeping the lessons front-and-center.
Others, like the Jeff Koons class on art, are about 50-50.
Then, others still, like the Alicia Keys class on music production, are completely dedicated to the teacher and don't provide any actionable lessons for the students. I did not like that class.
But, if you're a curious creative who doesn't mind learning about your teachers and gaining some new creative skills, then MasterClass will be a good platform for you.
Who is MasterClass not for?
Masterclass is not for someone who is looking for live instruction or education that's accredited.
These classes are all pre-recorded, and don't offer Q&A sessions or 1 on 1 lessons. You won't be interacting directly with the instructor.
MasterClass is also not for someone who is hoping to use these classes to replace college-level courses. These aren't accredited courses and shouldn't be confused with them.
Additionally, MasterClass isn't great for people trying to learn hard skills or professional skills. You're not going to learn how to use excel (admit it, none of us really know how to use excel) on MasterClass. If you're looking for something to add to your resume, MasterClass might leave you unsatisfied.
Lastly, it's also not for people who don't want to learn. Yes, the classes are entertaining and some of the lessons are a joy to watch, but I think the main attraction of MasterClass is to learn new things.
And learning requires a bit of effort.
So is MasterClass worth it in 2021?
Me personally? I love MasterClass. But that's because I'm a creative type who likes listening to important thinkers in a bunch of different fields.
MasterClass, in 2021, is bigger than ever, with more classes by an even more diverse array of teachers. More women and minority teachers have joined the platform. I'm excited to check out Niki Nakayama's class on Modern Japanese cooking!
MasterClass is more relevant for people looking for inspiration or a springboard to further pursue their own creativity. You get an insider's feel of what it takes to be successful — and there are numerous ways you can apply these teachings in your own life.
Is MasterClass worth it for you in 2021?
If you are looking to get some intimate, behind-the-curtain looks at some top thinkers and celebrities and you want to learn from these great minds, then yes, you'll really like MasterClass.
The cost of MasterClass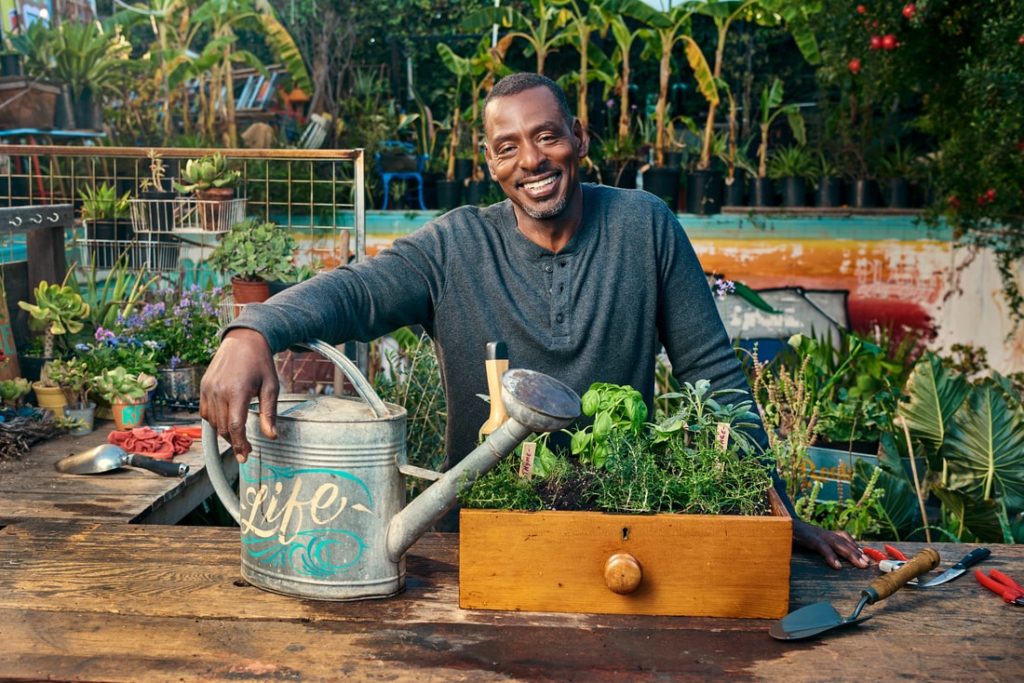 The MasterClass annual membership costs $180. This gives you access to all the classes on the platform for one year as well as any new ones that launch.
$180 isn't pocket change.
But given the caliber of the instructors, and production quality of every video, I think it's still great value.
A question that gets asked a lot is whether you can just buy an individual class? The answer is no. The annual membership is the only way to access to MasterClass.
Is there a free trial?
There is no free trial available for MasterClass.
If you see websites offering MasterClass free trials then these are fake and you're best to move on.
However, this doesn't mean that you can't try before you buy. MasterClass offer a 30-day money back guarantee. So, if you find that MasterClass isn't for you for any reason, you can get your money back.
Yes! Now, MasterClass has two higher tiers called plus and premium.
With plus, 2 devices can access MasterClass at the same time. This costs $240 a year.
With premium, you get 6 devices. It costs $276.
In my experience, most users will be best off with the standard, $180 plan, but your mileage may vary.
Do they offer a discount?
MasterClass do not generally offer discounts on the purchase price.
The $180 annual membership is the same for everyone.
However, several times throughout the year MasterClass run a special promotion featuring a 2-for-1 deal. This means you can buy one annual membership and gift another to someone else.
I'll update this review when the next promotion is running.
Is MasterClass worth your money?
When I first went to sign up for MasterClass, I was surprised at how affordable it is. $180 for the year. Given that the instructors are all celebrities in their field, I thought the price would be a lot higher.
Sure, $180 isn't cheap. But it's $15 a month. That's less than the Netflix premium plan! And it's way less than you'll pay for many online education platforms or even going to take a single college class in person.
Considering you get access to over 100 classes, filled with video lessons, workbooks, and discussion boards, $180 is competitive.
So yes, I think MasterClass is worth the money.
The pros and cons of MasterClass
Let's first break down what I found pretty great about MasterClass.
Legendary teachers- It goes without saying that these teachers are no slouches. And it never feels like they don't live up to their reputation, nor does it feel like they're phoning it in. It's a pretty big deal to have so many legends on the one platform explaining their craft.
Video quality- This is a real standout feature of MasterClass. The videos are incredibly well produced. The camerawork, the lighting, the sound, and even the music makes the videos a joy to watch. I think the video quality not only adds to the spectacle of the videos, but makes everything more intimate and the teachings easy to absorb.
Quick Lists- This is an incredible feature of MasterClass. Basically, you get lessons recommended to you based on what you're interested in. So, you can jump from one lesson by Neil Gaiman on finding inspiration to a related lesson from David Baldacci on generating story ideas. The best bit? You don't need to complete each class in a linear fashion. You can move seamlessly between instructors based on topics that interest you.
Variety of classes- The MasterClasses are broken down into nine categories, with each category have plenty of different classes underneath them. There are MasterClasses for writers, home cooks, musicians, journalists, actors, athletes, and more. Plus, Masterclass is adding new content on an almost weekly basis.
The mobile app. I preferred to watch the MasterClass videos on my laptop, but they worked just as well on my phone. The MasterClass mobile app is an impressive feature and worked seamlessly for me.
Approachable- The difficulty of the classes does vary, but the classes are overall very approachable in the sense that anyone (even novices on the subject matter) can enter into the class and learn new skills from the instructor.
As much as I enjoyed my experience with MasterClass, here are the things I didn't like as much about the platform.
Not a replacement for traditional education- These aren't semester-long classes. Each one has probably a few hours of learning in total. You shouldn't think of them as substitutes for traditional education, but rather as springboards on your learning journey.
Pre-taped classes- These classes are self-paced. They don't start/stop on a schedule. As a result, there isn't any live Q&A element with these classes nor any unpredictability. Ron Howard's class will be the same every time you take it.
Community feature- MasterClass has created a community called The Hub where you can chat to other class members and discuss the teachings from the instructor. In theory, it's a nice addition. In practice, I found thediscussions barren and uninspiring. I quickly skipped this aspect of MasterClass.
Some classes feel like memoirs/advertisements for the teachers- A few classes focus heavily on the memories and experiences of the teachers, while reducing the amount of takeaways any student will gain.
Those are the big cons for me, and they're not really that big. These are mostly great classes that give you a good knowledge base to expand your learning. They're just not huge deep-dives into each subject.
As long as you understand that you're not getting a literal, collegiate class when you take a Masterclass, then you'll probably be content.
My review of 4 classes
Now that you have an overview of what MasterClass is about, let's dive into my personal experience taking 4 totally different classes.
Judd Apatow MasterClass review
Who among us hasn't had a secret desire to do stand up comedy? It can't be just me?
What's standing in our way? Our fear of bombing!
I've always wanted to try my hand at stand up, so I figured I'd sit down and learn from the master: legendary comedian Judd Apatow.
Judd Apatow (for those who don't know) is an awesome writer, producer, and comedian. He is famous for having written The Forty Year-old Virgin and Knocked Up, movies which changed the comedy paradigm, moving away from the goofy-character movies (like Austin Powers) to the funny, but realistic situation movies (like Knocked Up).
How is the class structured?
Judd Apatow's MasterClass consists of 32 videos that take up a whopping 6 hours and 34 minutes. Hey, comedy is serious business, so take some notes folks!
Once you download the 55-page PDF accompaniment, you'll see that the class is actually structured around 3 different tracks: the stand up track, the writer track, and the director track. While the videos stay the same, the assignments differ. Each track has a project that you'll work on throughout the class. If you do the stand up track, you'll create a tight 10 minute comedy routine. If you do the writing track (my choice), you'll craft a comedy screenplay (I'm still working on it!!). If you do the director track, you'll ultimately create a short film.
The trick, of course, is getting someone to pay attention to your work after, right?
Who is this class for?
This class is great for people who are trying to understand the ins and outs of comedy, and hoping to create some comedic material.
Judd Apatow helps you understand yourself, mine your life story for comedy (you gotta get personal!), and then shows you how to structure film, characters, how to workshop scripts — it's very exhaustive. Apatow also takes time to give a lesson on "a life in comedy," which I think speaks to the practicality of this class.
Look: so many of us want to be comedians. Comedy is hard! Apatow's class is such a great resource because it's honest, helpful, and encouraging. Aspiring comedians will take a lot out of it.
Who is this class not for?
Grumpy people.
Kidding. Sort of.
This class is a journeyman class for aspiring comedians. If you're not interested at all in learning comedy — be it for stand up, for writing, or for just being a better joke teller at parties, then sure, you shouldn't take this class.
Thankfully, I don't know many people in this category. But if you're one of those few, I'd stay away.
My verdict
Judd Apatow's MasterClass on comedy is a funny and very personal (and encouraging), exhaustive class on comedy that helps any aspiring comedian build a solid understanding of comedy, create a good base of comedic material, and then get the courage to perform that comedy.
The use of three tracks (and the encouragement to get that work done) is unique on MasterClass, and provides you three different ways to get the most out of the MasterClass.
With 32 lessons and over 6.5 hours of video content, Judd Apatow's MasterClass is a great resource. Any comedian should dive into this MasterClass if they're hoping to start out or improve their comedy game.
Billy Collins MasterClass review
Billy Collins was the Poet Laureate of the US from 2001-2003.
He's a very popular and approachable poet with a knack for getting any reader hooked with his casual tone before reeling them in with his deeper, more philosophical thoughts later in each of his poems.
My third-grade teacher also read us a lot of Billy Collins poems. So I've been a B.C. fan for a while.
Anyway, that's actually what got me excited about MasterClass — the chance to learn from Billy Collins. He's the modern master of poetry — who better to learn from than him?
How is the class structured?
Billy Collins divides his class into twenty lessons that run from around 10-20 minutes in length.
These classes cover topics from "working with form" to "finding your voice" and everything in between. The video segments are quite casual, allowing you to get interested in the topic at hand without feeling like you're being lectured to.
The class comes with a 60-page workbook that has fun exercises, musings, and an appendix of referenced poetry.
Beyond this, his class comes with a community forum feature where you can share and upload work. The poetry class seems to create a class book every year or so which students can contribute poetry to.
Who is this class for?
Billy Collins's poetry class is great for anyone who is interested in poetry.
While this MasterClass is probably geared more to writers who are just beginning to get into poetry (many of his lessons are things like "write a Shakespearean sonnet," or "write a list of 20 things you did during the evening but not in order), these lessons are applicable for any poet at any level of their craft — it's never too late to learn from the master!
Once you get immersed into the class, you realise that there is a great deal of wisdom, depth, and eloquence that any writer can learn a great deal from.
If you're interested in poetry, this class is for you.
Who is this class not for?
This class is not for analysts who want to (to borrow from Billy) "beat the poem with a hose." By that, I mean analyze literature to death.
This is not a class where you examine every rhyme, every foot of each line, and agonize over the potential symbolism until you're finding non-existent imagery hidden in the humps of the letters themselves.
Instead Billy teaches poetry shouldn't be stuffy, so he encourages you to let your guard down.
If you're a poet who angrily demands that all poetry must rhyme, must lock in its meter, and cannot deviate from "thee, thine, thou," then you're gonna have a rough time.
My verdict
I was really delighted by Billy Collins's class. He's a gentle expert who casually guides his class through the art of poetry without ever making it feel intimidating.
People who think they hate poetry will take this class and perhaps come away thinking "you know, this poetry stuff isn't half bad."
I'd encourage anyone who thinks that poetry is "stuffy" or written by "dead old men" to give Collins's class a shot — you may discover the hidden poet within you!
Dominique Ansel MasterClass review
Ah! Dominique! The legend! The Cronut inventor! It's him (in the digital flesh), teaching us how to become a world-class pastry chef.
After waiting years for a Cronut before casually strolling in and surprisingly finding them in stock in 2019, I've been an Ansel convert.
So, when I found myself with more free time on my hands because of my 14-day isolation, I thought: I need to eat.
And what do we eat when we're stressed? Tasty treats. What better way to kill time and fill my anxiety belly than by learning how to bake a few of Ansel's treats.
Dominique Ansel is a world-renowned pastry chef. He was the pastry Chef at Daniel, a two-Michelin-starred restaurant in New York City (I believe it had three when Dominique worked there), before he opened up Dominique Ansel Bakery in the SoHo neighborhood of New York.
While he has invented such tasty treats as the Cookie Shot, Blossoming Hot Chocolate, and the Frozen S'more; he is well known for the "cronut" a croissant-doughnut hybrid he invented in 2013.
7 years later, don't tell me that the cronut isn't worth the hype!
Also, in 2017, he was named the Best Pastry Chef in the World.
In short, he's a master of his pastry craft.
How is the class structured?
Dominique Ansel's MasterClass contains 17 video lessons. The first few are intro videos, along with his story of how he came to run his pastry shop.
After these intros, the Masterclass takes an interesting turn. Dominique walks you through how to create five recipes of varying complexity.
This is interesting, as each lesson is often simply a component of a greater recipe. For example, in the fruit tart, one lesson is on the shell, while another is on the strawberry jam.
A lot of the lesson is on the technique itself — and he structures the videos so that you can follow along at home. Because of this, it's a lot less of a theoretical or philosophical style Masterclass than say, the writing classes.
Instead, you're actively working and learning along with Dominique. It's nice.
Dominique teaches you how to make madeleines, a fruit tart, a chocolate cake, bonbons, and the perfect pastry. He wraps up the MasterClass by doing a case study on the Cronut, and teaching you how to think creatively about pastries.
As someone who is tired of seeing "ice cream" as the sole dessert on too many restaurant menus, it's nice to have Dominique champion the cause of the pastry chef.
It's inspiring for a pastry nut.
Who is this class for?
This class is for people who want to cook. Specifically, this class is for people who want to cook desserts and baked goods.
It's high-end French pastry making, so it's technically challenging. In fact, I'd peg it as the most technically challenging of any of the classes I've taken so far.
Dominique Ansel's MasterClass is for those who relish a challenge.
If you're looking to make a dessert that will wow your friends and family, then let Dominique teach you how to make his chocolate cake. If you're looking to replicate those flaky Parisian pastries, then jump on this Masterclass!
Who is this class not for?
This class is not for those who don't have access to a kitchen (unfortunately). You really need to follow along with Dominique to get the most out of this class.
It doesn't require a ton of specialized equipment, but you're going to need a stove, an oven, plenty of mixing equipment, baking sheets and tins, pastry/frosting bags, and other similar supplies. It's not going to cost you an arm and a leg to get there, but if you're just looking to whip up a cupcake, this isn't the class for you.
Likewise, this isn't the class for people put off by a challenge. These are multi-element, time-consuming recipes with a focus on presentation. Sure, they taste phenomenal, but they look gorgeous. You need to be someone who can at least take a moment to slow down and up the ante on plating.
Similarly, you need to be able to follow directions. If you can't follow along with Dominique, you'll wind up with an inedible mess.
Master the techniques first, then go off on your own.
My verdict
Dominique Ansel offers a challenging, but engaging Masterclass that centers around creating five signature recipes. These recipes highlight a variety of different important pastry techniques that will allow you to build a great base of knowledge for trying out new recipes on your own.
Plus, the recipes are delicious. So freaking delicious.
The first one you get to try is the mini-madeleines recipe.
Never underestimate a good madeleine. The recipe may make 100, but you'll plow through those like a kid and a bag of potato chips.
Dan Brown MasterClass review
"By the end of this class, I'll tell you something I've never told anyone else…and show you something no one else has ever seen."
WHAT DAN! WHAT?
"…and that's how you create suspense."
My God! It hadn't been more than five minutes into Dan Brown's MasterClass, and he already got me hooked.
Dan Brown is the author of some of the greatest, best-selling thriller novels. Da Vinci Code, Angels & Demons, Inferno. He's a legend at building the page turner – the novel that keeps you guessing, keeps you reading, and keeps you at the edge of your seat.
I wanted to learn how to write a thriller. I've taken a lot of writing classes, but the thriller – the suspenseful, twisting, interconnecting plot-line thriller – always felt like the Holy Grail.
If anyone could teach me, Dan could.
How is the class structured?
Dan Brown's MasterClass is divided into 19 lessons that take 3 hours and 32 minutes to complete. He includes a 90ish page guide that supplements the lessons, and includes two styles of writing exercises: general homework and for your novel. This way, if you're just starting out, you can partake in some great writing homework. Or, if you've already begun your novel, you can tackle some more advanced coursework.
The lessons themselves cover some unique ground, such as:
The anatomy of a thriller
Creating suspense
Exposition and Dialogue
The Secret of Secrets
I particularly liked his lessons on creating suspense, as it was unique to this MasterClass. There are tons of writing courses on MasterClass, and I was relieved that Dan Brown's class stood out from the rest.
Who is this class for?
This class is for any writer who wants to tell a story – but particularly for writers who are working on long-form, suspenseful stories.
Dan makes it clear from the beginning that a lot of his advice is applicable to any storyteller. He compares stories to cars: sure, there are trucks, sports cars, minivans… But, under the hood, the cars all work the same way.
Thrillers are no different. They are a type of story, and what makes a thriller a good thriller often comes down to the mechanics of good storytelling.
If you're curious about the mechanics of good storytelling, Dan Brown will teach you them.
Once you've got those mechanics down, he gets into the technical components of how a thriller works. He gives you practical advice on how to write a thriller, be it a screenplay or a novel.
If you're looking for practical, actionable guidance on writing a story, then Dan Brown's MasterClass is for you.
Who is this class not for?
This class isn't for everyone. If you're not interested in writing a story, you're not gonna like this class.
If you are a writer, but you're less interested in creating engaging narratives – particularly fast-paced, suspenseful narratives – you may get less out of this class than other writing classes on MasterClass.
My verdict
Dan Brown's MasterClass is a great, engaging course on how to write a thriller. He provides actionable lessons, useful exercises, and implements suspense itself in his teachings.
It's an excellent writing class that will expand your creative capabilities.
What's the best way to watch MasterClass?
You can watch MasterClass on:
Laptop or desktop
iPhone or Android
Apple TV, Amazon Fire TV, or Roku TV.
I on't know if there's any best one way to watch it, because it totally depends upon your class and your preferences.
MasterClass gives you options. The streaming is high-quality (we're talking Netflix level), and the quality doesn't drop when you change streaming devices.
Personally, I watched all of my classes from my laptop.
The streaming was flawless, and it was easy to navigate between all the different video lessons.
How many did I watch a day?
It totally depended upon the class. For some classes, like Dominique Ansel, I'd watch a couple at a time, because I was following along with a recipe.
For others like Billy Collins, I'd typically watch only one a day. That way, after watching his 20 minute video, I'd take another 20 minutes to work on my own writing.
Some of the classes definitely have a nice "lesson-a-day" rhythm, while others are more "bingeable". I don't think there's any one perfect way to do it.
What makes MasterClass different to its competitors?
There are a lot of big names in the online learning space, and it can be a little confusing to figure out what each platform offers and which one is best for you.
For mine, the main alternatives to Masterclass are websites like Udemy, Mindvalley, Skillshare, and The Great Courses.
These companies are (typically) web-based learning platforms that are structured more like college classes. They teach classes like Beginner Italian, International Politics, Statistics, etc.
Basically, they teach free college-level classes.
That's great, and you really should check them out if you want a more rigorous academic experience.
But, they don't teach craft like MasterClass does. MasterClass focuses on (typically artistic) craft like fiction writing, directing, cooking. Then, they get world-renowned experts in these fields to teach you what they know.
No one else is doing that. That is what makes Masterclass different. The masters themselves.
My MasterClass review verdict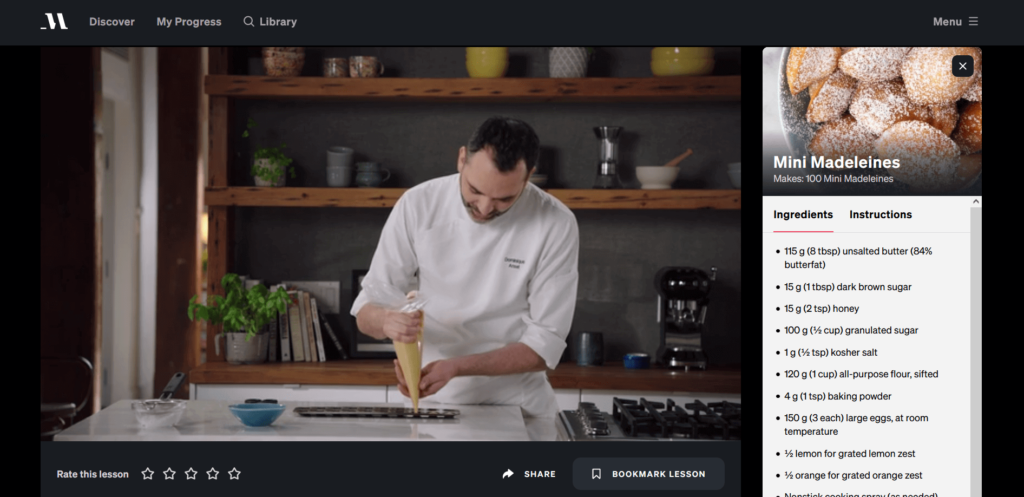 Masterclass really surprised me. I dived into it with an open mind and was impressed by the variety of classes available and the knowledge and enthusiasm that each teacher brought to their classes.
Was MasterClass worth it?
For me, MasterClass was definitely worth it. Each teacher does a great job of showing you how to make the craft your own, which really helps the new learner gain a passion for the skill.
Dominique Ansel's lessons on ingenuity helped me view pastry making in a very different way (it's not an unchanging artform, but alive with innovation), while I found the class poetry book for Billy Collins's to be a really sweet touch. I hadn't seen anything like that.
Although I didn't find much value in the community portion of the classes, in general, that is not what draws me to any form of online learning.
By joining MasterClass, you'll come out the other side with some impressive know-how on a huge variety of different skills.
And that, without a doubt, is worth it in my book.