Weebly is among several top companies to consider when it comes to building websites the easy way. While Weebly may not be as frequently marketed as some of its competitors (like Wix and Squarespace), it definitely deserves to be considered as a web builder to use for creating your website.
Weebly is 14 years old and has an exciting history. Although you probably associate Penn State with US college football, there's a lot more going on than that over there. In 2006, this famous college required applying students to have an online portfolio. As you can imagine, many people had problems creating one, so David Rusenko, Chris Fanini, and Dan Veltri decided to build software that would help students to create a simple website. Weebly was born.
From that moment, Weebly started to grow and attract new people. Angel investors put some money in, there was a PRO version introduced, and the rest is history. Two years ago, this popular website builder was acquired by Square, who is the current owner of the platform.
Who should use Weebly (best for):
With a simple "guided" drop & drag editor that has some restrictions, Weebly aims toward beginners and people who need simple websites without having to touch any code. It comes with a drag and drop builder that gives you enough freedom to play around when starting out. It also allows you to start a blog or even a small online shop. This makes it best for simple personal and company websites, as well as petite eCommerce sites that sell only a few products.
Crafting more complex websites and blogs is not impossible with Weebly, but definitely not something I would recommend as there are better solutions available, such as Wix or WordPress.
Weebly key features
Drag & drop editor – move elements around and let Weebly drop them in just the right place.
Beginner-friendly templates – over 50 templates that can be easily edited and modified.
Responsive themes – your site is automatically mobile-friendly.
eCommerce – quickly start an online shop with tons of features and options.
Video background – easily add a video background to any element of your site.
Site search – let your visitors search your site without problems.
Review summary
In this review, I am about to create a simple website to see everything that Weebly offers. I will test out the elements and builder, as well as see how it handles things like SEO and eCommerce. I will add a blog and contact their support via email to see how quick and helpful they actually are.
Detailed Weebly review
Ease of use
From the very first moment that you open the dashboard, you will get the impression that Weebly is easy to use. And that is quite true. Everything is intuitive, and Weebly has a small learning curve. It will take you just a few moments to get around and know where things are.
Unlike Squarespace, for example, you will not get lost searching for a feature. All of the essential options are within reach, and everything feels organized. This means that even if you are not that comfortable with web builders, Weebly will let you poke around and craft your site without many problems.
Templates
When you start creating your website with Weebly, you will get to choose from 50-ish templates assigned to various categories. While this sounds like plenty, you will be surprised when you start browsing. When you spread those templates through groups, you end up having about 7 per category, which does not seem right.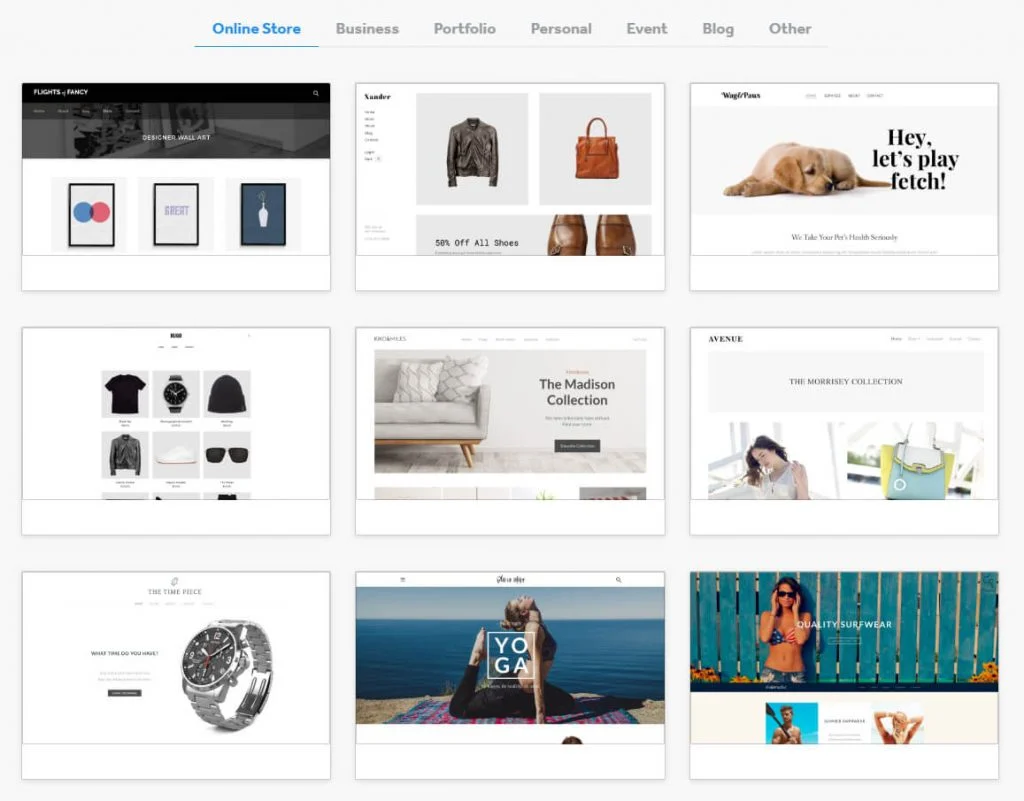 While the templates do look modern and clean, a problem emerges as soon as you start previewing them. Unfortunately, many of the templates seem alike. Most of them come with pretty much the same layout, where the only difference is having different images. And, as soon as you replace these images with your own, you end up with something basic.
So, even though Weebly allows you to change your template any time you wish, the truth is that you do not get much to choose from, and I believe that there should be more templates as well as more options.
Design flexibility
Weebly is an authentic drag & drop website builder. As soon as you hit the "Edit Website" button, you will start to see the power of Weebly.
There are quite a number of widgets that can be dragged into your new site. So, when you see how many options you get, you will probably forget about how limiting the templates are. When you have a chance to drag and drop dozens of elements to where you want them to be, it doesn't matter what the original layout was of the template you chose.
Unlike Wix, which lets you drop an element anywhere you want, Weebly is more rigid. Weebly forces you into placing an item into a predefined position. But that's not a bad thing! You can still choose where to append the element. Whether you decide to add one as a new section or simply embed it into an existing one, you're just a click away.
The entire experience with the drag & drop editor was pleasant. Unlike many other editors that tend to break or mess around with you by not allowing you to control your movement, with Weebly l felt like I was in complete control. No matter where you decide to move an element, you will be able to handle that without any issue.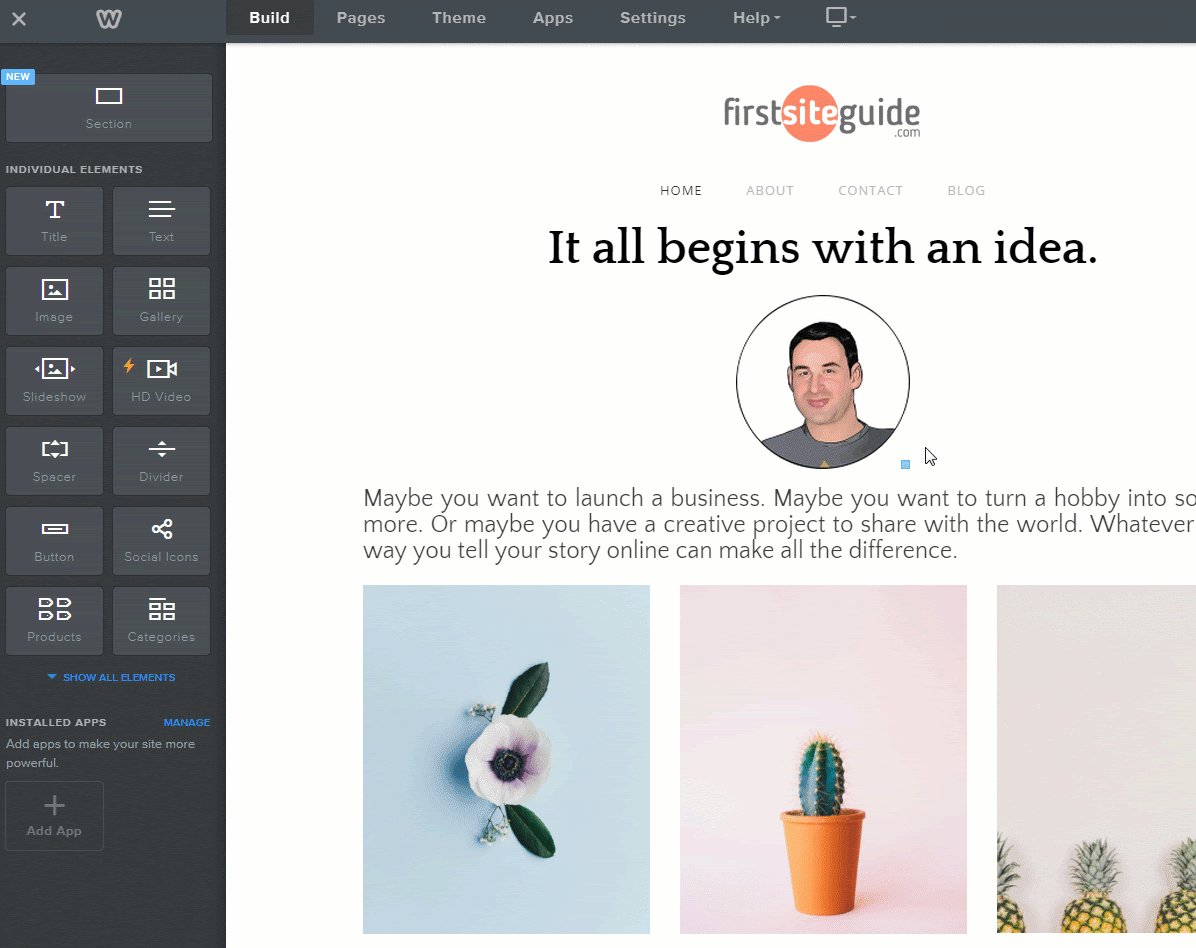 If you decide that the generic widgets are not enough for your website, you can always go to the Apps section that lets you expand your library. Some of those are free, while others will have to be paid for. Hundreds of apps in the Weebly store allow you to introduce a new feature or even connect to a 3rd party service, so you will most likely find everything that you need.
Domain options
When you start off with a free Weebly plan, you will be able to choose a subdomain for your new site. That means that you will get to choose your site's name, but the domain will always have the "weebly.com" part in it. It's similar to what Wix and Squarespace do, so no surprises here.
For example, if you have a website dedicated to photography, you can have something like yourphotographystudio.weebly.com as your free domain. Of course, that's only if this domain was not taken already by one of the more than 50 million sites created with this popular platform.
The great thing about the subdomain is that you can always change it from the settings.
However, if you decide to use a custom domain, you will have to start paying for Weebly. For as little as $6/month, Weebly will let you connect a domain that you already own or help you to register a new one (that you have to pay for). But, if you choose one of their more expensive plans, Weebly will include a free domain name registration for the first year.
Mobile site optimization
While building your site with Weebly, you're always just a click away from previewing your website on a smartphone. But that's pretty much it when it comes to mobile optimization.
Unfortunately, Weebly does not allow you to edit your website for smartphones and tablets.
Still, most of their themes are responsive, which means that they will automatically adapt to all screen sizes. You can quickly check that by resizing your browser window. While this is a crucial feature you do want your website to have, there's not much you can do about the responsive view. If you, for example, want to move an element away from the mobile view only or make it look different, there's not much you can do about that, unless you get into some serious coding.
However, if you like to work on different devices, you will love the fact that Weebly comes with iOS and Android apps that let you edit your website on the go, even from smartphones and tablets.
SEO (Search Engine Optimization)
Everybody is focusing on search engine optimization these days. If you couldn't list your website on Google and other less popular search engines, there would not be much sense in having one at all.
But don't worry. If you start your website with Weebly, you can work on optimizing your site even if this is the first time you have heard about SEO.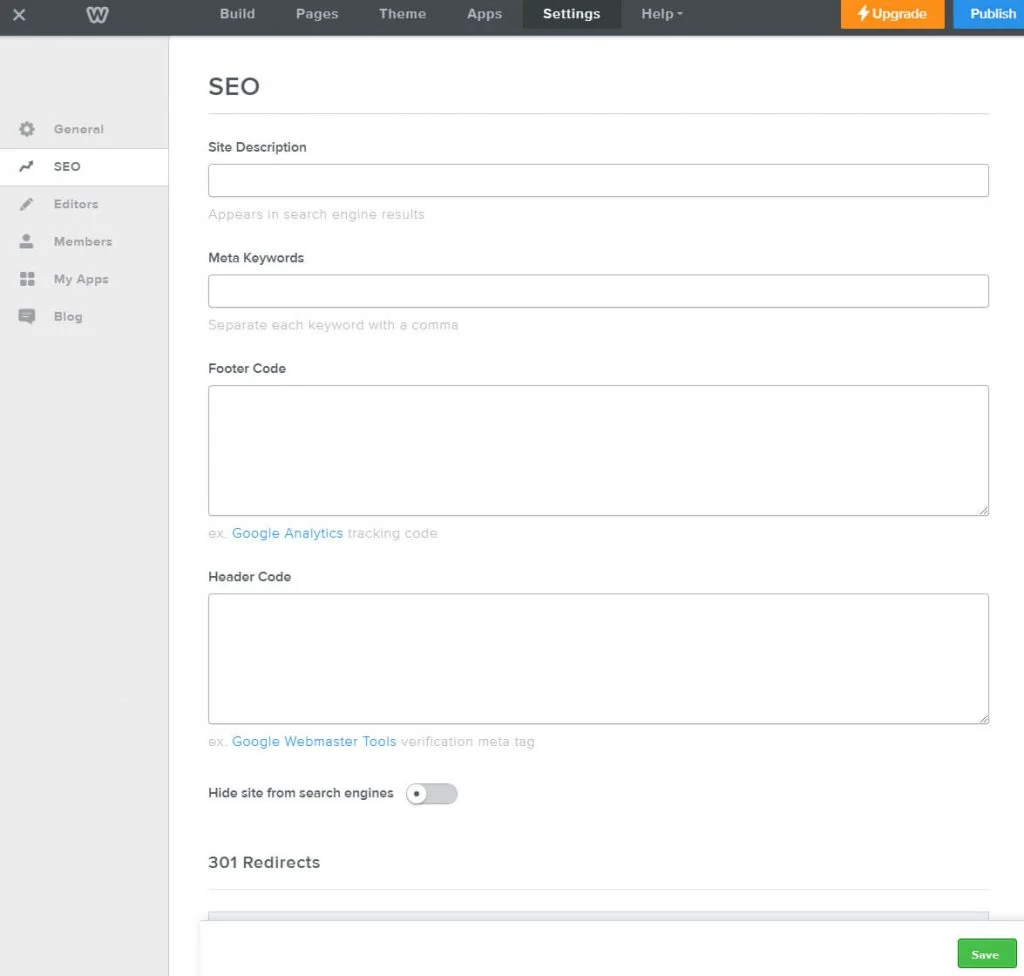 There's a unique settings section dedicated to SEO that lets you add your site description and meta keywords you want to rank for. Weebly even makes it easy to insert header and footer code, which means connecting Google Analytics and Webmaster Tools has never been easier. There's also a button that will help you to hide your site from search engines if that's something you want to do.
What positively surprised me was their 301 redirect settings. This setting allows you to redirect one page to another and control how your site behaves. Simply add an old URL and redirect it to a new one. Awesome!
In addition to these global settings, you can also do the same for each page. URLs are editable, which lets you control the keywords displayed directly in the URLs, something vital for SEO. It's great that you can write ALT descriptions for each image that you add, as well.
However, Weebly lets you use only H2 headings. To use other headings and structure your pages in the right way for SEO, you will have to add 3rd party apps.
Blogging functions
Modern websites usually need a proper blog to be effective. So, it does not surprise that Weebly comes with the option for one.
It is quite easy to add a blog to a Weebly site. There are even a few templates dedicated to blogging, but unfortunately, that does not mean that you will enjoy blogging with Weebly.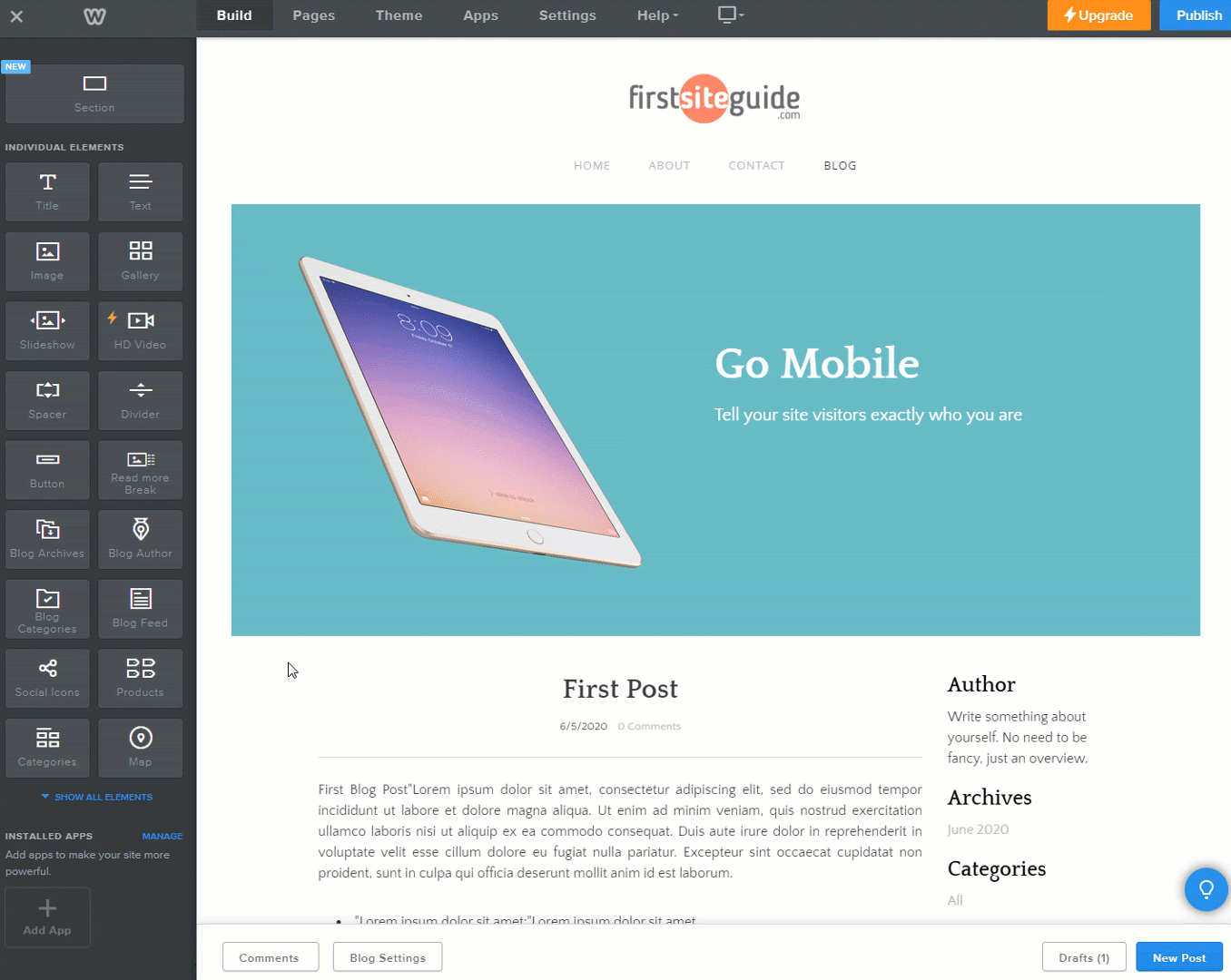 Adding a new post is not as comfortable as adding one with Wix or Squarespace, let alone WordPress. So you simply can't compare Weebly to its competitors in this domain.
Starting each new post feels like designing a new page. And while this might seem fun at first, if you tend to blog a lot, it will soon start dragging you down. With blogging, you need to be able to focus on the content, and not worry about page elements.
eCommerce integration
Since it's owned by Square (a payment processor), it is not a surprise that Weebly comes with some neat eCommerce options.
Although it may not be ideal for substantial online stores that need a lot of custom options, Weebly is more than adequate for many small eCommerce businesses.
It lets you create separate product pages for each item you may want to sell. It's easy to use Weebly's simple drag & drop editor to create your online store that will generate income. It is also quite easy to set up product variations and customize the way you sell.
As soon as you activate the eCommerce option, your website will get a shopping cart icon. Actually, it's a lot more than an icon, since this means that you have a full-blown shopping cart system where your customers can view the products in the cart, proceed to checkout and handle their purchase.
It's good to know that besides Square, you can also process your payments through PayPal and Stripe.
The entire eCommerce system is secured and works on mobile as well as on a desktop. There are many attractive features and options you receive when upgrading Weebly into an eCommerce system, so it is definitely worth checking out if you plan on starting a small online shop.
Weebly pricing and plans
When it comes to choosing pricing plans, most people do not want things to get too complicated. If you feel the same way, you will be happy to know that Weebly has a very straightforward pricing plan that's easy to understand.
For starters, the most crucial thing to know is that Weebly comes with a free plan that allows everyone to start a site. If you decide to step up your game, there are three more plans you can choose from.
Free
After signing up, you will get a domain name with Weebly branding (yourdomain.weebly.com), 500MB storage, and even the free SSL security.
Connect
With the Connect plan, you get to connect your custom domain name. This still leaves other restrictions, as well as Weebly ads on your site.
Pro
You receive unlimited storage, remove Weebly ads, and still have the option of using a custom domain. This plan also introduces you to eCommerce where you can add shopping carts and start accepting payment through Square as well as 3rd party providers.
Business
You receive everything from the Pro plan, but you also get to use advanced business features (tax calculator, coupon codes, shipping management, etc.).
Customer support
Weebly has made sure to have each and every part of their builder explained in detail. You can quickly get access to the documentation directly from the website builder. The documentation is nicely written, and everything is well-categorized. The search function also works well, and you shouldn't have any problems finding the basics.
However, if you try to search for something more specific, the documentation might not be able to help. If you decide to contact support, you will get a chat box where you write your question. This felt quite easy until I realized it was just a bot who showed me an article that was related to the topic of my question. Only after scrolling through to the end of the article, was I able to contact the real support agents. I wasn't happy that I had to retype my entire question one more time.
After the email was sent, I received an automated response. I'm not a fan of automated responses, but it was at least a confirmation that their support system received my message. I'm not thrilled with Weebly's support since it took more than two days for a simple answer.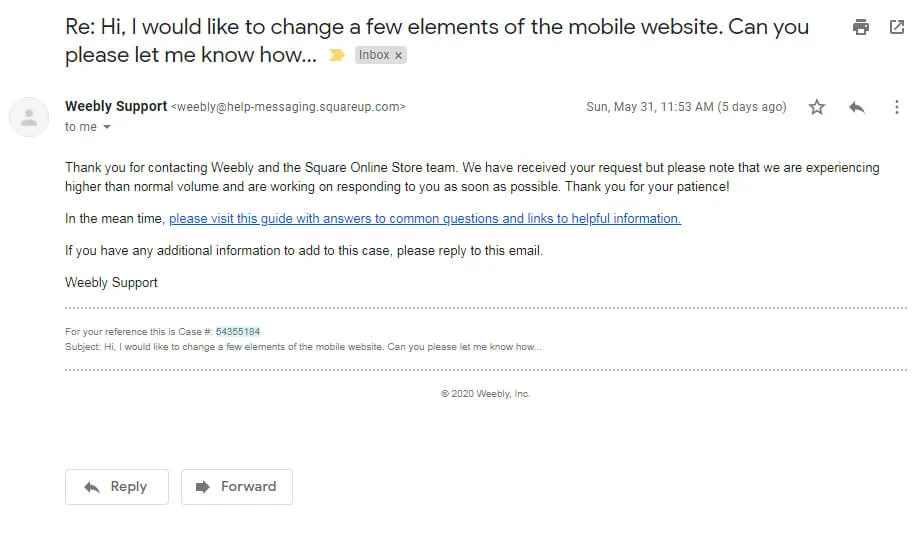 Weebly pros and cons
Pros
Ease of use – Weebly is definitely one of the best website builders when it comes to simplicity. Even if this is your first website builder experience, it will take just a few minutes to understand what's happening.
Structured drag & drop editor – the editor works flawlessly and allows you to move elements where you want them to be while keeping the structure of your website intact.
Pricing – you can start to use Weebly completely free. And if you decide to upgrade your site, you will love the fact that Weebly comes with competitive pricing and is usually cheaper than its competitors.
App center – there are hundreds of apps you can install to extend your website services.
Cons
Mobile optimization – while the templates are responsive, you can't edit a mobile site the way that you want to.
Templates – although they look modern, there are only about 50 templates that all look alike.
Support – may become confusing, and their email support took more than two days to respond to a simple question.
Examples of sites built with Weebly
Templates and demo sites can be misleading. To realize the full power of a website builder, it is best to see some of the best examples of websites built with the platform.