Are you looking for an effective CRM app? HubSpot CRM is the leading application in the market which is rewarded as Best CRM Software Award in 2019. It is amazingly simple and free to use. The software is built with an aim to provide a platform to all the sales teams without interrupting their workflow.
HubSpot CRM is perfect for the companies who are trying to adopt CRM in their companies or are not using it but wanting to try their hands on it. The software has all the necessary features in it which are comparatively less confusing and complicated than the other CRM platforms. If you are a beginner or a mid-market company then you will be happy to know that HubSpot CRM is certified, Google partner, and is perfect for all niches/industries.
It is beneficial for the users in creating contact as well as company profiles. Plus, it assigns as well as tracks the deals of your company, manages the performance of the agents. Along with this, the application offers a detailed dashboard that helps in tracking the activities of the company. On the other hand, HubSpot is an integrated CRM and offers greatly to the users that no other CRM can offer.
Notable benefits of HubSpot CRM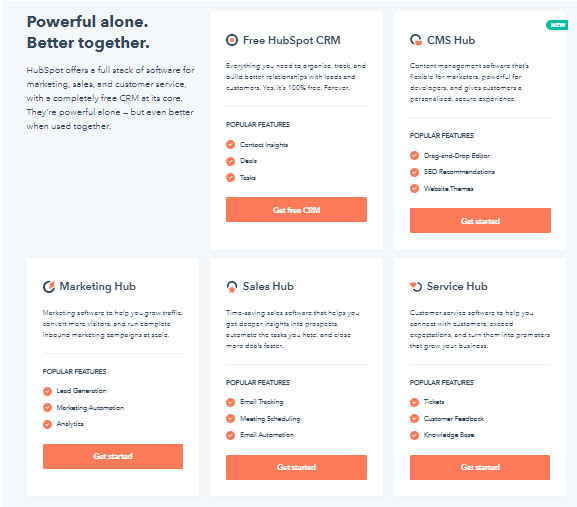 HubSpot CRM offers great benefits to its users. These will help you to grow in the market and lead your company in the most successful way. Here are some of the benefits mentioned below:
The foremost benefit of HubSpot CRM is that it is free for all. No matter what your budget is, you can have access to HubSpot CRM free of cost and can integrate it with limitless business systems as well as applications. However, if you want some additional features for higher usage, then you can purchase the starter plan at a very affordable price.
It blends in smoothly with all your sales processes
After installing the application, it will operate in the background and will handle all the tools. There are a lot of integrations and the list goes on but some of them are SugarCRM, Google Dynamics, Dropbox, Bigcommerce, Snapengage, etc. Therefore, HubSpot CRM blends in smoothly in various processes as well as operations.
HubSpot CRM is flexible and powerful
Another benefit of this application is that it is highly flexible and powerful. This will help you in closing more deals by putting in fewer efforts. The reason behind, it organizes as well as tracks the phases of the sales pipeline. Plus, its data insights are powerful that will save the time of your agents spent on the research work. It lets you experience the pleasure of 1,000,000 contacts/users plus unlimited storage that too for free. Beyond all this, it is highly flexible to fulfill the demands of an individual, real estate business, construction, B2B and B2C businesses, etc.
Syncs easily with all other HubSpot applications
HubSpot doesn't give you any kind of problem while using it with it's other applications. One can easily sync it with HubSpot marketing and other important hubs or software.
HubSpot CRM also comes with round the clock support, including Live Support, phone calls, ticketing system, and training. One can easily get in touch with it's support team to get instant solutions as well as training on certain aspects or features.
Features of HubSpot CRM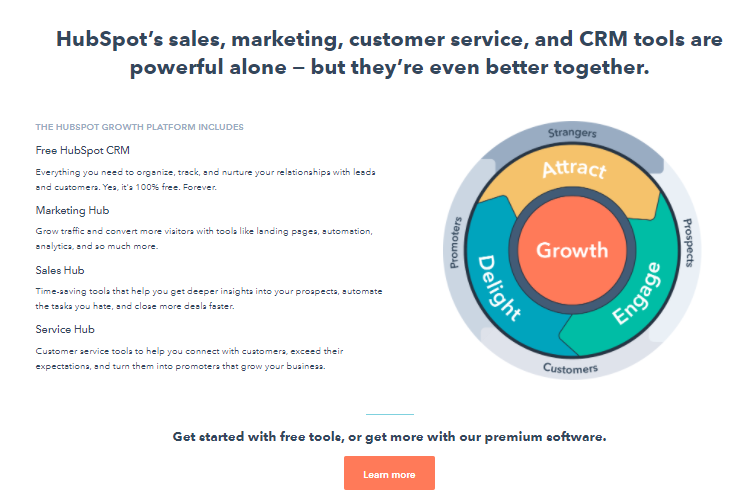 Customize views
Social media
Website visitors,
Templates, tracking as well as scheduling
Email integration
CRM details
Company database
Drag and drop communication, etc.
Conclusion
To conclude this review, HubSpot CRM is a great option for small businesses and medium businesses. the reason behind this, firstly it is free for all and even if you want to purchase the app then the starter plan is for $50 per month, basic plan $200 per month, the professional plan is for $800 per month and enterprise plan is for $2400 per month.
It also supports all the devices which make things even better. Overall, HubSpot CRM is highly reliable and can be nothing but a blessing for your business. One can easily enhance the growth and productivity rate of their business using HubSpot CRM and it's other tools.