About Loft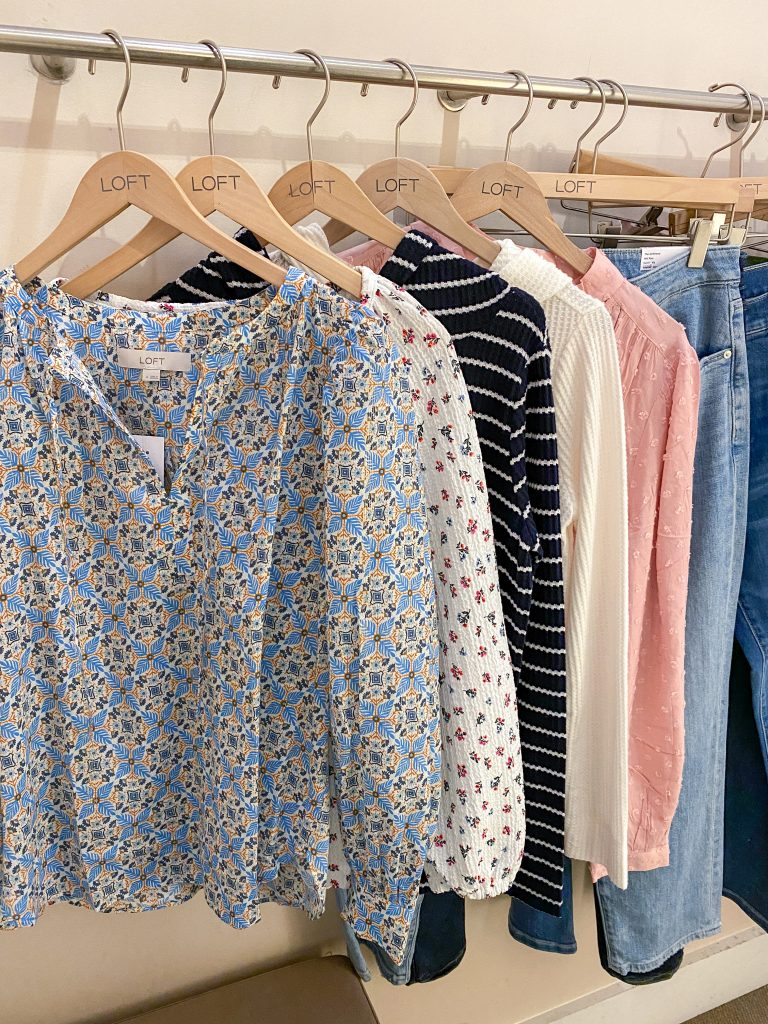 Have you started planning for your Spring wardrobe? It's still Winter-time, but I'm SO ready for Spring and all the Spring colors, aren't you? I am already planning ahead for my Spring capsule wardrobe! A few days ago the temperature here in Northern Alabama reached 65 degrees, so I ventured out to enjoy the weather and went to Loft to try-on a few things.
Like I mentioned in this post from last week, "How To Shop Online For Clothes: 8 Best Tips To Actually Love What You Buy", I shop the majority of the time online. There are a few times throughout the year when I like to try-on clothes at my favorite stores and share what I find with you all, since you all like the try-on sessions posts!
I've ordered several clothes and some shoes online from Nordstrom, J. Crew Factory and Loft, so I'll be posting more try-on sessions here on blog soon.
This past year, I have worn mostly all neutral colors in my capsule wardrobes with a black base color, with some light blue mixed in. This Spring, I'm changing up my capsule wardrobe, by using a navy base color, with blue and green as accent colors!
This past weekend, I went through my closet and pulled out several foundation pieces I already have and I'll be including those in my Spring capsule.
I noted a few trending pieces to shop for, so when I went to Loft the other day, I was looking for some trending pieces in the blue and green accent colors. When I am doing the try-on sessions, I also like to try on pieces that you all may like and want to include in YOUR capsule wardrobes.
Overview of Loft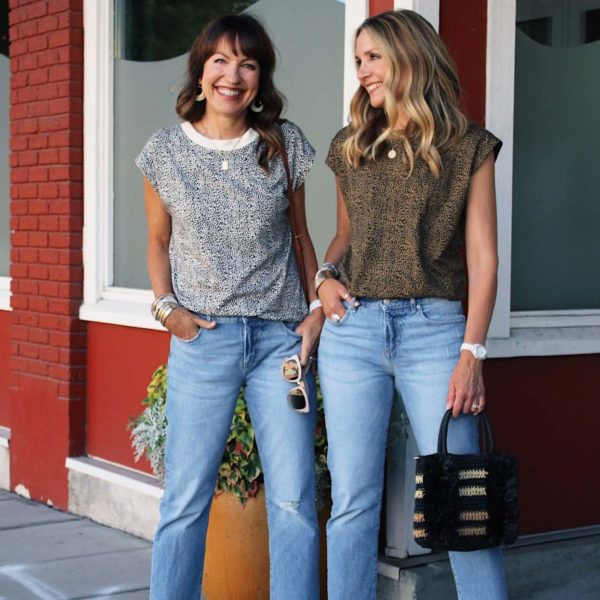 For size reference, I am 5'9″ in height. For tops, I typically wear a size Medium, but size up to a Large sometimes, depending on the brand and style of the top. For bottoms, my normal size is a size 10 / 30 waist. My shoe size is a 9 medium width. For outerwear, I wear mostly a size Large, but if it is an oversized style I will size down to a Medium.
I took a snapshot photo of a few of the tops I tried on. The patterns and textures of these tops are so pretty. I saw even more beautiful tops online at Loft, so I ordered more to try-on in another post on the blog.
It is so easy to shop the sizes at Loft since everything runs true to size and I love the quality and workmanship that goes into each piece. Everything shown is linked to conveniently shop online!
The first top I tried on was this beautiful Blue Medallion Top (size Medium). The material feels so soft and light, since it is 99% cotton. It is hard to see it in the photo above, but the top has a faint gold shimmer throughout that gives this top an elegant look.
The split neck tie and the gathered wrist detail adds to the feminine style of this blouse. This top is so gorgeous in person! I came so close to buying this top, but being it was the first one I tried on in my search for a blue pattern top for my Spring capsule wardrobe, I am seriously considering it.
Loft Women Dresses Review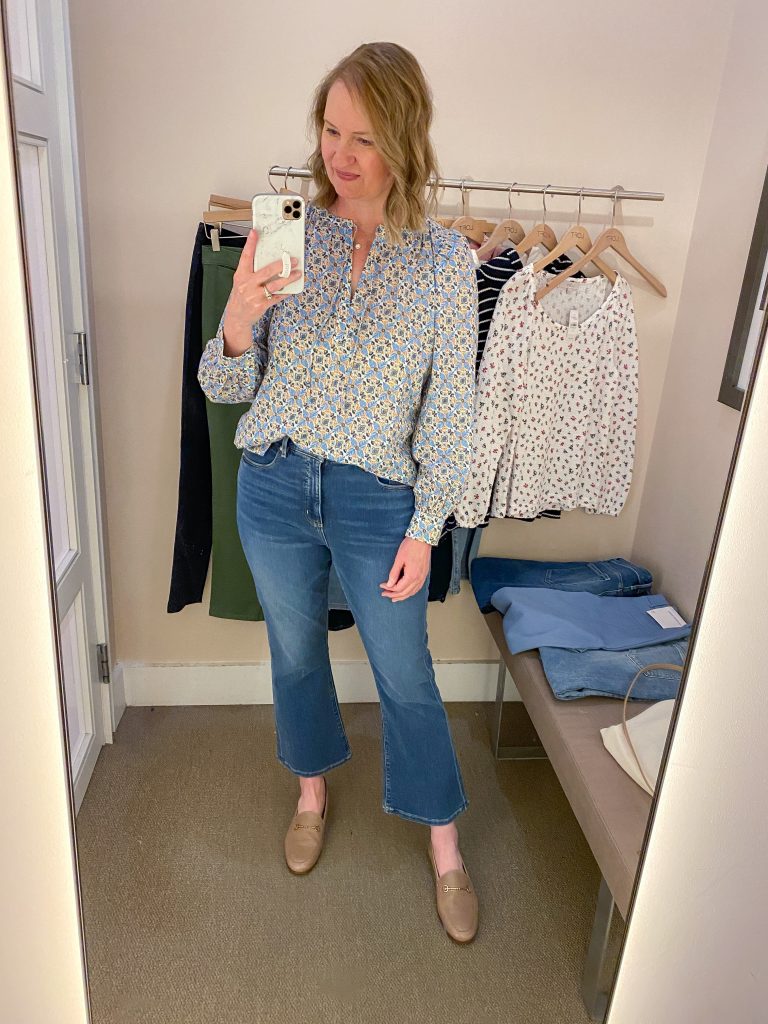 I paired the top with these Kick Crop Jeans in Indigo Wash (size 30). Oh my gosh ya'll, I LOVE these jeans! They have a high rise without being too high so your tops are easy to tuck in and look even.
If you have hips like I do, the kick crop style at the ankles balances out these jeans and looks so feminine. They have a cotton/polyester/spandex mix so they have some stretch, while still being a soft denim. These jeans came home with me!
I'm wearing my Sam Edelman Loraine Bit Loafers in the "Cedarwood" color (size 9) from my Winter capsule wardrobe. I have absolutely enjoyed wearing these shoes and wear them often! They are so comfy and the dark beige color goes with everything!
Loft Women Blue Medallion Top dresses Review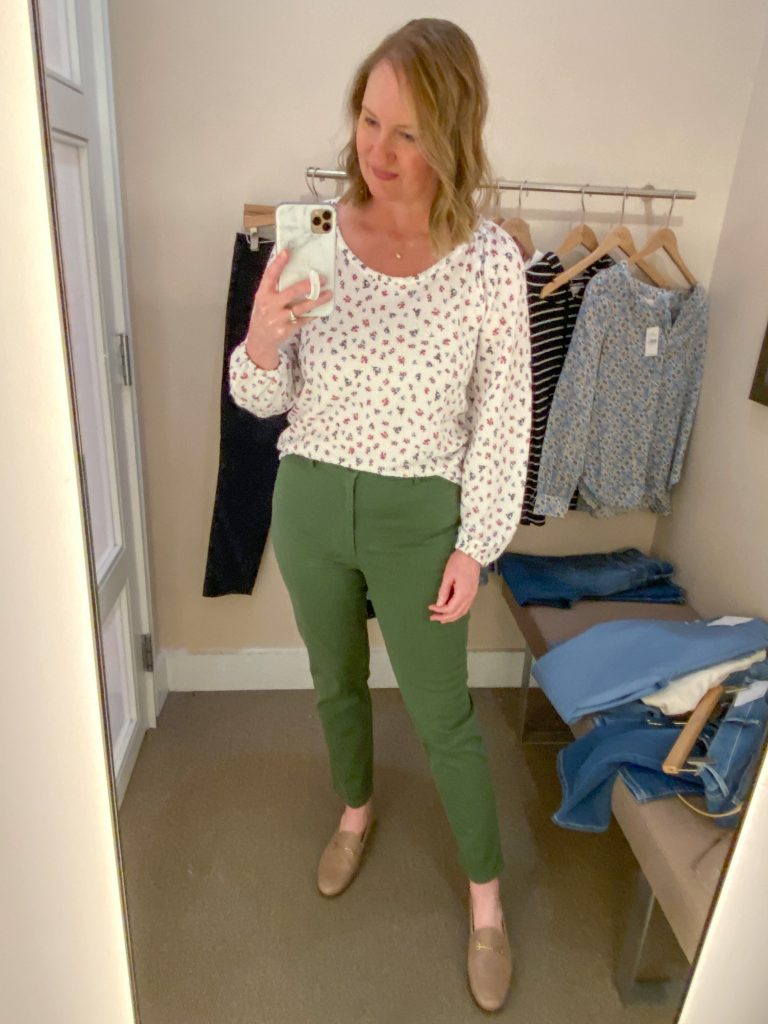 I saw this Boatneck Sweatshirt in the "whisper white" color, an ivory color (size Medium) and thought it was so pretty! It is a sweatshirt material with look of a blouse, which is so unique! It also comes in a bright pink color.
I also tried on these Kick Crop Let Down Hem Jeans (size 30). I love the denim wash on these and LOVE the raw hem detail! I wanted these jeans too, but I already chose the kick crop jeans from above. I highly recommend these raw hem jeans and love the sweatshirt top together.
Next, I tried on this White Floral Draped Top (size Medium) with these Sutton Pants in the "Infinity Blue" color (size 10). This top looks like Spring and it also comes in a kelly green color which is also pretty.
I like the ballet neckline and the light and soft material. The color of these pants are such a beautiful blue color! Loft has several styles and colors of their Sutton Pants (shop the styles here) to choose from.
I also found these Twill Pants in the "dazzling olive" color (size 12 shown). They didn't have my size 10, so I tried on a size 12 to get an idea what they would look like. They were slightly big but I really liked the softness of the material and the green color tone.
Loft Women Ivory Waffle Hoodie dresses Review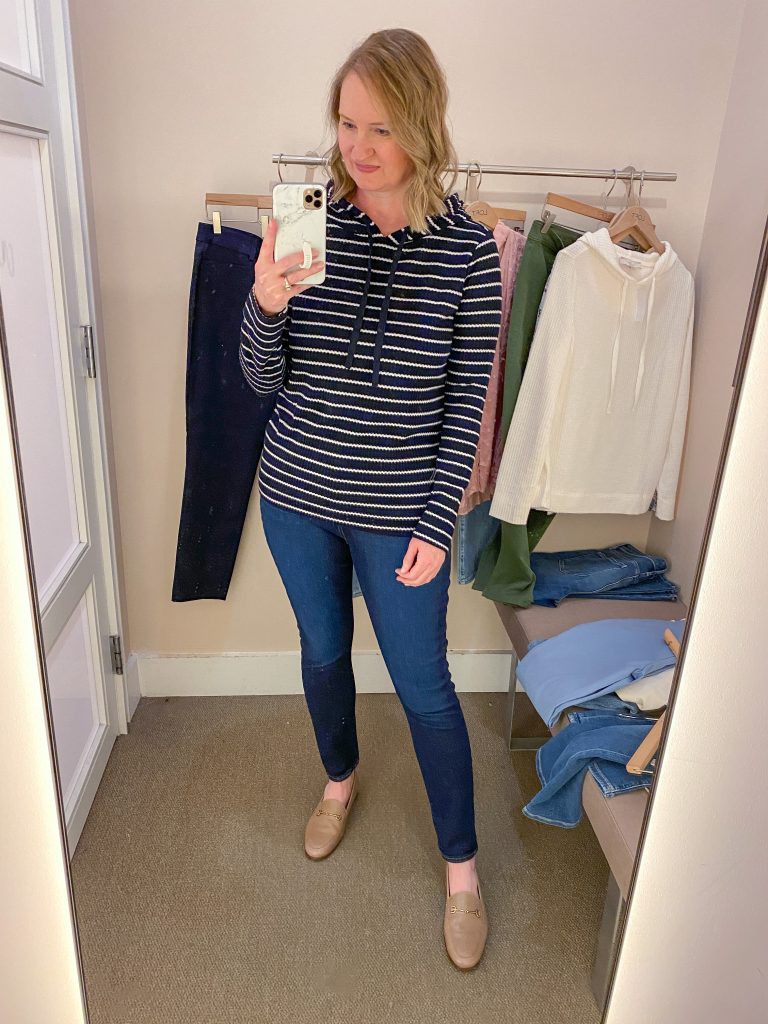 I ordered them yesterday online in my size and will be here next week. Sizes are limited, but they also have these Sage Green Pants that would also be pretty for the Spring season. Also shown is the White Floral Draped Top (size Medium) I tried on above.
I love the style of this Ivory Waffle Hoodie (size Medium)! It is the look of a hoodie without the bulkiness, so it is easy to style with jeans or pants and easy to wear a jacket over it! The material is slightly thin, but if you wear a nude bra, you should be good.
I have never tried on girlfriend jeans before, but I really liked these Light Wash Curvy Girlfriend Jeans (size 30)! They are very similar to straight jeans, since they are fitted at the hip, then have a straight fit in the legs. The denim material is soft with a bit of stretch to hold their shape.
Here is a side photo showing the hood on the top and the length. I'm 5'9″, so if you are shorter, this top would also look great with leggings and sneakers!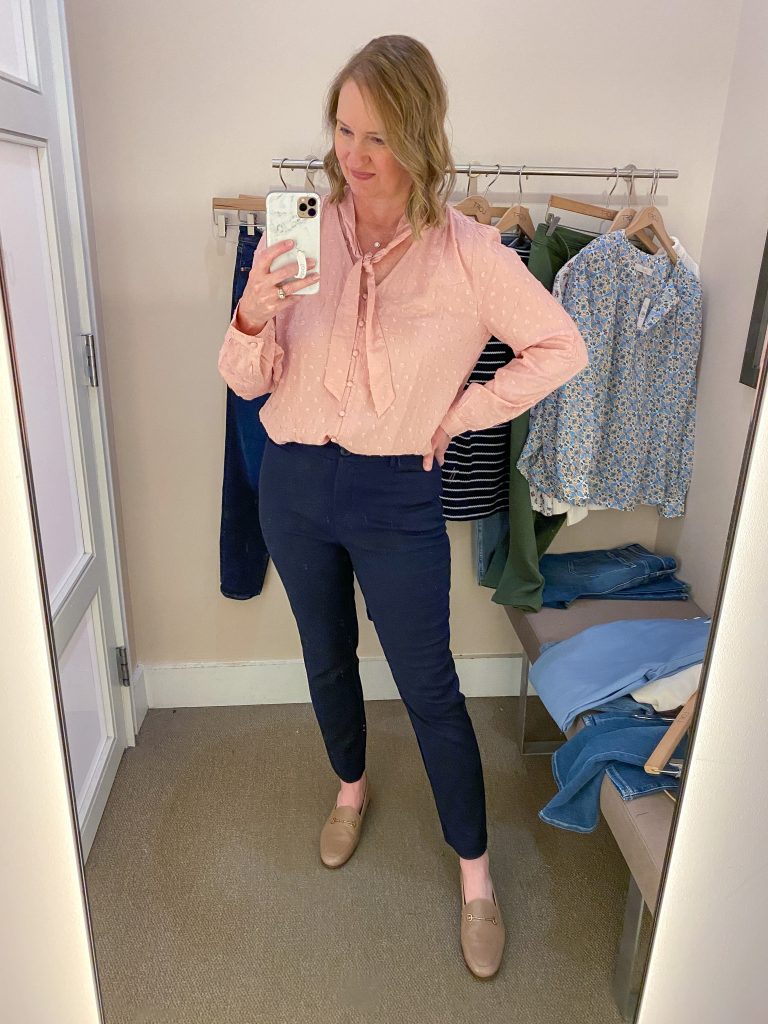 I knew when I put on this Navy Striped Hoodie (size Medium) it was coming home with me! The style and waffle material is like the ivory color top above, but has navy/white stripes with navy string ties at the neck.
I have it untucked in the photo below, but you could also wear it front tucked in pants with a pair of flats or booties or wear it with leggings and sneakers. Such a versatile top! I also tried on these High Rise Sculpt Jeggings in Dark Indigo Wash (size 30), which are a pretty dark denim. I tried on the Curvy Fit, which hugs your hips more, but they also have them in the Regular Fit.
For everyone that dresses up for work, this Clip Bow Top in the "Dusty Peach color (size Medium) is just gorgeous! It features a v-neck with ties, clip dots throughout the material, a button front and buttons on the sleeves.
I paired it with these Perfect Skinny Pants, Curvy Fit, in the "Forever Navy" color (size 10), Regular Fit here. What I really like about these pants is that they can be casual OR dressy! The twill-like material looks great with casual tees and tops, but the tailored style also looks great with blouses for work and church! I bought these pants for my closet!
Who Is Loft For?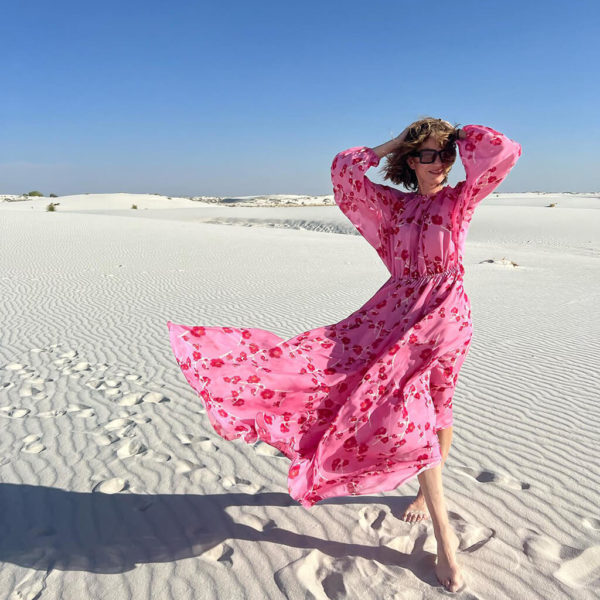 This Loft dresses review found that the brand can be worn by women of all ages, with some of more fun and youthful prints even catering to teenage girls. And since a lot of Loft's pieces are solid colors and timeless designs, there really isn't a restrictive age range when it comes down to hunting for basics and essentials.
Loft Reviews: What Do Customers Think?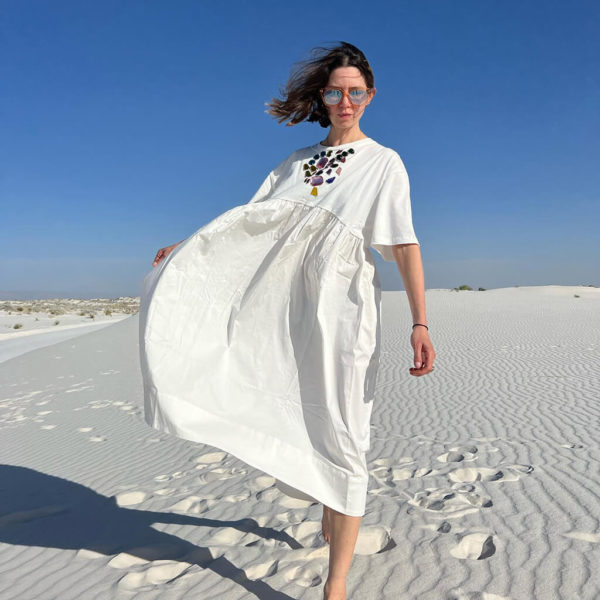 However you have a superior thought of how Loft and Ann Taylor, this Loft dresses survey will show you precisely their clients' thought process so you have the full picture.
As referenced beforehand, global clients beyond the US were barred from giving input and remarks to the site so measuring, fit, and quality expect you to do a smidgen more exploration.
Kelly G. had an extraordinary involvement with Loft, saying, "I totally love the Loft and the staff! They are generally so decent and it's an extraordinary climate."
Another blissful client, Maryellen, shared, "I generally get praises when I wear garments from The Loft. In any case, their tops r extremely dainty and u need to wear ragged tie tee under."
Indeed, even De D. concurred, remarking, "I've never disapproved of profits etc. Space is the main brand that I've seen that as fit completely no matter what the garment. To the extent that profits on the web, I've tried to note which things were "last deal" I. E. all purchases are final, ensure you realize you'll like the piece/they fit."
Where to Buy Loft
Loft clothing is available only on the brand's website.
FAQ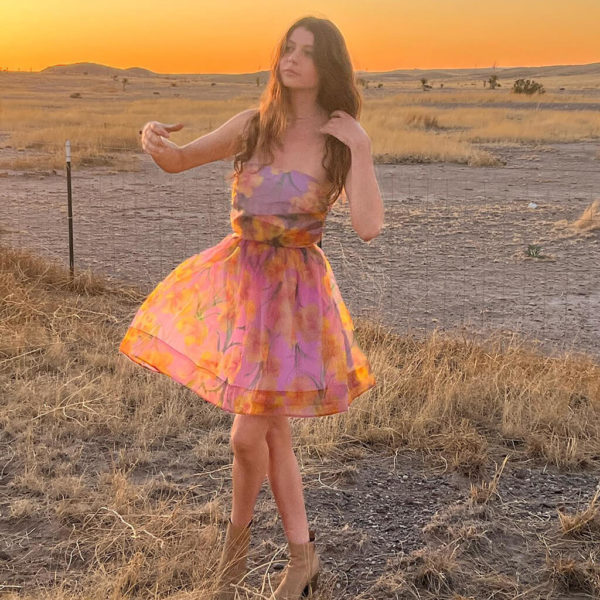 Who owns the Loft clothing store?
Loft is owned by Ascena Retail Group.
Where is Loft made?
Loft originated in the US, however, the brand does not list where their clothing is currently manufactured or produced.
Is Loft true to size?
Loft contains many categories and sizes do vary so it is recommended to consult the sizing chart or chat with a representative before making a purchase.
What is Loft's Shipping Policy?
For standard shipping within the continental US, it will typically take about 4-7 business days for your order to arrive, from Monday to Friday, without including holidays. However, residents in states like Alaska, Puerto Rico, and Hawaii are unable to receive standard shipping and will be charged extra.
What is Loft's Return Policy?
If the item you ordered is defective in some way, you have 30 days from the order date to return it, unworn and unwashed—which can be returned in-store, excluding swimwear and maternity clothing. Everything you want to return must be accompanied with your original receipt.