About Loft
Loft is a well-known retailer which sells women's apparel, including dresses, loungewear, as well as accessories and shoes.
Familiar to many since 1996, Loft is the go-to brand for women, with features in notable media outlets like AdWeek, Fashionista, and HuffPost. With a significant 860k followers on Instagram and 1.8M on Facebook, they have cultivated an attentive audience for decades.
With numerous categories and various types of clothing, this Loft dresses review will take a look at some of the brand's best-selling items along with customer ratings, and promotions to see if Loft has withstood the test of time.
Overview of Loft
A part of the Ascena Retail Group that specialises in a number of women's clothing brands, housing names like J. Crew, Lane Bryant, and Banana Republic, Loft became what it is today through rebranding efforts.
If you're wondering why the name sounds familiar, you might be more accustomed to their former label: Ann Taylor Loft. In 2010, Loft became its own brand, offering affordable pricing and a more youthful flair.
However, as this Loft dresses review found, like any brand, the company has seen its ups and downs. This can be associated with their selling methods or rebranding efforts, so you can expect some pros and cons as a result.
Pros
Embedded currency adjustment on site
Monthly and seasonal promotions offered for U.S. residents
Variety of prints and colours for different clothing categories
Petite and Loft plus sizes available
Outfit inspo styling guide
Birthday reward benefit
Loyalty program with a points system for reward savings
Optional mobile and text updates for sales and events
Gift cards available
Brick and mortar stores across the United States
Loft outlet available for deeper discounted styles
Cons
Limited promotions and discounts for international shoppers
International shipping is between 1-3 weeks depending on location
No standard shipping fee applied on all orders
Only notified of shipping restrictions on merchandise when you checkout
Limited feedback provided (only open to US residents)
With so many pros and cons, does the brand still live up to its hype? Let's take a deeper look.
This LBD and the leopard dress below were two of my finds during the day after Christmas sales. The only problem? I visited three LOFT locations, and they only had the dresses in Petite sizes. Since the price was the same online, I ordered the same dresses in Regular sizes so I could compare. This sparked an idea for a post: how different are Petite sizes compared to Regular? Here's a photo comparison and my full review!
Loft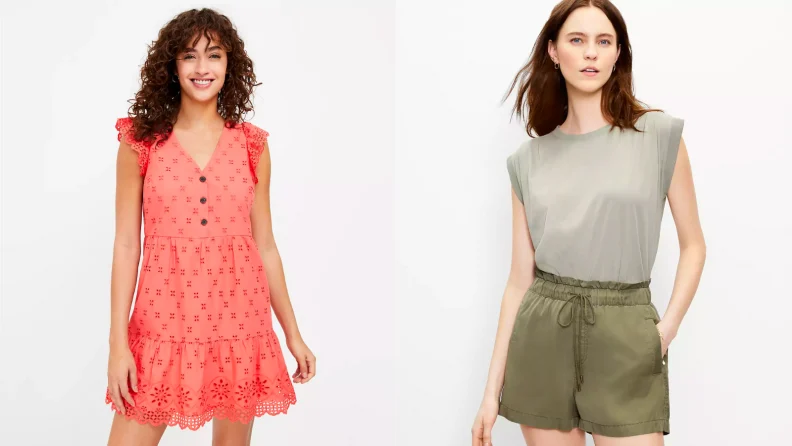 Loft, which also sells clothing in women's sizes only, has a reputation for its vanity sizing, as documented in numerous Reddit threads. Most of the items found in Loft's stock offer a generous amount of room, regardless if the size is XXS or XXL. (The fact that XXS exists there is indicative of that, because many retailers offer XS as their smallest size.) When shopping at the retailer, the general consensus is to size down.
Loft Dresses Review
There are quite a lot of items and categories that we could go through but we've selected some of the brand's best selling pieces to cover in this Loft dresses review, covering specific pieces along with items in their petite section from Loft clothing.
What size do I wear at Loft?
Loft tops fit larger and wider, with boxier cuts, than other retailers on this list. For most T-shirts, shirts, sweaters, and blouses, order a size down from your typical size. Bottoms are inconsistent, but also tend to fit on the roomy side. Pants and jeans run large, so size down accordingly. It should be noted that some items available in a "slim" silhouette are oftentimes still more generous than expected. Skirts are usually true to size, if not (yes) larger. The only exception according to reviewers? Loft shorts are sometimes smaller or true to size.
I haven't been to Loft in a while, but there was this dress that I've been staring at for a while. Since I did an in-store pick up, I thought it would be fun to try on a few other things that caught my eye while I was there.
Lou & Grey Conscious Cotton Heart Patch Sweatshirt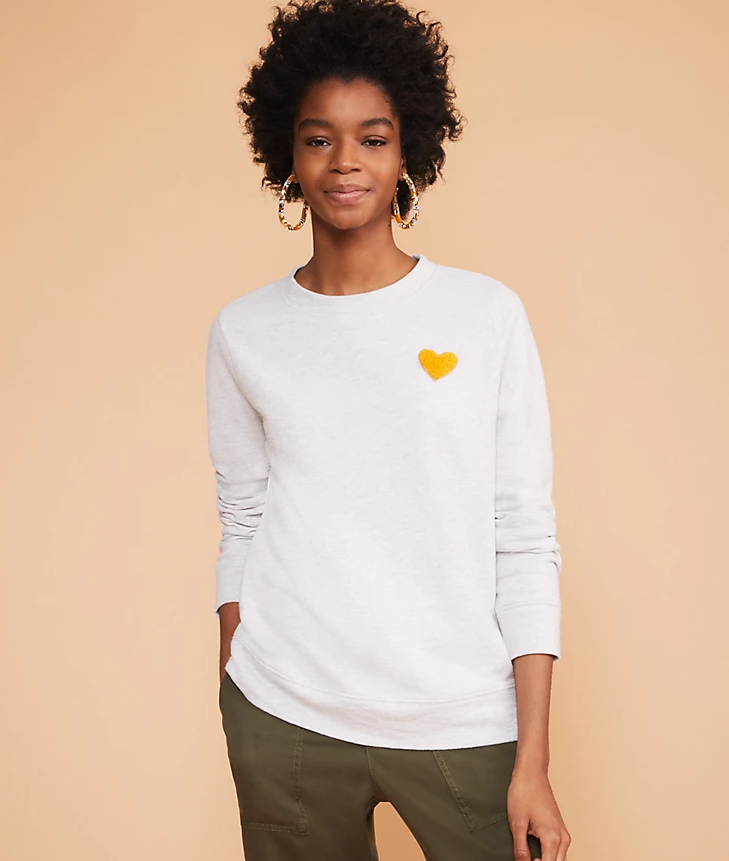 I'm having a moment with gray sweatshirts right now. I just want more of them! This one is truly amazing. It's warm, cozy, soft, and true to size. Isn't the yellow heart detail adorable too? You NEED to get this top! Since this top is available on the Loft site, you can take advantage of any Loft discounts to buy this top too!
Verdict: Not buying for now (I have a lot of gray sweatshirts…), but you NEED to get it.
LOFT Button Pocket Flounce Dress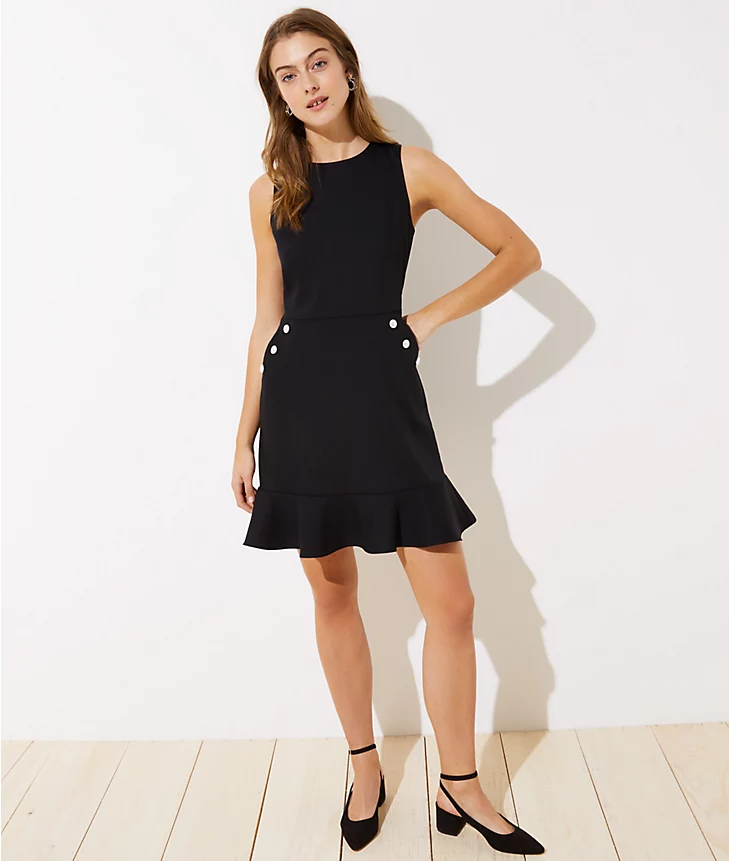 Sigh, this dress. I love it, but of course I'm having sizing issues. Loft is one of those brands that truly nails it with their petite sizing when it comes to dresses. Which means with non-petite dresses, things can be slightly off for petite girls. So for this dress, I actually pretty happy with the length, but the waist was slightly too low. I could live with that on this dress, but the bust is also a little too loose. Tailoring is an option, but I don't know if it's worth it for a Loft dress. At the time I tried this on, it wasn't available in a 00 or 0P, but I recently saw it was available in a 00, so I may right that on? I don't know if it will actually fit in the correct places.
Verdict: I don't know!
LOFT Tall Boucle Button Pocket Dress, 2P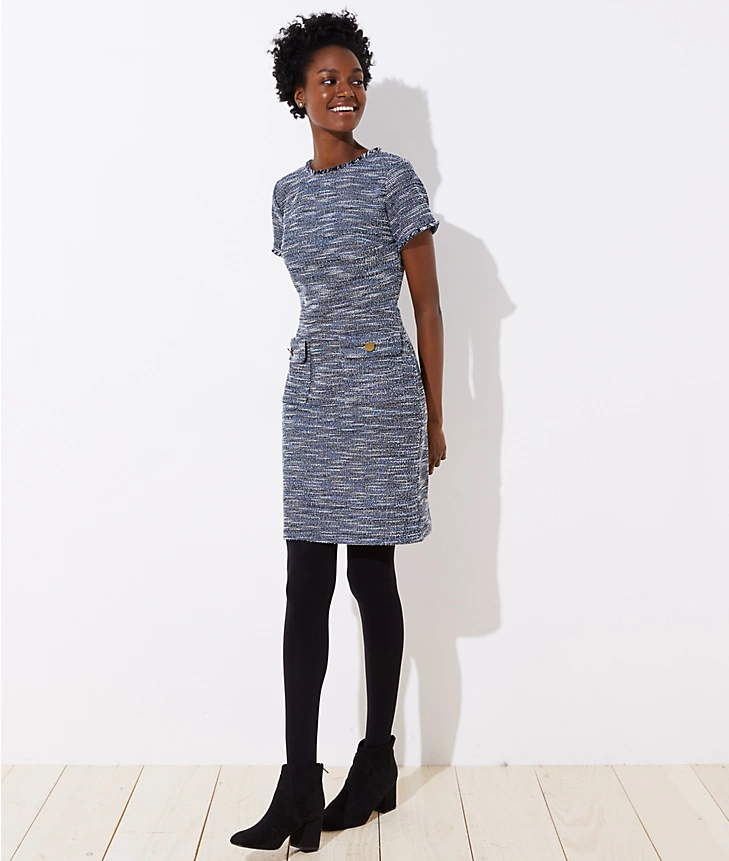 Guys, isn't this dress super cute? At first I thought it was tweed, but it turns out that it's more of a stretchy material. Which was actually kind of great? It means that it's not as thick as I was expecting, but that also means that you'll be able to wear it into the summer. Added bonus, the pockets are real! Plus, isn't the fringe on the sleeves adorable? I've decided to not keep it because I was actually looking for something a little heavier knit, but this dress is so adorable!
Verdict: Didn't buy, but it's so cute!
LOFT Skinny Slit Cuff Pants In Marisa Fit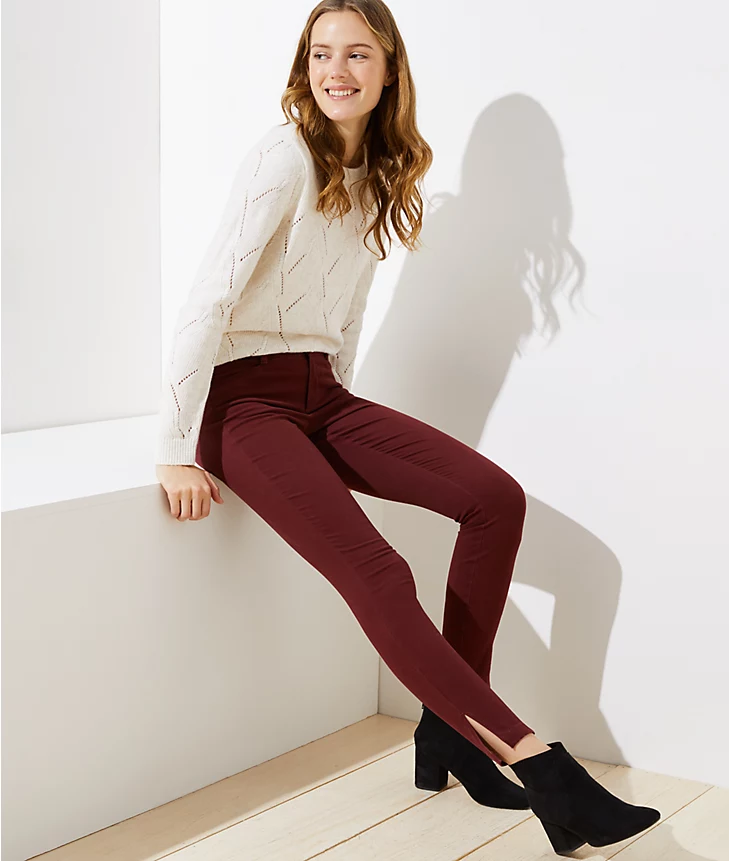 The color of these pants is great, but um, these pants kind of show every bump. The material is just so stretchy that it's rendered it awkwardly thin. Even when it's not stretched.
Verdict: No thank you.
LOFT Striped Tie Hem Utility Blouse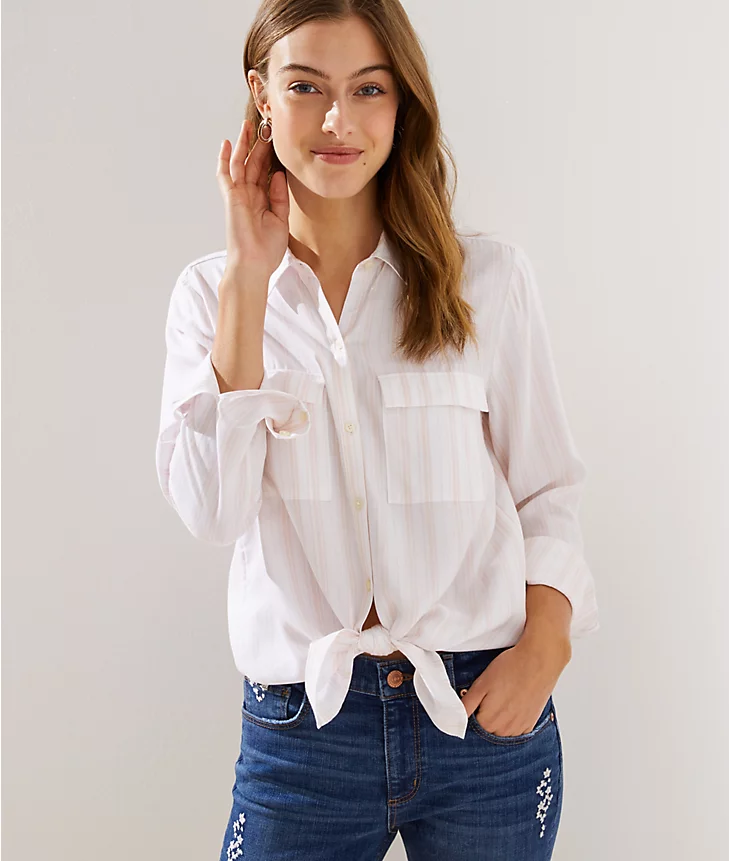 I LOVE this blouse! I decided to grab a size up and it was the best idea. The fit was perfect and the little pink stripe details were perfect. I also love the tie in the front. Additionally, they created this top so it still hangs low in the back and covers your butt, which is great.
Verdict: I have a feeling I'm going back to get this top!
LOFT Floral Mixed Media Tie Back Sweater
Loft is serious about its petite sizing. Which can mean that its regular sizing can run a little large? Like this "XS" sweater. It was huge! Which was kind of disappointed, because this top was really cute? The bow ties on the back are really cute and I love the lighter layer underneath. The print is adorable too. I may stalk the site to see if it pops up in a petite size!
Verdict: Waiting to see if it pops up in petite!
That's it for my current Loft shopping reviews. Let me know if you've found anything there recently that I should check out!
LOFT peplum dress
Size 0 on the left, size 2P on the right.
In general, a Regular size and one size up in Petite are comparable. From the front, you can hardly detect a difference.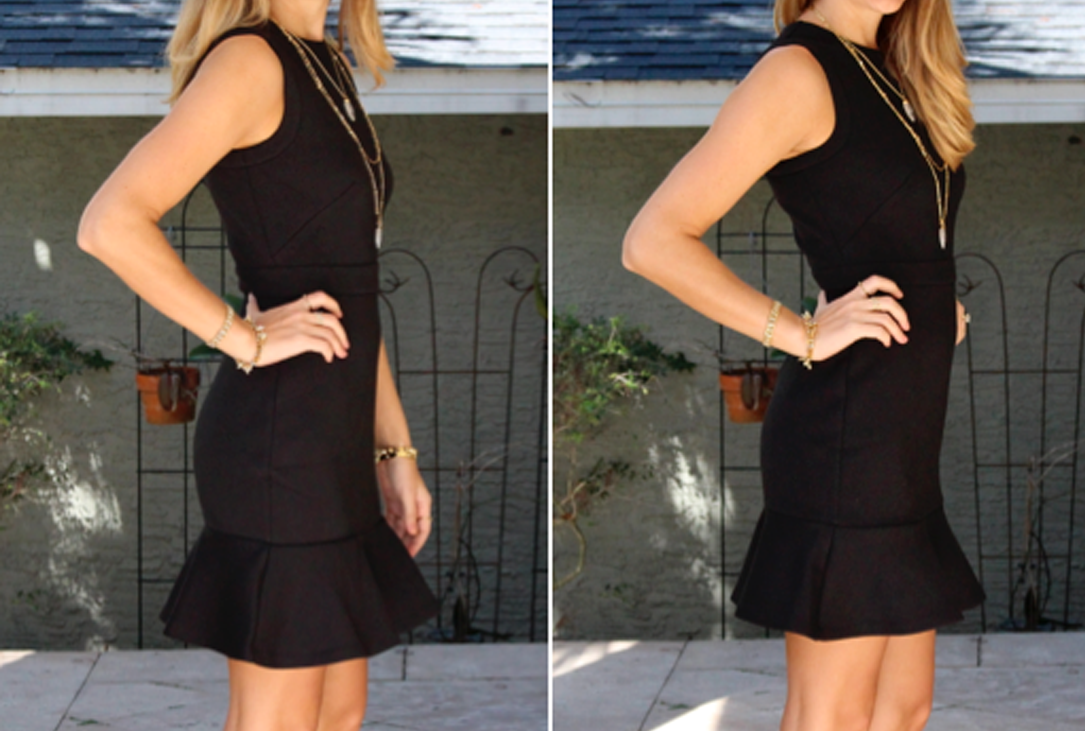 This is the same dress from the side. This was my main reason for ordering the Regular size – on the right (Petite) you can see the line on the peplum is hitting me too high. On the left (Regular) it's right where it should be (under my bum, not over it). Verdict: the Regular size is the definite winner. (And I'm definitely keeping this one! I love the scuba material and it's rare to find a dress that fits this well off the rack.)
LOFT leopard dress
Size 2 on the left, size 4P on the right.
I went a size up on both of these, because the neck was way too tight. I have the back held back with a chip clip because either option would need to be taken in on the bottom. From the front on this dress you can definitely see that the right one (Petite) is shorter.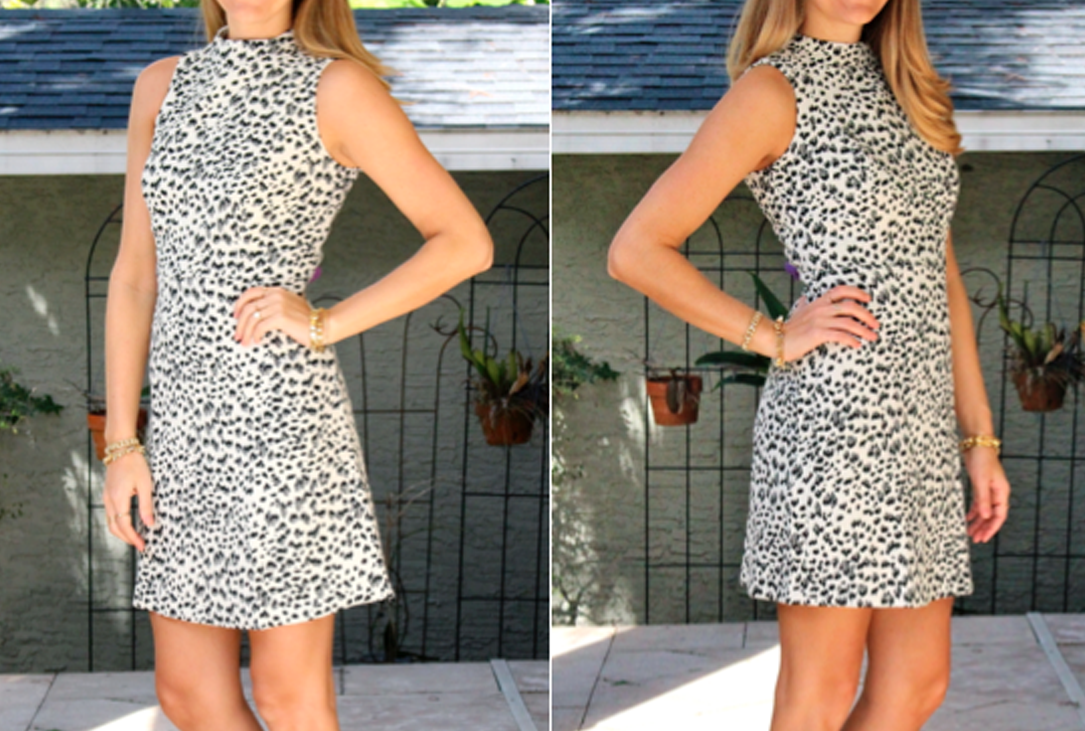 Same dress. From the side you can see the right is shorter, and the waistline is hitting me higher. I'd say this one is a safe call either way – depending on how short you want the dress (especially with the high neckline to balance it out), and where you want to wear it (work vs. a night out). Verdict: I might skip this one altogether since it requires alterations.
Overall, I might be too tall to be considered "Petite" (5'7″) but sometimes it actually fits me better. My tips for non-Petites shopping the Petite section:
Petites are a great option when the smallest size they have is still too big on you. Even if you are tall, a size 0P is smaller than a 0R (2P and 0R are comparable), so give it a try.
Petites work if you want a shorter, cropped fit. For dresses and skirts, they will fit you shorter and hit you in a different place. This can be beneficial if you try on the Regular and it's not fitting correctly, or you want a different length. I once tried on a pencil skirt at Banana and it was too high-waisted. So I went a size up in Petite, it fit around my hips, but hit my knees in the exact same spot (not any shorter) so I bought the Petite. For pants, a skinny trouser in a Petite may give you the "cropped" appearance you're looking for, even if you're quite tall.
Petite sleeves are cut shorter, so use caution when buying Petite tops or jackets. You may need to be okay with permanently rolling the sleeves. They will also be cut shorter in the torso. If a boyfriend blazer feels too long, try it in Petite and roll the sleeves.
When to buy Petites? Anytime you're looking for a shorter, cropped appearance, the smallest size is too big, or it's worth trying on if you love the item but they only have a Petite size. You never know unless you try!
LOFT jumpsuit
This jumpsuit is not a Petite size, however, I wanted to share a review for it as well. I wore my casual black jumpsuit so much this summer, that I'm considering keeping this fancy version. I love that is has pockets, but the elastic waistband and back feel a bit casual for the lace elements. LOFT also has a great casual black jumpsuit here.
Have you ever shopped Petite or Tall sections? Have you tried on any of these items at LOFT?
Disclosure: I have a merchandise credit left over from working with Ann Taylor 2 years ago that I used for my purchases. The LOFT company was not in any way involved with or aware of this post.
Is Loft Worth It?
After much consideration, this Loft dresses review feels the brand is worth investing in if you like their designs, or are petite and know their clothing fits you, then go for it.
Loft Promotions & Discounts
At the time of writing this Loft dresses review, there is a limited sale where:
For an order over $125, you receive 40% off
For an order of $100, you receive 25% off
You can access this promotion with the code: MORE. Be aware of certain exclusions though.
FAQ
Who owns the Loft clothing store?
Loft is owned by Ascena Retail Group.
Where is Loft made?
Loft originated in the US, however, the brand does not list where their clothing currently manufactured or produced.
Is Loft true to size?
Loft contains many categories and sizes do vary so it recommended to consult the sizing chart or chat with a representative before making a purchase.
What is Loft's Shipping Policy?
For standard shipping within the continental US, it will typically take about 4-7 business days for your order to arrive, from Monday to Friday, without including holidays. However, residents in states like Alaska, Puerto Rico, and Hawaii are unable to receive standard shipping and will charged extra.
For orders under $99:
Orders under $99 will receive the flat rate of $9 to cover shipping and handling
For orders over $99:
Standard shipping free only if the order over $99 but the amount to met even after any discounts or promotions are applied
Extra charges will applied if you choose rush shipping (3-day or next day business shipping)
Three Business Days Shipping:
Flat rate of $15
Any orders completed after 3 pm EST (from Monday to Friday, not including holidays) will processed the next business day
Next Business Day Shipping:
Flat rate of $25
Any orders completed after 3 pm EST (from Monday Friday and weekends, not including holidays) will arrive on the second business day
Does not cover Alaska, Puerto Rico, and Hawaii, or P.O. Boxes
What is Loft's Return Policy?
If the item you ordered defective in some way, you have 30 days from the order date to return it, unworn and unwashed. Which can returned in-store, excluding swimwear and maternity clothing. Everything you want to return must be accompanied with your original receipt.
Local residents within the United States also have the option of doing a quick exchange over the phone in the case that they cannot go in-person. You will need to contact their customer service at 1-888-563-8444 to start the process.
All international orders can only returned by mail—do not try to return it in-store. You must contact a customer representative through Loft's client services before processing a return and must done within 30 days from your order date.