Planning to visit Europe? Then you have come to the right place to read an honest review of Omio.com, a powerful travel transportation site.
Omio is a website and an app providing you with all the transport tickets you need in one place. From buses to trains to flights, they've got you covered. It's your one-stop-shop where they make the lives of tourists and travelers easier and hassle-free.
I'm pretty sure you have questions in your mind that push your curiosity to understand more about Omio. In this article, we will discuss and review Omio to help you get familiar with the platform.
This article is part of our favorite travel tools. We recommend reading as well our review of Skyscanner as well as Kiwi.com Review. Both sites are part of our process to find cheaper flights.
We will help you get to know Omio by sharing topics that would answer your questions like, what is Omio? Is it legit? How do I use it? Is it reliable and convenient? Don't worry, we will discuss each detail you need to know about Omio.
And to better guide you, we have divided the topics into several parts according to its purpose.
Important: We did not get paid to write this review. It is first-hand, genuine, and no bs. Last updated in 2022.
1. What is Omio?
If you're looking for the best partner to get transport tickets for your travels, especially in Europe and North America – that's Omio. This is called multi-mode transport.
Omio is a website and an app that provides you all the transport tickets you need in one place. From buses to trains to flights, they've got you covered. It's your one-stop-shop where they make the lives of tourists and travelers easier and hassle-free.
Not to mention, the fast and immediate transaction flow they provide. One great factor that will come in handy if you're in a rush or when you hate waiting.
Omio will most likely be the best ticket provider you can come across. It will save you time, energy, and money whilst traveling. They will show the most convenient routes and mode of transport to your chosen destination.
What transport can you book with Omio.com?
You can book:
trains
buses
flights
ferries
rental cars (new)
For rental cars, we usually go with Discover Cars. Yet, it is always good to have another option. Especially when looking for a train in Europe, this website is super useful!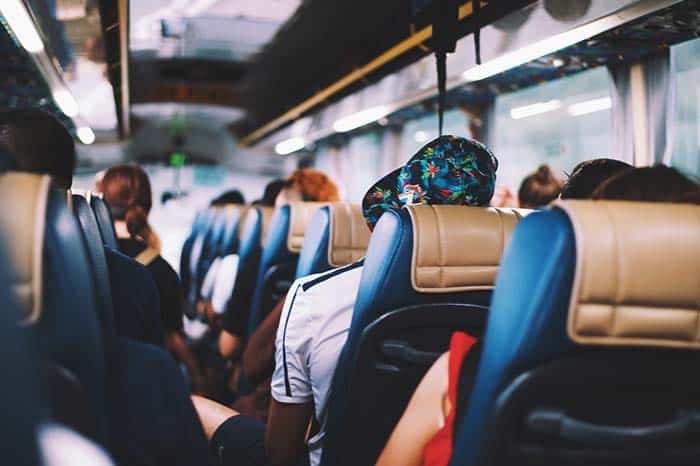 2. Advantages of Omio
Being from Europe myself, I have used several ticket providers. And honestly, Omio has been so far the greatest site that saves me and my travels.
Here are several advantages to why it has to be Omio.
Not only can the process of finding tickets be fast but also the process of getting your tickets, too. Once you have confirmed your booking, your ticket will be sent to you immediately after a few minutes.
Omio.com offers easy steps that are very easy to follow. Very user-friendly and easy to navigate. All you have to do is enter the details of your travel, choose the best route and transport system, and get your ticket in a few minutes.
As easy as a snap of your fingers, you'll be able to find your desired ticket and you're good to go.
Get to know the more detailed process in the next number.
Having used Omio personally so many times, we have already tested its authenticity. We have bought countless bus and train tickets with this platform and it all went pretty well.
Though we have faced a few minor issues, it was dealt with accordingly and still went fine.
Once you have selected your destination, Omio will layout every single transportation option available. With all these layed-out for you, you will see the cheapest and most money-efficient way to get to your destination.
All the prices are very affordable and reasonable that can be very suitable as saving hacks for your travel. But still, prices may somehow vary in different countries and localities.
Rest assured you are given the best and affordable options you can always choose from. So it's all in your hands, too. You control what you pay for.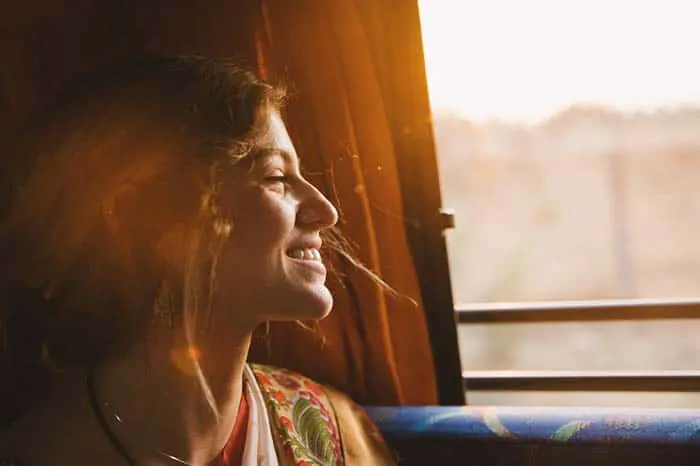 3. How to book a ticket on Omio?
Just like we mentioned earlier, Omio is very easy to use and easy to navigate. Check out the full details of each process below.
Enter your details  –  Departure and arrival destinations and travel dates
Check the routes – Compare the different train, bus and flight routes available
between the two destinations (feel free to filter for cheapest, fastest, recommended)
Book your ticket – Choose the best route for you and book your tickets on the website
Get your ticket – Either print your ticket or download your mobile ticket
Below are Omio's partnering travel companies you can choose from:
National Rail
Deutsche Bahn
SNCF
Renfe
Italo
RegioJet
Trenitalia
SNCB
NS
ÖBB
SBB
National Express
SJ
Thalys
Eurostar
Ouibus
Eurolines Switzerland
Movelia
RedCoach
OurBus
GoBus
Amtrak
Example: Let us travel from Barcelona to Paris
I know this can be a bit confusing sometimes, especially in Europe when crossing borders. Let us travel from Barcelona to Paris and see how it works. Two awesome cities, btw!
First things first, we open Omio.com.
You can directly type in "Barcelona", there is no need to know the actual name of any train station. I mean, who does this anyways?!
Therefore, super simple, type "Barcelona" and choose accordingly "Barcelona, Spain". Then as a destination "Paris, France."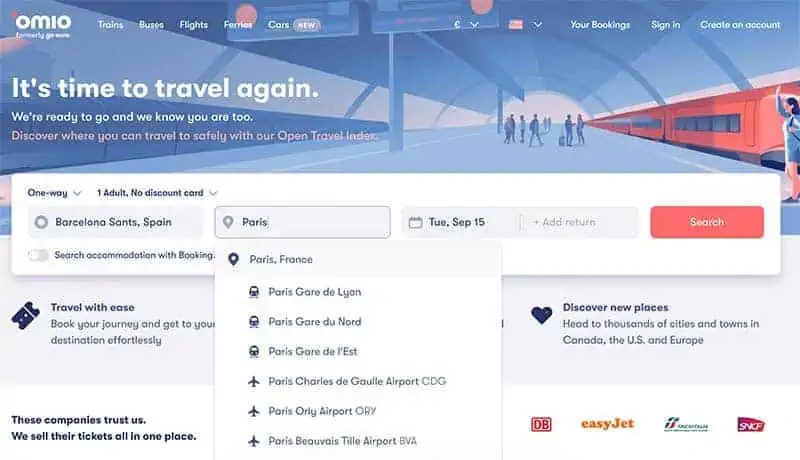 In this case, Omio.com gives us 3 different options:
Train – 158€ and 6h38
Buses – 49€ and 15h15
Flights – 30€ and 2 hours
BOOOOOOOM! Now that is already great to know, right?! You can instantly see that flying is the cheapest and fastest way, whilst taking the train is 5 times more expensive.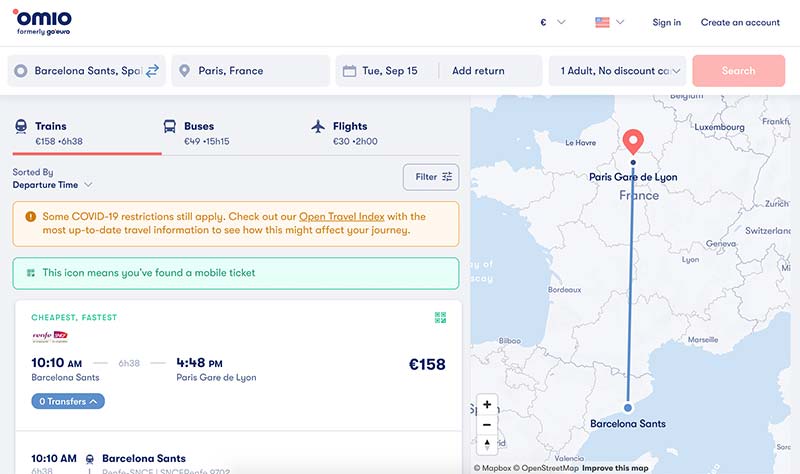 Okay, let us be honest here. We all would take the flight here. Much cheaper and faster.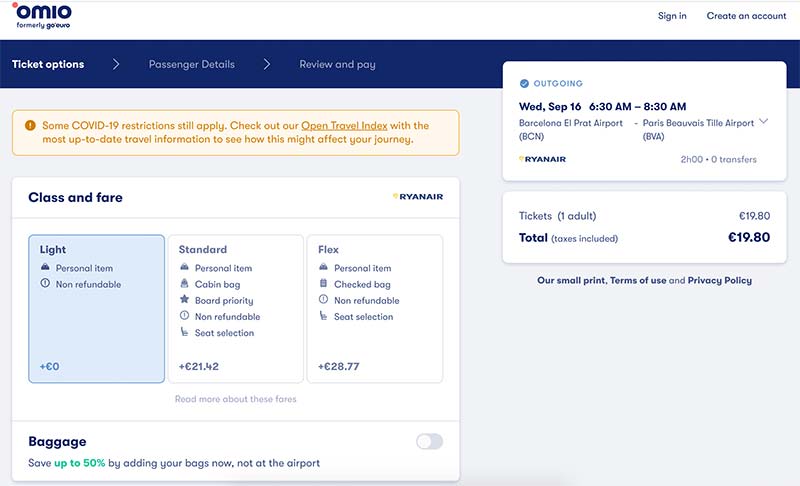 But, for the sake of showing you how it works traveling internationally by train in Europe, let us pretend the flight does not exist and we take the train.
There are now 3 steps to take:
Ticket options
Passenger Details
Review and pay
In the first step we can choose between first and second class. The first class from Barcelona to Paris would cost only 30€ more. Based on my train-travel experience, this is a surprisingly good price.
Then we can choose the fare between Essential and Flexible.
Essential:
This ticket can be refunded or exchanged for a 50% fee any time before departure.
Flexible (for 20€ extra):
This ticket is only valid for the selected train.
This ticket can be refunded or exchanged for free up to 24 hours before departure. A 10% fee applies if refunded or exchanged less than 24 hours before departure.
Personally, I would take and recommend the essential. I usually never change my travel tickets, but if you want to be flexible, go ahead.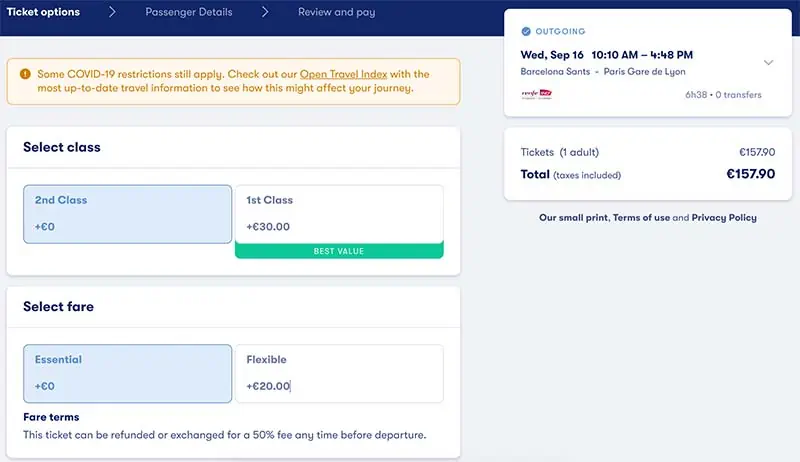 Next up is the passengers details. Same procedure as every single time, really. I do not even put a screenshot of that process here, as it is like any other page.
You can also create an account for faster bookings, I would do this. Then you can also opt-in for newsletter and travel deals. Good idea, I recommend this!
Important: Here you need to add an email address you actually have access to. You will receive the ticket there
Let's talk money: the paying process!
Further below we actually go into detail about How to pay at Omio.com. It is very simple, really. Choose your credit card, PayPal or GooglePay and go ahead.
I also really like that you always see your itinerary in the right sidebar, along with the total price.
Important: Make sure your travel details are correct! Please double-check your dates, the itinerary, number of tickets. I always let my partner look over these details again.
And then, EUREKA, you made it to Paris. Well, at least we have the ticket ready. You now receive a simple confirmation email with your ticket.
Did you notice any mention of crossing borders? Not really. The search engine really puts it all together for you. Since it is the Schengen area and no border control, it is very simple to travel from Spain to France in this case.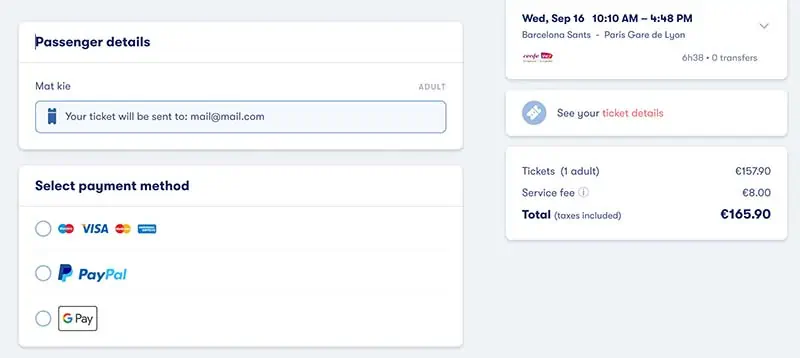 Flixbus and Omio.com
As for the bus journey, Omio.com teamed up directly with many bus companies. Most of the bus connections you will find are provided by Flixbus.
Flixbus is a major bus company offering itineraries mostly in the United States and in Europe. I took a few of their bus rides in Central and East Europe. They are cheaper and reliable.
4. Is it safe to use Omio?
Yes, Omio.com is very safe to use!
If you have not heard about Omio and having doubts about it, well we are one of those living proof of their good and legit quality service.
Over the years, we have used Omio for our tickets all around Europe with ease. And we have been thankful for it since day one.
With over 800 transport partners that are best and famous around the globe, we are very honored to say you are in good hands. These include connections with British Airways, National Express, and easy jet.
5. How to pay?
You pay for your ticket(s) among the several payment options Omio has provided for debit and credit cards. These include the following below:
Visa
Maestro
Mastercard
American Express
Paypal
Google Pay
Apple Pay
AliPay
Klarna Pay Later
Dotpay
As you can see, Omio also accepts PayPal which is pretty cool.
On that note, always make sure you double-check the website you are about to pay to. Make sure you are paying money only to a legit and safe website. For instance, Omio is safe; you just read it and we confirm. Always search for honest reviews of the company/ website you are about to use.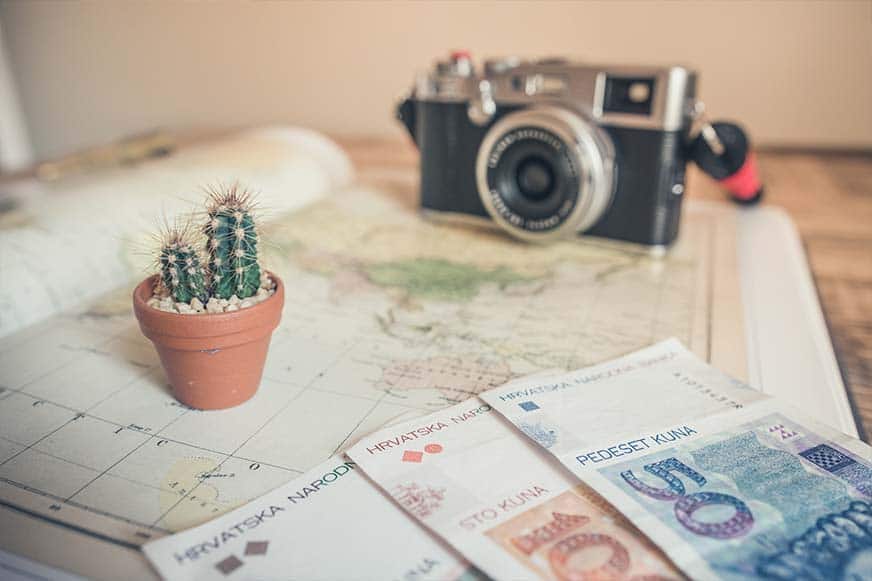 6. Changes, cancellations, and refunds
Okay, let us have a look at the boring part no one actually ever reads…come on, you know that's true…
6.1 Changes
If you have changes you want on your ticket, the answer can be a yes and a no.
This is because not all tickets can be changed. There are certain partners that do not acknowledge changes and there are some that allow changes. Although in general, tickets likely cannot be changed.
Nevertheless, Omio will be able to assist you with changes. But if it happens that you are redirected to their partner's websites, assistance from Omio will no longer be possible. Details for the contact can be found in your booking confirmation email.
Change in passenger details
Always remember that you are responsible for any mistakes or errors in passenger details since you are the one who enters the information. For this reason, Omio does not allow changes in details.
However, in general, bus and rail staff allows minor errors in tickets like typographical errors and a mix-up between first and last names.
Although, be reminded that Omio does not guarantee that certain incorrect details will always be valid. You can always check this policy through the travel company printed on your ticket.
Change in seat sometimes happen especially when booking for a group. However, as much as possible, Omio automatically assigns seats close to each other. But if by chance you and your friends do not get seats accordingly this may be because the seating availability is limited.
Note: Once the booking is confirmed, changing seats is no longer possible. But you can always try to ask others to switch seats with you if you like. No harm in trying.
Here are some of the tickets we found on their site that has details for changes.
Ordinaria tickets can be changed once, up to the day before departure. Trenord tickets can't be changed.
Intercity and Freccia trains
Same day return tickets can change their departure time before departure.
Economy tickets can change their date and time before departure.
Base tickets can be changed up to 1 hour after departure for free but only at the ticket office of the departure station.
Super Economy, 2×1 special offer tickets can't changed.
Eurocity and Thello trains (international)
Adult and Standard tickets for connections between Italy and Switzerland can changed up to departure.
Thello tickets can be changed up to 24 hours before departure.
Mini, Smart, Smart 2 tickets and connections between Austria and Germany can't be changed.
Ouibus tickets can be changed up to 30 minutes before departure on their website.
6.2 Cancellations
Just like the changing policy, there can tickets that can be canceled while there are some that can't be.
Make sure you check the cancellation options to submit a request to claim a refund.
Here are some details provided by their site.
ÖBB Standard tickets can canceled before the first day of their validity. However, downloaded tickets cannot  canceled.
Sparschiene tickets cannot be canceled.
Ouibus tickets can canceled up to 30 minutes before departure in exchange for a voucher, not a refund.
However, for air tickets, you should contact the airline directly to know about their cancelation policy.
You can cancel tickets online at this link. All details including refund total and inclusive of any cancellations fees.
Note: Many have missed understanding that tickets can be canceled ONLY IF you have purchased a refundable fare type which  also indicated in your ticket.
7. Support
Omio is always happy to assist their customers. If you need any help, have questions, feel free to contact Omio through this link.
However, if your ticket is from a partner's website, you will have to contact them directly. This is because some travel companies prefer and have their own customer service. You can find all the contact details on your ticket.
Plus, customer service is available in 18 languages so you don't have to worry. And their support does not end in the booking process and getting the ticket, Omio's customer service is available until you reach your destination.
And if ever you have complaints, you can always call them and they will sort things out as soon as possible.
Check out each travel company's policy your traveling with here.
8. Is it worth to try Omio?
With our years of experience with Omio as travelers, we highly recommend this as your ticket finder and booking.
Aside from very efficient ticketing, they also provide fast ticket finds which we find very handy for last-minute trips and changes without being stuck in your way.
They are by far our favorite platform that provides the best travel options by bus, train, and plane in different places all over Europe, the United States, and Canada. Not to mention the cheap prices you can choose from. (Although there are some places that have high ticket prices)
And what's even better is that you get to choose which mode of transport and price you prefer. They use advanced mapping technology to track the closest transportation available in your chosen location.
It is also very user friendly which most people like the most. Steps are easy to follow and processing is fast and accurate.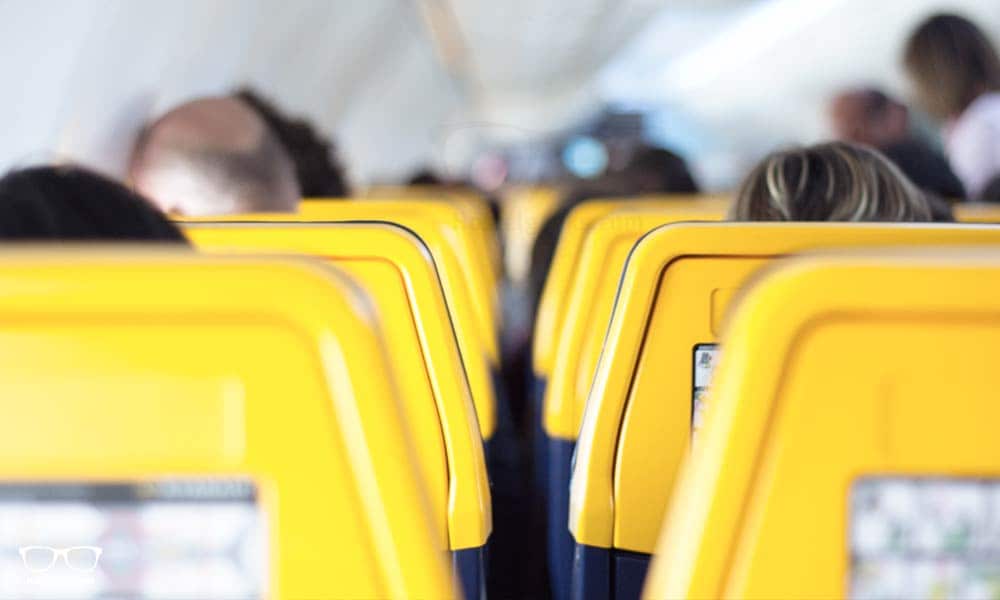 9. Omio Discount Code
At the moment, we do not have a discount code or promo code for Omio. We will keep this guide always up to date. As soon as a promo code is available, we will publish it here. You can bookmark this page to stay up to date or simply subscribe to our newsletter.
In our newsletter we share all our discounts code for Omio.com, Kiwi.com, Hostelworld.com and all the other great travel sites.
Summary: Omio Review
To wrap this up, Omio is one of the fastest and cheapest ticketing platforms on the internet today. Yes, Google can give you plenty of options but the real question is, is it legit?
We have been using Omio for many years that we would love to share it with you.
And just to remind you, Omio did not pay for this review. We simply want to share with travelers like us the most convenient ticketing service you can get from Omio. With a single search, Omio will provide you all the available modes of transportation from busses to trains to flights you need.
Plus, you can book your tickets in advance so you can always plan your trips ahead of time. Which we also find very convenient.
And it does not stop there. The cheap offers they have are another thing you will love about Omio. This is perfect for backpackers or solo travelers that are up for the cheapest finds.
Before you run off, booking your next experience, here are more useful travel sites we honestly reviewed:
Hostelworld in a review – how to book hostels?
Kiwi.com – is it safe to book flights here?
Skyscanner – how to use Skyscanner to always find cheap flights
iVisa – the easiest way to get your worldwide visa
World Nomads Travel insurance – compared to Safetywing
Klook Review – simple way to book unique experiences
Onward Ticket – international onward flight proof for $12
Over to you
Have you heard about Omio before?  What tickets did you buy from Omio? Which country did you use it with and what was your experience with it? Is there anything you want to know?
Then please, hit the comment section. We would love to hear from you. Your comments, your feedback, and your questions will make this article and guide even more useful for all fellow travelers.
Safe travels!