Luxurious, yet affordable skincare has never been more in demand than it is now. This incredible QVC UK SBC 4 Piece Supersize Hydra-Collagen Hero Collection ticks all the boxes for bringing efficacious, cruelty-free skincare into our homes in HUGE salon sizes. Whether you are doing a staycation this Summer or want to decant products for your holiday, your face and body will be looking and feeling hydrated, moisturised and glowing in no time.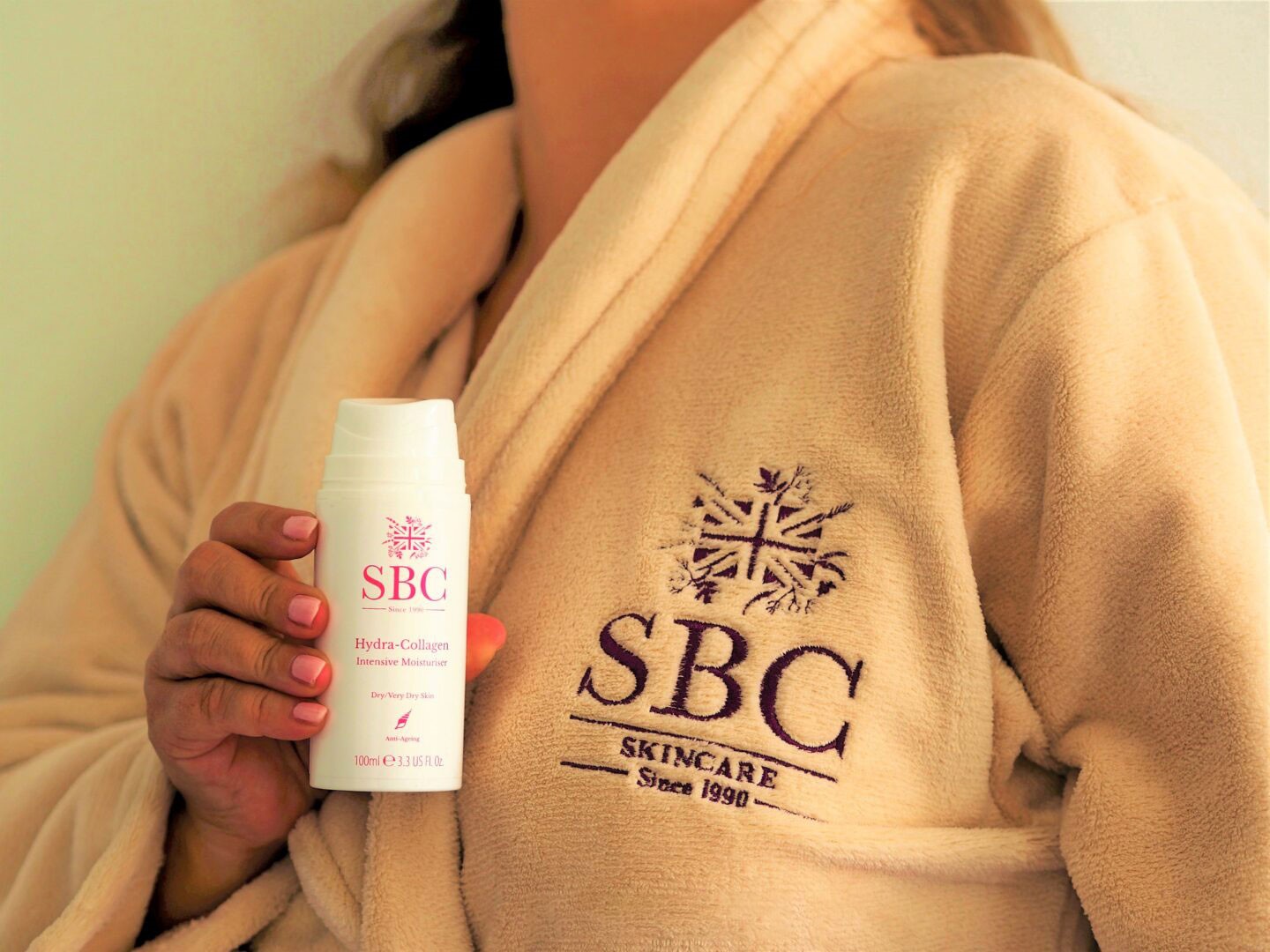 SBC are famous for their " innovative Gel based formulas that are light, easily absorbed and suitable for all skin types. Enriched with nature's finest ingredients, including plant extracts and vitamins, they are perfect for the whole family."
This collection is featuring on QVC UK on 15th August 2021 for 24 hours whilst stocks last at an incredible price with HUGE savings and will be available HERE when launched.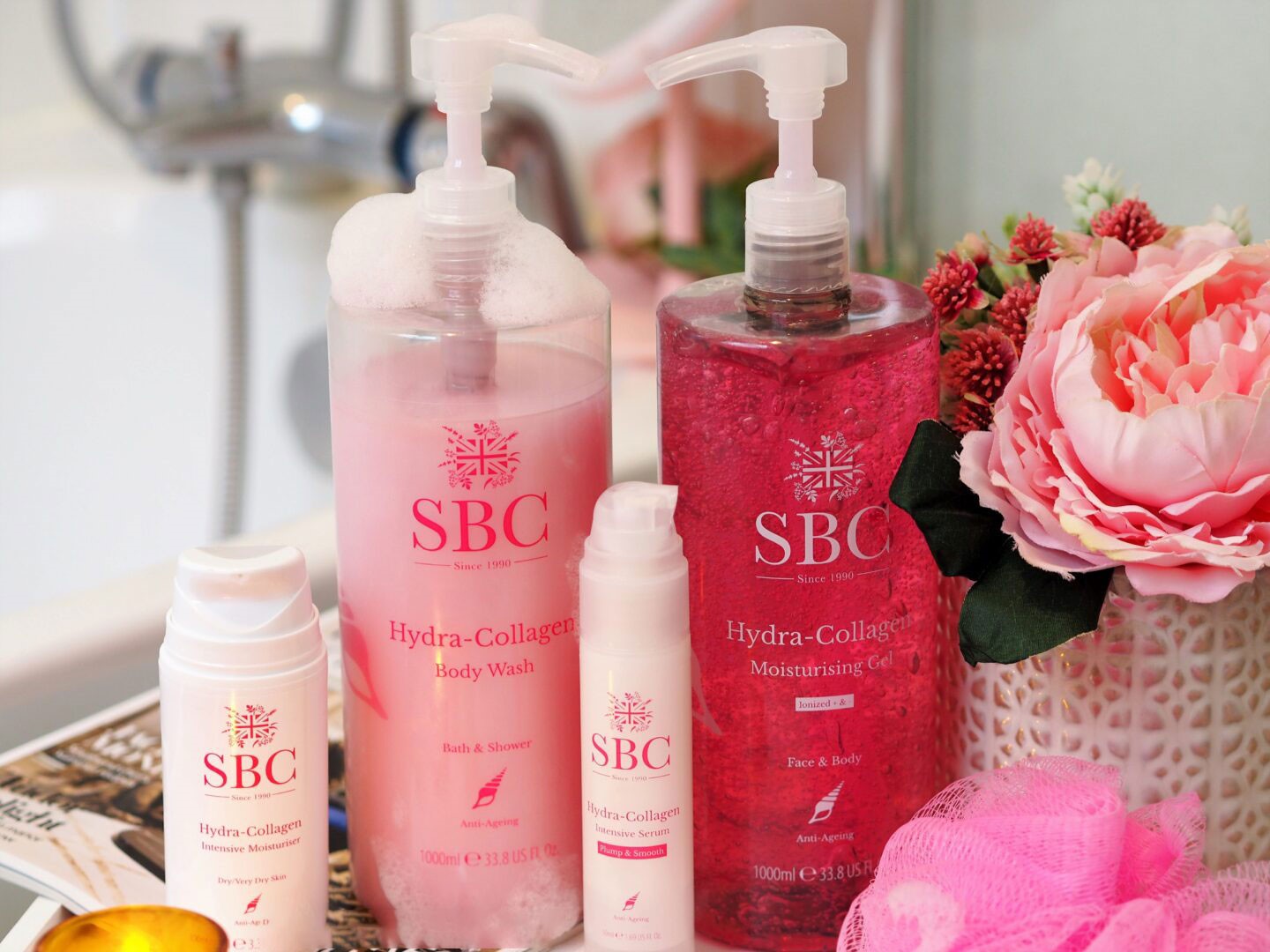 Included in this four-piece collection are the following products:
Hydra-Collagen Moisturising Gel 1 litre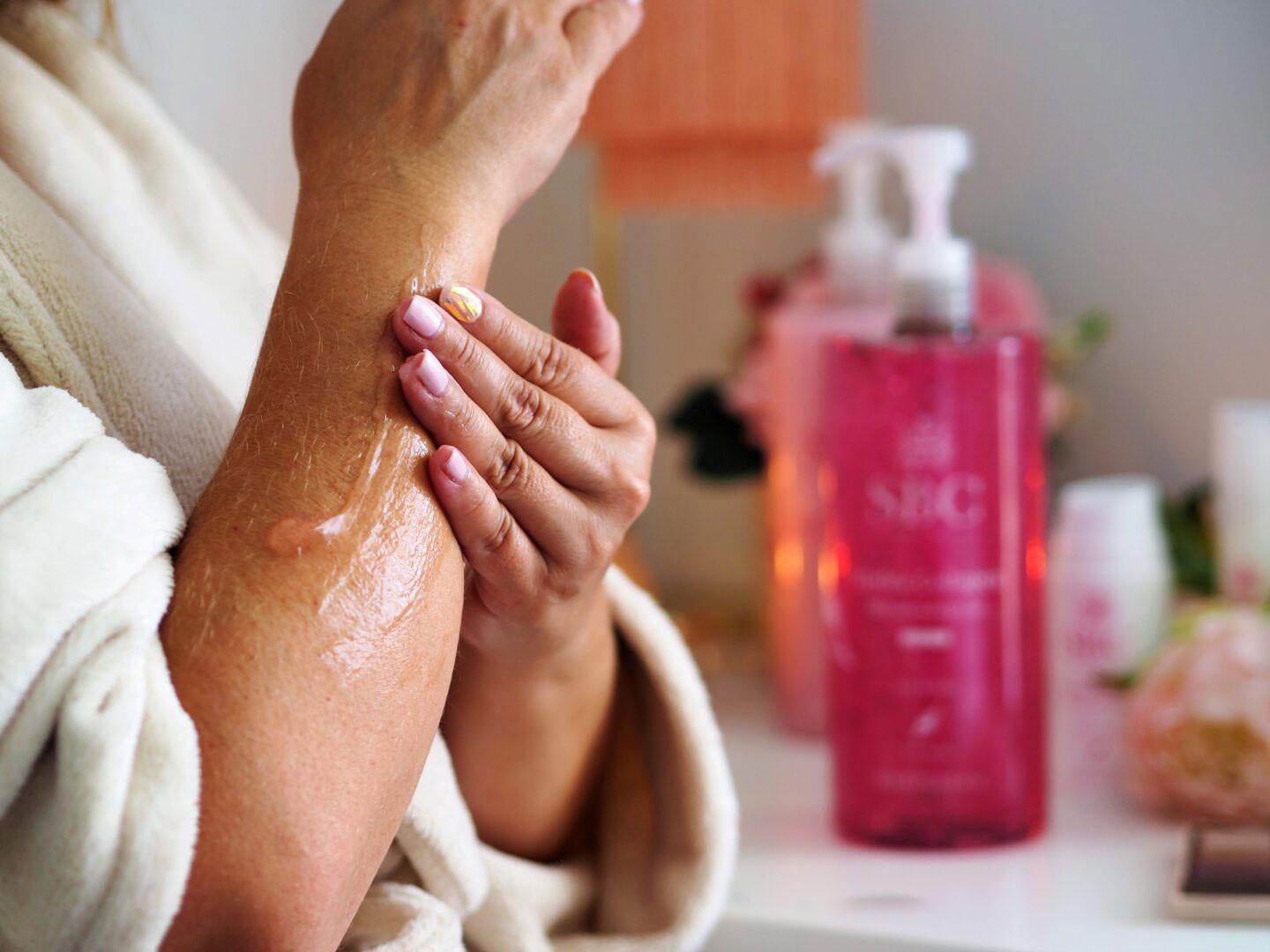 SBC Hydra-Collagen Gel is an absolutely Iconic, Hero product for the brand and with good reason. This water based gel offers a balanced, light-weight formula that works on all skin types to keep the skin soft and moisturised. This product has been in my collection longer than i have had my youngest child so i know it works hahaha. When used regularly, the skin looks firmer, forehead lines appear less visible and – on me personally – across my stomach, marks from pregnancy have definitely faded with regular use. I know everybody's skin is different but personally my results, over the years, have been outstanding.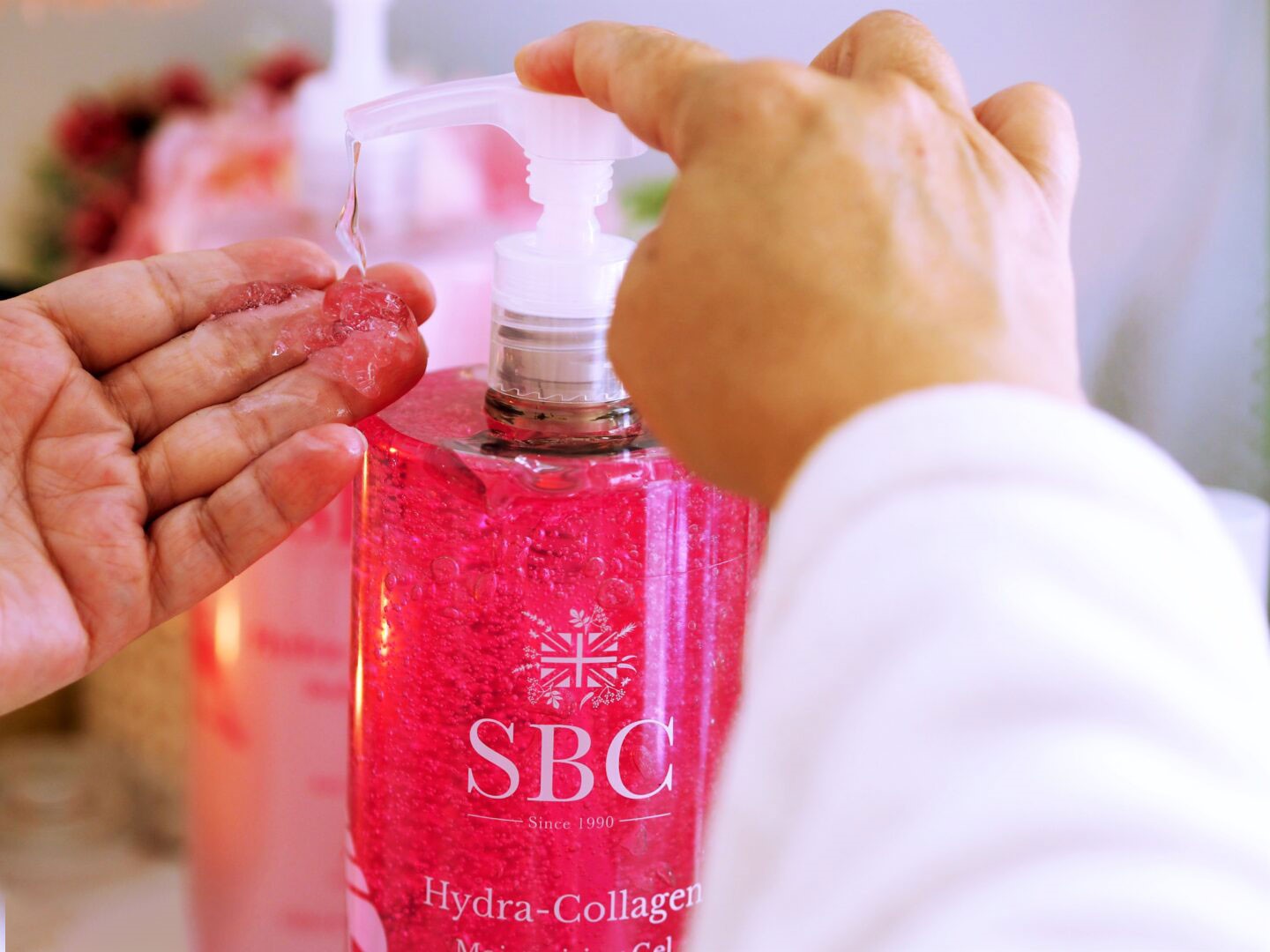 I also love to use it on my skin after a day in the sun as it adds hydration, softness and makes everything look smooth. It is great at dealing with the existing signs of ageing, is wonderful on laughter lines around the eyes and it can also be used as a relaxing eye mask. Squeeze a generous amount of this gorgeous pink gel onto a cotton pad, fold in half and place it under the eyes around the area where you may get dark circles! You really can play around, mix and match and find your own unique blend of gels for you. This product is so versatile it can be used on the face and body and as it is an Ionized formula, it is the ideal anti-ageing and hydrating companion for electronic beauty tools!
Collagen is a naturally occurring protein in all our ligaments and connective tissues and skin and as we get older our Collagen levels significantly decrease, therefore leaving some of us with dry, ageing, droopy skin. This Marine Collagen gel, is in such a huge size that you really can slather it on everywhere. I use this across my stomach, thighs and "bingo wings" and really massage it in well to help give a firming feel. I use it on my face, paying particular attention to my forehead and lip lines. It smooths in so easily, leaves no sticky residue, and allows me to apply make-up straight away and get dressed straight after applying to my body. The great thing about these gels is if you already have a body lotion that you absolutely love, then why not add a pump of this to that lotion? Everybody could do with extra Collagen so this is an affordable way of adding it.
100% reported that the use of the product made their skin appear noticeably firmer.
100% confirm that application of the product makes their skin seem visibly less lined and more youthful.
100% agree that the texture of your skin appears more moisturised and hydrated
100% reported that the use of Collagen Skincare Gel visibly smooths the look of their skin.
Results from a study of 52 customers…
Hydra-Collagen Body Wash 1 litre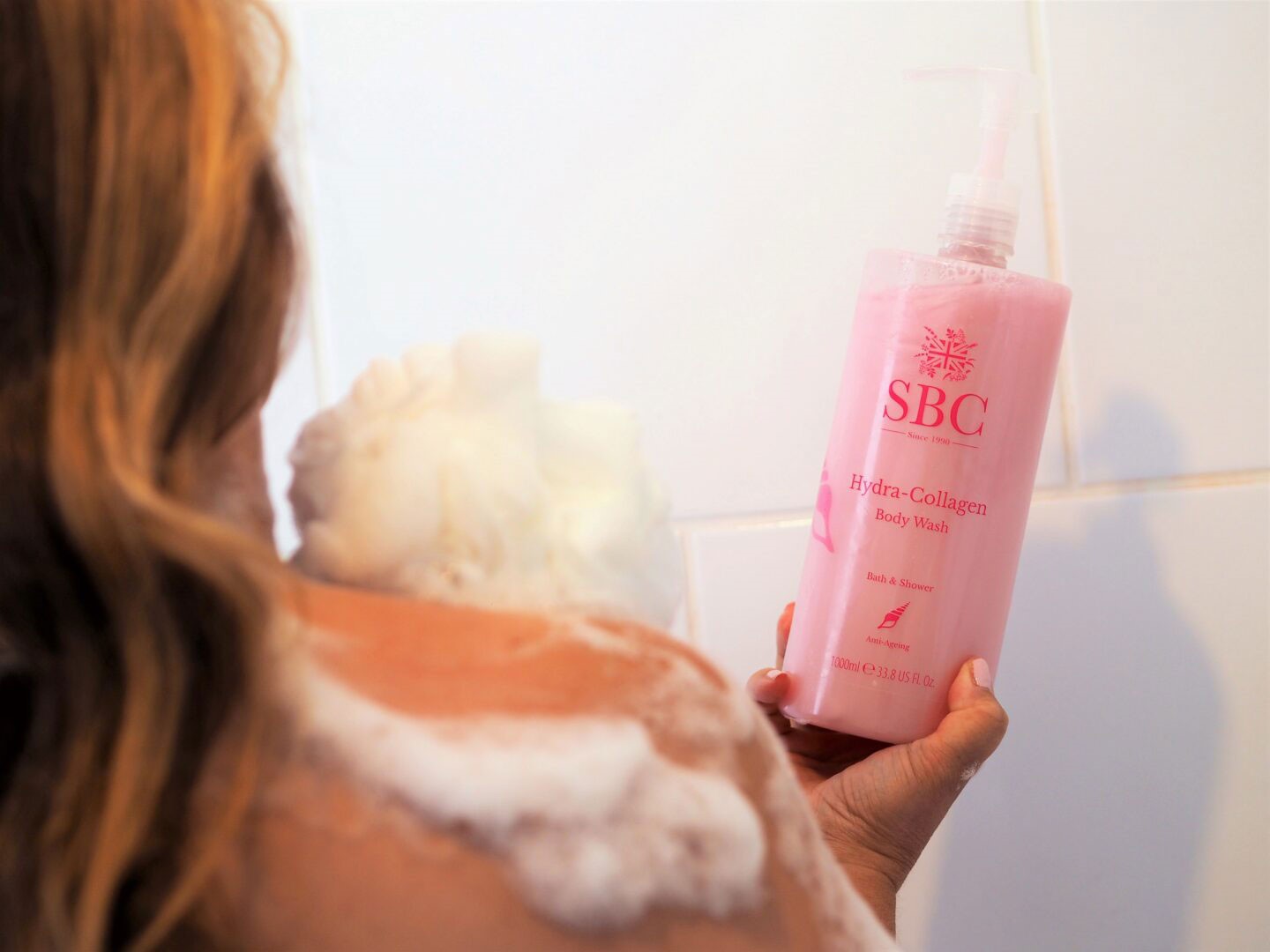 Do you ever stop and think what you are washing your body in? I mean, after all, its as important to look after our body as much as the skin on our face right? Why not indulge in some beautiful Marine Collagen to not only cleanse, but treat our delicate skin. I have been a huge fan of this product for many, many years, in-fact you can look back over my blog and find lots of posts featuring this product. It smells absolutely gorgeous thanks to the inclusion of Passion Flower Oil and Kukui Seed Oil. Glycerin, along with soluble Marine Collagen make this product deeply hydrating, anti-inflammatory and nourishing. On a treatment level it is perfect for aged skin, skin that is dry and needs some love and on anyone that just wants that all round healthy, soft , plumper, smoother look and feel to the skin. On a beautiful bathing experience level, it is suitable for the whole family including children.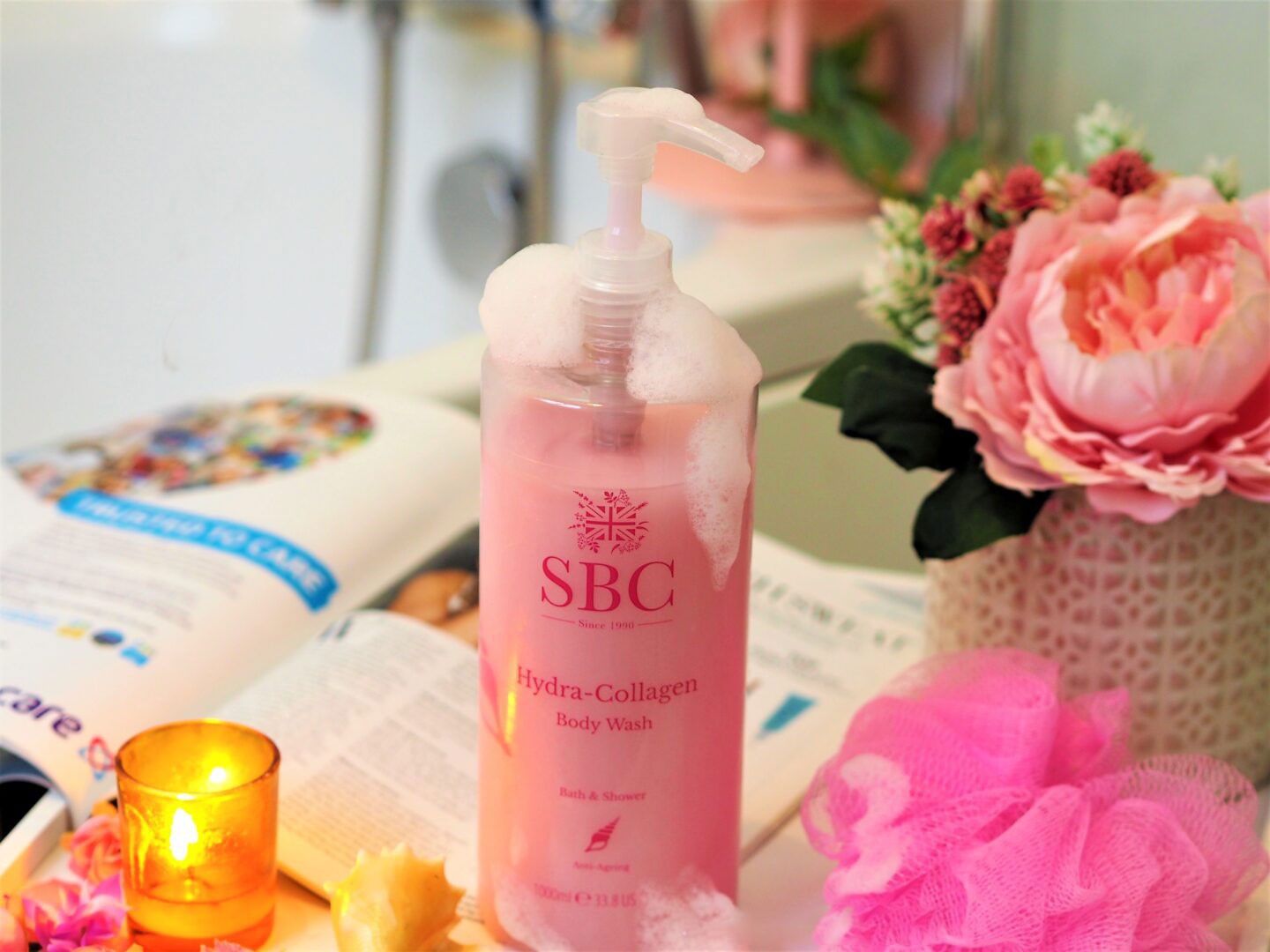 Fantastic when adding a pump to a shower sponge and used in the shower to wash head to toe, it really lifts away the grime and impurities of the day whilst leaving the skin refreshed and hydrated and not tight and dry. You will feel so soft that you may find you can escape a night without body lotion! I love to add a couple of pumps into the bath for soft bubbles and then blast the shower head in the bath for endless over flowing foam! The uplifting, mouth watering scent of Zesty Citrus, Crushed Grapefruit, tarte Apple and Orange plus a burst of Raspberry, Cassis, Gardenia and Vanilla make the scent of this as decadent and inviting as a high end perfume! Once tried, you will become obsessed!!
Hydra Collagen Intensive Serum 50ml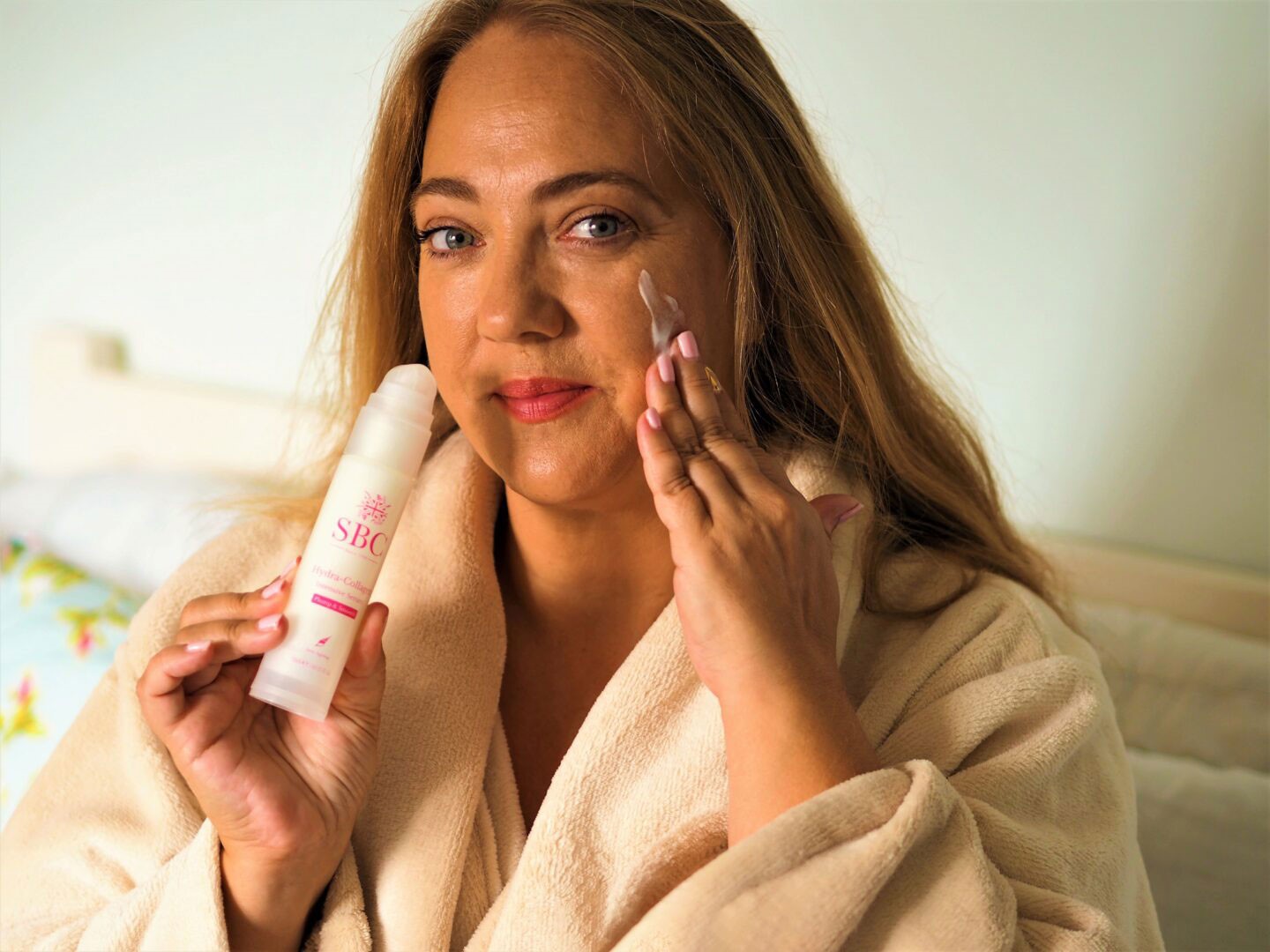 Ok, lets talk serum. Serums are my jam, they are where i like to spend my money to really pack in powerful ingredients and supercharge my skincare. Hydra-Collagen Intensive Serum is soo beautiful. This is a 10% inclusion of the Marine Collagen serum we are talking about here! Some brands charge double the price for a lesser amount so you really are getting a powerful serum.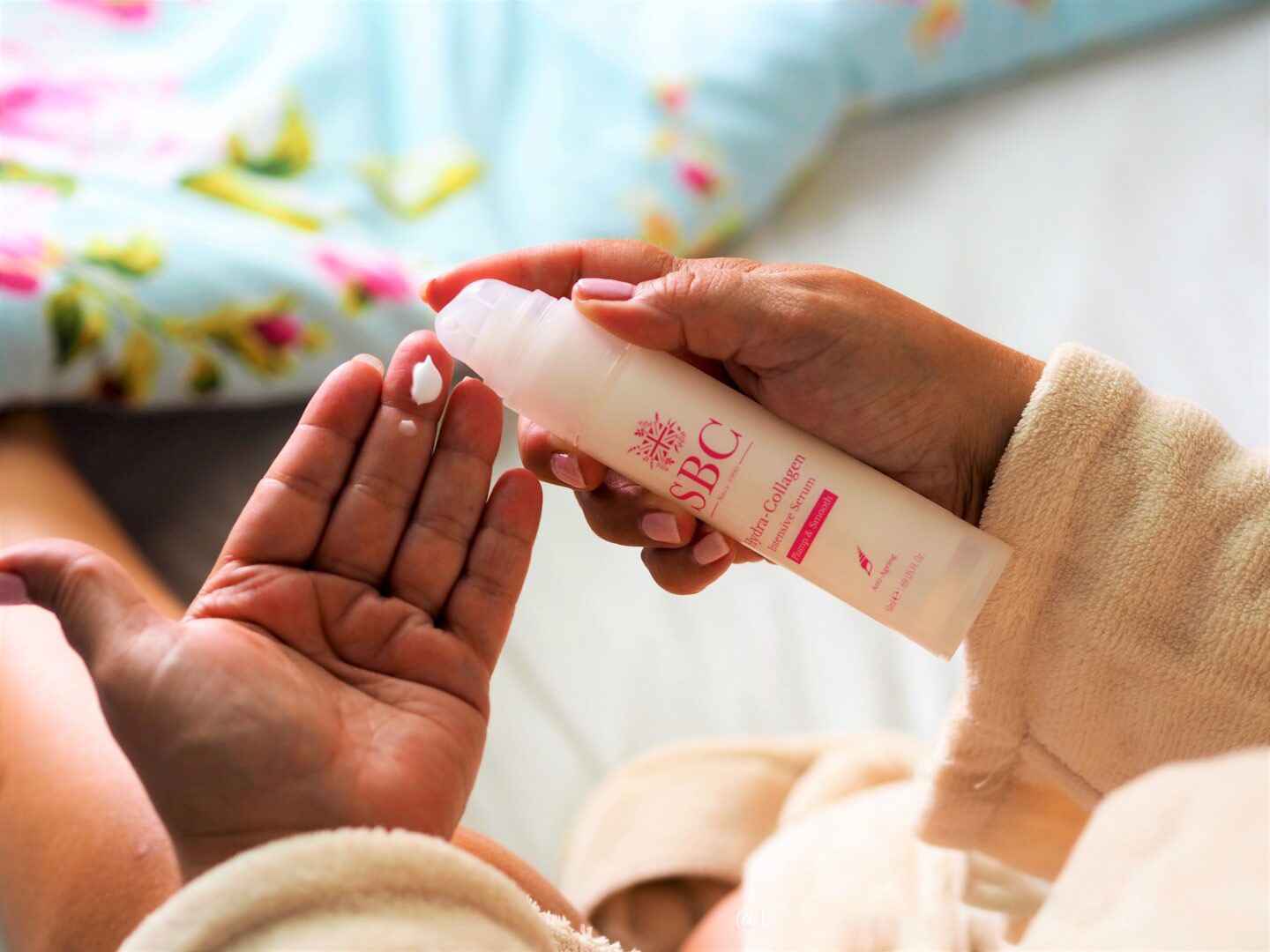 This cooling, intensive serum is packed with Marine Collagen which is used in products all over the world because of its anti-ageing benefits. This important ingredient is incredible at plumping and deeply hydrating the skin whilst minimising the appearance of fine lines and wrinkles. It works wonderfully on mature, thinning skin and also on dry or dehydrated skin as it is gentle but effective and gives great results. Formulated with those hydrating and brightening oils extracted from Kukui Seeds and Passion Flower, it repairs the skins barrier function and reduces trans-epidermal water loss. Applied after cleansing this product lifts and brightens the skin and is an important part in your skincare routine.
Customer results :
100% confirmed the serum reduced the appearance of fine lines and wrinkles.
100% confirmed their skin was left feeling hydrated for longer.
100% noticed that their skin appeared firmer since using the Serum.
100% noticed their skin looked more toned since using the Serum.
100% noticed their skin looked smoother since using the Serum.
*Customer perception survey of 192 people
Hydra-Collagen Intensive Moisturiser 100ml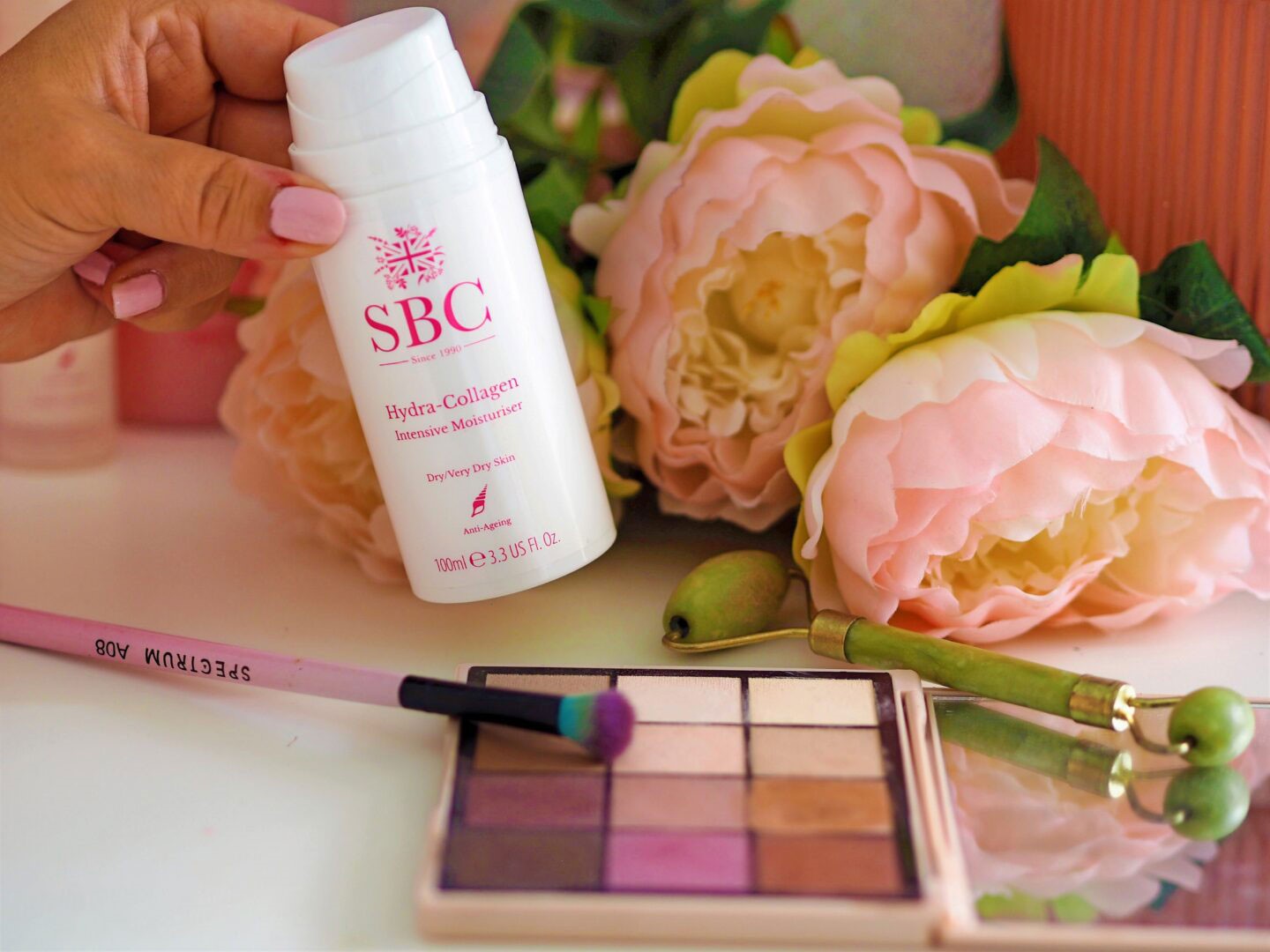 This moisturiser feels incredibly luxurious on the skin and sinks in beautifully, leaving it feeling incredibly hydrated and plump. Containing Shea Butter and a special blend of all important Marine Collagen, Rodacea extract, Glycerin and Vitamin E this is a intensely hydrating and nourishing moisturiser. Marine Collagen is wonderful at almost slowing down the ageing process, it helps with cell renewal and the structure of the skin and a more hydrated and plump skin is a younger looking skin so i will take it by the bucket load please! Rodacea Extract protects the skin from external aggressors by strengthening its natural barrier. Indigenous to the German Island, Sylt this powerful skincare ingredient attracts and retains much needed moisture which visibly plumps and hydrates the skins surface. This makes this a perfect moisturiser for parched, thirsty, dehydrated or depleted skin types.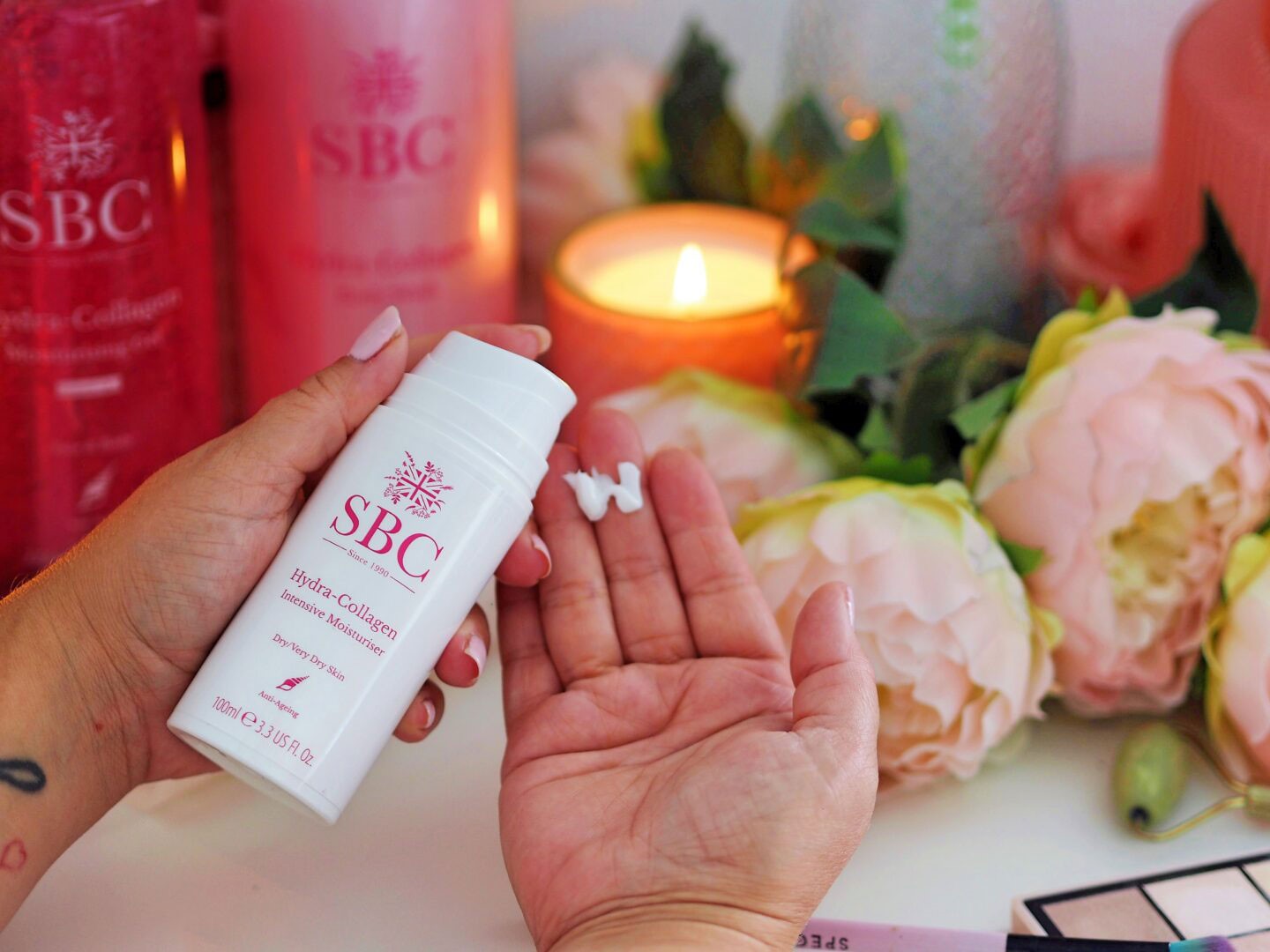 Just like the serum, this too is formulated with brightening oils, Kukui, Passion Flower and also Papaya. This sits lovely under make up with no need for a primer as that may roll off but foundation, especially liquid foundation, sits lovely on top. The packaging is also completely recyclable.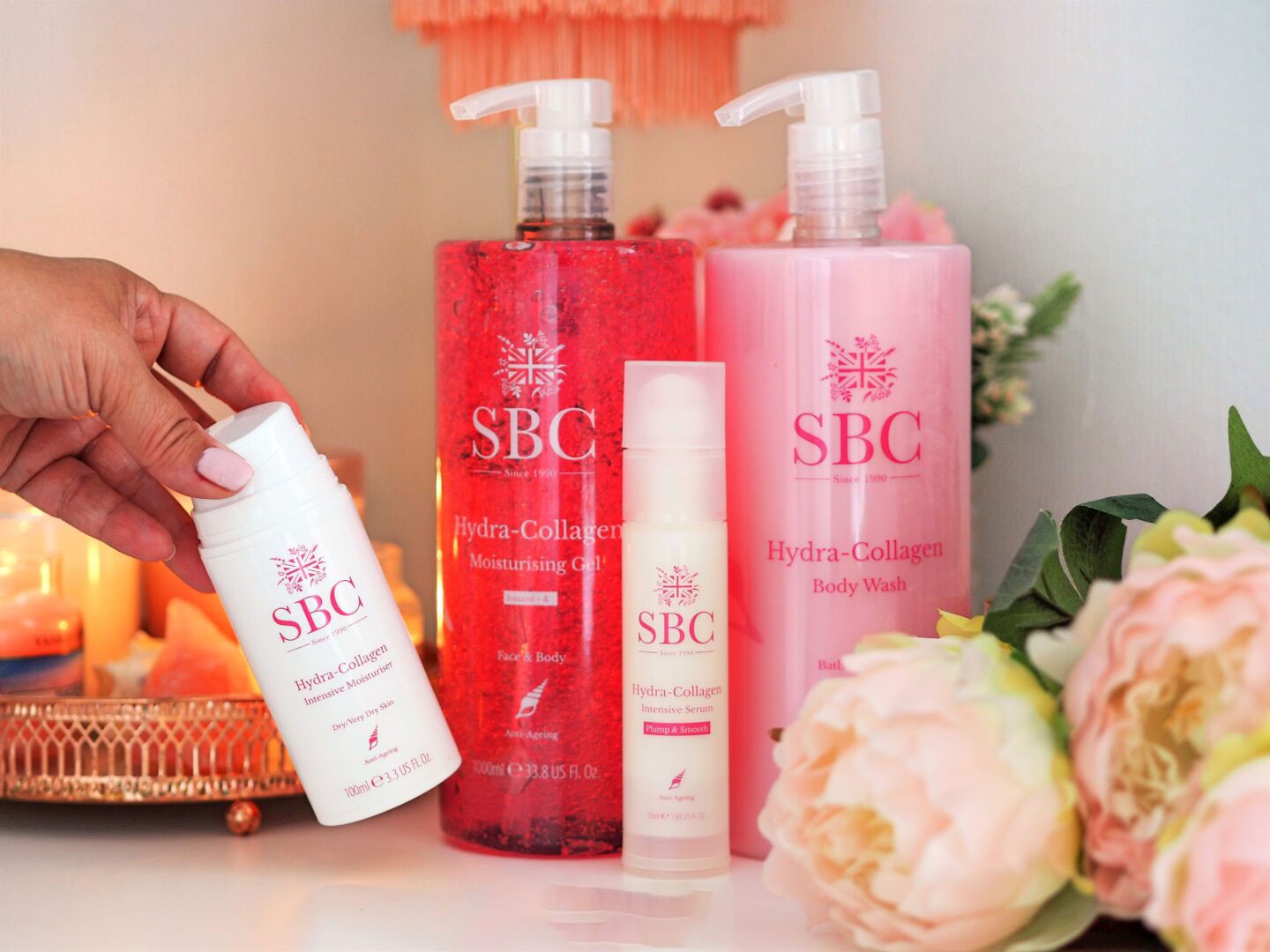 This QVC UK SBC 4 Piece Supersize Hydra-Collagen Hero Collection is absolutely incredible value. Perfect for this time of year when our UK Summer cannot make up its mind, it deeply hydrates a parched skin, protects the skins barrier and works on softening those fine lines and wrinkles. This is a beautifully scented collection that works on both the face and body and is perfect for all skin types. I am a huge fan of the Collagen products from SBC and always achieve incredible results.
The QVC UK SBC 4 Piece Supersize Hydra-Collagen Hero Collection is available as a Todays Special Value launching on 15th August 2021 for 24 hours whilst stocks last. You can purchase the collection HERE for just £39.96.