If you've read some of our past Obsessions, it won't come as a surprise that Robin and I are full-fledged Glossier fangirls. We love that this beauty-blogger-favorite brand focuses on skin first, makeup second, and makes high-quality products available to everyone. Whether you're getting more serious about skincare or you're makeup illiterate (me) and don't want to look like a corpse, Glossier has a product for you. For those of you that haven't been indoctrinated yet, here's a look a little Glossier review to give you an idea of what we love.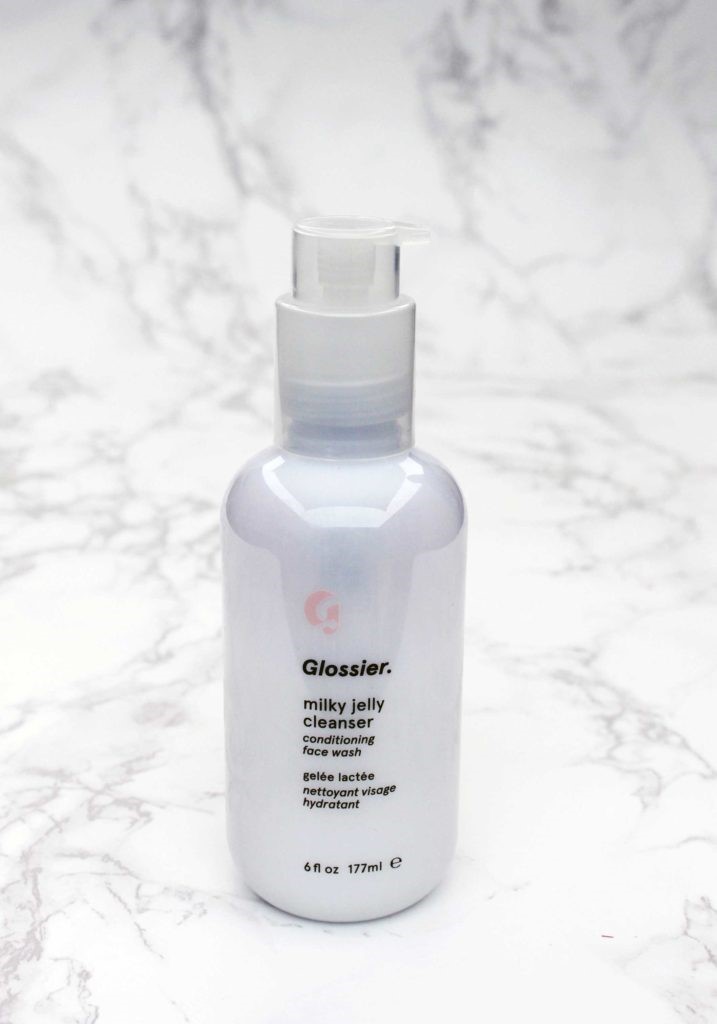 MAKEUP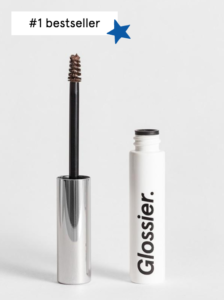 Boy Brow
If you don't try anything else from Glossier, try the Boy Brow. This stuff is amazing. I used to groom my brows using a tester mascara wand and a pencil, but this gel totally changed my eyebrow game. It shapes and tints my brows without making them seem waxy or overly stiff. I actually signed up to have this be a recurring shipment, that's how much I love it. Highly recommended!
Aside from how great this makes your brows look, I even had to use it in a pinch one trip when I forgot mascara. I like to do short strokes through my brows the wrong direction and then finish combing the right direction so all the little hairs get coated all around.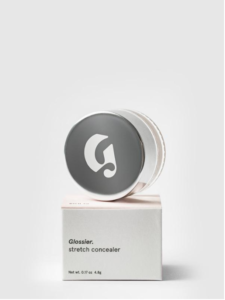 Stretch Concealer
I recently picked this one up in Medium. I love that it melts into your skin and gives you just enough coverage. I apply to my under eye area with my fingers and can easily blend it in. After watching Katie Jane Hughes tutorials for Glossier's Insta stories, I've started using this foundation brush to apply stretch concealer around the crows feet area and around my nose. It blends so easily you never look overdone.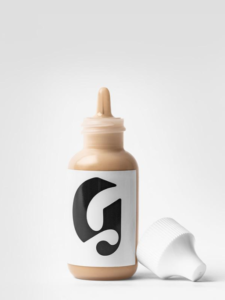 Perfecting Skin Tint
I used Bare Minerals powder foundation for a long time and just recently switched to a liquid makeup (Lush Color Supplement) and sponge for my day-to-day makeup. I decided to test out the Perfecting Skin Tint because it seemed to be a lighter formula that would be easier to use, especially since I apply my makeup at the gym in the morning. Well, the formula is definitely lighter. This stuff is a lot thinner than I was expecting, almost watery. It goes on easily with just your fingers and does provide a sheer amount of color. I like how convenient and easy to use it is, but I'm not convinced that it's the right option for me. I'm not 100% sold on it but I'll keep using it to make a final decision.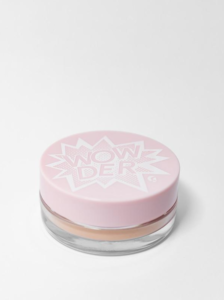 Wowder Powder
I wasn't expecting much out of this powder (it's powder, how great can it be?) but I've been pleasantly surprised by it. I typically apply it once in the morning and that's it. Towards the end of summer when my skin had some color to it, this was the only makeup I was applying to my whole face. It cuts down on shine and just kind of gently evens things out. I've also used it to set liquid makeup like the Perfecting Skin Tint and it works great that way too.
The trampoline mesh took a little getting used to but, when paired with the brush, it works well.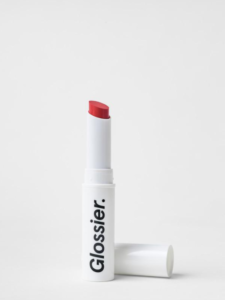 Generation G Lip Tint
This is the only lip color I wear anymore. I'm pretty lazy (surprise) about lip color; I'll apply it once before heading out the door then promptly forget about it. I just don't care enough to painstakingly reapply throughout the day. With Generation G, however, I can just swipe my lip color on like my beloved lip balm and call it a day. The best part is that you can swipe once for a light, balm-like coverage or apply a few coats for a more opaque look. I have it in Crush and Jam and I like both. I'm definitely interested in trying out the other shades as well.
I have Generation G in Zip which is a poppy red. It's an orange/red—as opposed to more blue/purple based red–which isn't my preferred but the Generation G can't be beaten for how long it lasts and the buildable formula. Back to my love of Katie Jane Hughes, her skin tone looks great in Zip so I'm holding out hope. Plus she taught me to use a fluffy eyeshadow brush to gently brush the edges of your lip to look slightly smudged and casual.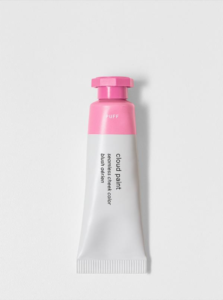 Cloud Paint
This is a cult favorite for a reason. The Cloud Paint goes on so sheer and like the Gen G lip tint, it is buildable depending how much you apply. Some days I want to go really light and others I'll build it up a little more. I have these in both Haze and Dusk. The Haze is my favorite by far. The Dusk is a little too orange for my skin tone when applied alone. Instead, I mix the two and apply the blend. The Dusk tones down the Haze which is really nice for a daytime look. Like all of Glossier, this adds just enough without looking overdone. Next, I definitely want to try Puff for a brighter pink look.
SKINCARE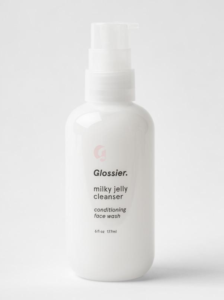 Milky Jelly Cleanser
I purchased this cleanser after coming down from the (expensive) high of Dermalogica's Special Cleansing Gel. It's gel-like and definitely thicker than the Dermalogica version. Overall I thought it was a nice product but didn't notice any life-changing results. I wouldn't hesitate to buy again but have recently switched to the Innisfree Olive Real Cleansing Oil–which Michelle loved in her Korean Beauty Routine–to see if I get more benefits there.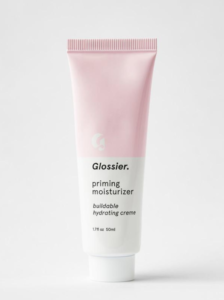 Priming Moisturizer
I've reordered this moisturizer twice now, and overall I like the formula and the way it kind of melts into my skin. My face always feels very hydrated when using this without making me look too oily, which is a common problem with moisturizers for me. On the site, they claim that this formula helps battle redness (which I have a lot of) but I haven't seen a noticeable difference there.
I like the feel of this moisturizer and have obviously continued to use it, but my main gripe is that it doesn't include SPF. I like the performance enough overall to continue using it, but adding SPF would be a huge bonus.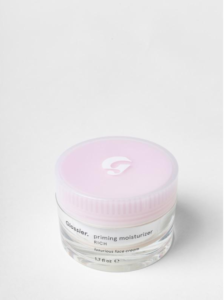 Priming Moisturizer Rich
I bought the richer formula of the priming moisturizer to use as an overnight moisturizer, and it works really well for that. My skin always feels hydrated in the morning when I use this and I'm looking forward to putting it to work this winter as my skin dries out more. I think for my purposes I need something with an anti-aging formula for overnight, but I'm glad I tried this and will continue to use it until it runs out.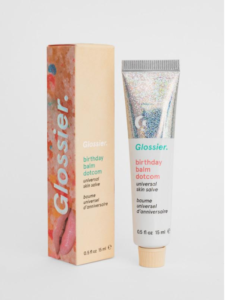 Balm Dotcom
No Glossier review would be complete without their Balm Dotcom. I picked up Balm Dotcom while lusting over the classic Rosebud Salve, so no surprise I picked the Rose version. It's a nice alternative plus I love that it comes in a tube instead of a tin which you have to stick your finger in. Is that worth double the price? Depends on how much you hate sticking your finger in the goo. This is definitely one to keep in your purse to use on lips or dry skin on the go. I also used it this past weekend to try the new glossy lids trend—thanks again Katie Jane Hughes.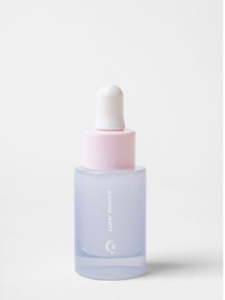 Super Bounce
I've always wanted to try the serums but having a Vitamin C I already liked I never got around to it. Enter this winter and fire season in Southern California, I can not keep my skin moisturized nearly enough. I'm constantly applying and reapplying moisturizer. The Super Bounce has been amazing and makes my skin feel so much more moisturized. I apply it alone to areas that are extra dry and then mix whatever is remaining with my SPF for all over face coverage. After the success of this one, I am anxious to try the Super Pure and Super Glow.
FRAGRANCE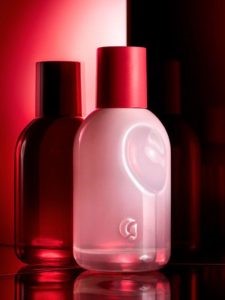 Glossier You
We're closing out our Glossier review with their newest product, You fragrance. This was my most recent purchase and snagged it when Glossier was running 20% off for Black Friday since I was only going on Hannah's recommendation that it was amazing. Glossier You is hard to describe, it's warm and slightly musky smelling without being overpowering. Hannah says it makes you smell like a good-smelling person. Always the goal of any fragrance.