Sending money online can be worrisome to many people. Is it safe to send? Am I paying too much to transfer money online?
Remitly is an online money transfer service that allows customers in the United States, Canada, Australia, the United Kingdom, and the Eurozone to send money to more than 40 countries internationally. The service makes transferring money quicker, easier, and less expensive than other companies. Send money using your smartphone, tablet, or online through the Remitly online transfer service.
Payment Methods Available with Remitly
When you send money online with Remitly, you can fund the transfer using:
⬤ Bank transfer
⬤ Credit Card
⬤ Debit Card
Individual users can send up to $999 per day, and Remitly doesn't allow you to set up recurring transactions.
If you choose to submit additional information to Remitly, such as the reason for the transfer or proof of how you are funding the transfer, you can send more money.
For example, providing Remitly with the reason you're sending the money and the source of the funds, you can send up to $6,000 per day.
The person receiving the money has a few options for getting their funds, including deposit into a bank account, deposit into a digital wallet, or picking up cash at a nearby partner money transfer facility. And if you need to send money somewhere immediately, you can choose the "Express" option for an instant transfer of funds.
How much I can transfer with Remitly.
With Remitly you need to pass different tiers of verification to be able to send higher amounts of money. To increase your sending limits you will need to provide your personal information and upload certain documents.
Tier 1. You can send up to $999 daily, $2,999 weekly, $10,000 monthly and $18,000 every six months
Tier 2. You can send up to $6,000 daily, $20,000 monthly and $36,000 every six months
Tier 3. You can send up to $9,999 daily, $30,000 monthly and $60,000 every six months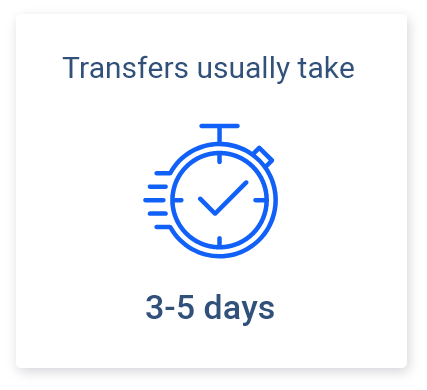 How long does a Transfer with Remitly take ?
Remitly offers two ways to send – express or economy
Express may cost extra but it can deliver your money to your recipient within 4 banking hours
Economy generally takes three to five business days to arrive
Remitly Transfer Fees
The fees Remitly charges to transfer money depend on several different factors, including:
⬤ How much money you're sending
⬤ Where you're sending money to
⬤ How you are paying for your transfer
⬤ The currency you're converting your money to
⬤ The way you choose to transfer the money
Remitly allows users to send money either Economy or Express. Economy often has lower fees – including no fees for your first transfer – but takes longer to reach the recipient.
If you're sending Economy from Canada to the Philippines, using local currency, the transfer will take up to three days. Remitly charges you $2.99 if you send less than $500, but there is no charge for sending more than $500.
If you need the money to get from Canada to the Philippines immediately, the Express option costs $6.99 regardless of how much you're sending.
Express transfers happen immediately, so they're great for people who need to send money for emergencies. However, they do carry additional fees that can add up the more often you send money with this method.
There also may be situations where Remitly will charge you additional fees, such as when you send money to a recipient in a foreign country but they will receive that money in United States dollars.
Users in Australia, Canada, and the United States will also be charged a processing fee if they elect to fund the transfer with a credit card. You also may be charged additional fees directly by your credit card company, but Remitly has no control over these fees. If you're using a bank account to transfer money, they may also charge you additional fees. These fees are dependent on your bank's policy and are out of Remitly's control.
Pros

and

Cons

of using Remitly
Pros
Easy to use with user-friendly online applications and mobile app.
Those who receive money can collect their money at any Remitly partner bank, including nearly all big banking networks in the countries where Remitly is available.
Multiple payout options, including bank transfer, mobile wallet, home delivery, and pickup at over 140,000 locations.
Currency exchange rate locks in when you start the transfer, protecting you from fluctuations before the money gets to the recipient.
Text message alerts for you and the recipient so you both can track when money has been sent and received.
If you are unhappy with the service you receive from Remitly, you get a refund on all the fees you paid.
Its website is secure, meaning you can be confident you're transferring money securely.
Cons
Often not the cheapest money transfer option, with exchange rates that are lower than other services.
Fixed fees can get expensive if you're transferring smaller amounts of money.
You may be limited in how you can send money and how the recipient gets the money depending on where you're sending money.
Daily and monthly limits on how much you can send without going through extra verification steps.
Higher fees for express transfers. You need to pay much more in fees if you want to fund your transfer with debit or credit card.
How Remitly Works?
Create your free account
Sending money from person to person is relatively quick and easy with Remitly, with most transfers being sent within a few minutes of signing up. Visit www.remitly.com to create your free account. You will be asked to select a country you're sending money to, enter your email address and password. Voila, your Remitly account was just created.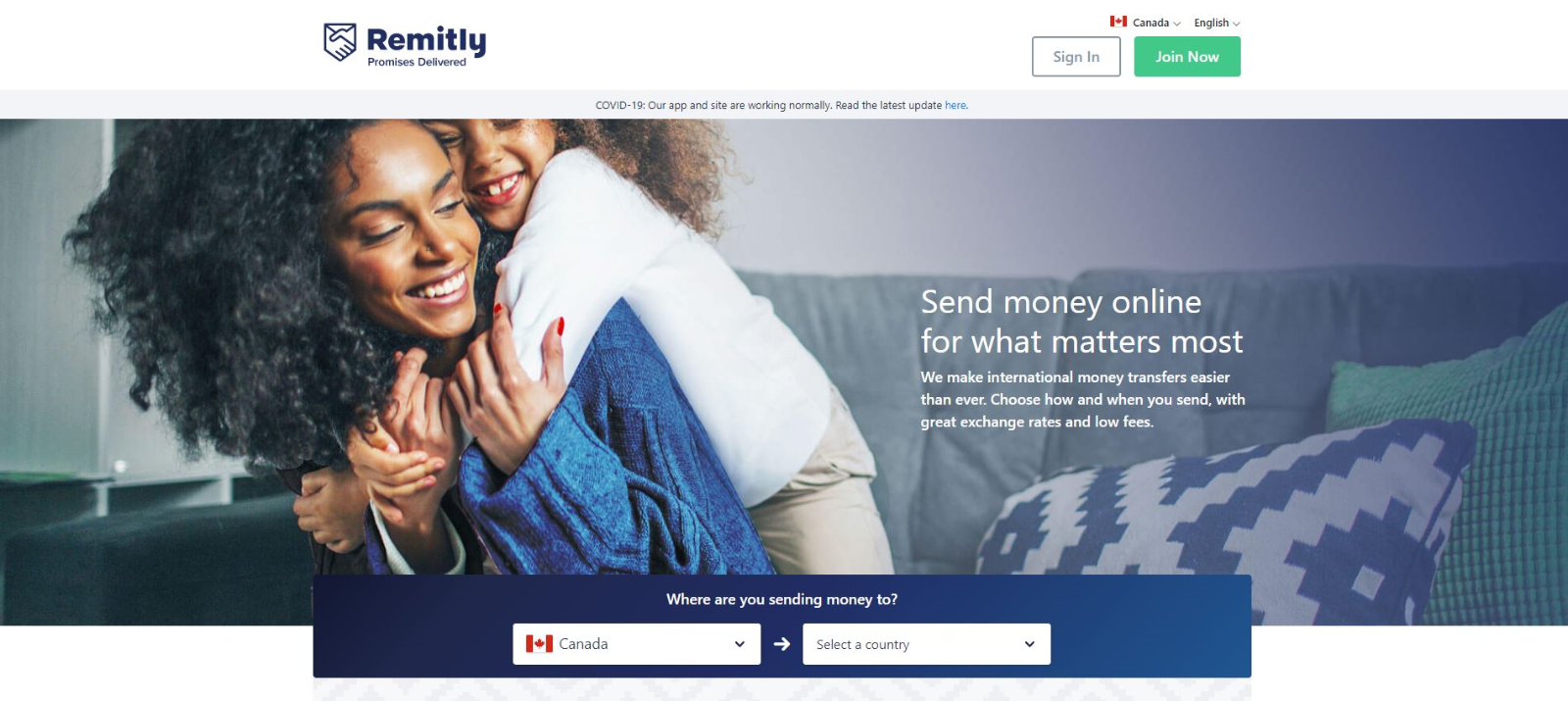 Complete a verification
After you created your free account, you'll need to provide more information about yourself. Your full name, residential address, phone number, and occupation will be required to initiate your first money transfer. It's a mandatory government requirement, and there is absolutely no way around. Moreover, if you want to send larger amounts, you will need to provide certain documents and have them verified.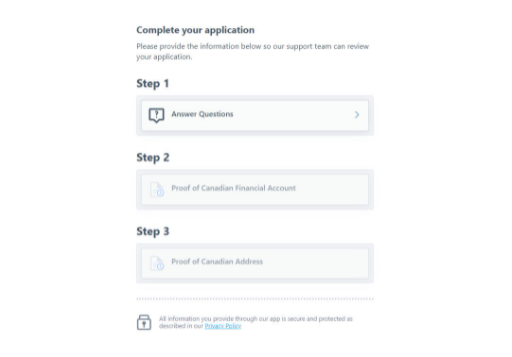 Initiate your first transfer
Now, it's time to start your first money transfer. Enter the amount you want to send and select the delivery method. Depending on the delivery method, you'll need to select bank options or provide some extra information.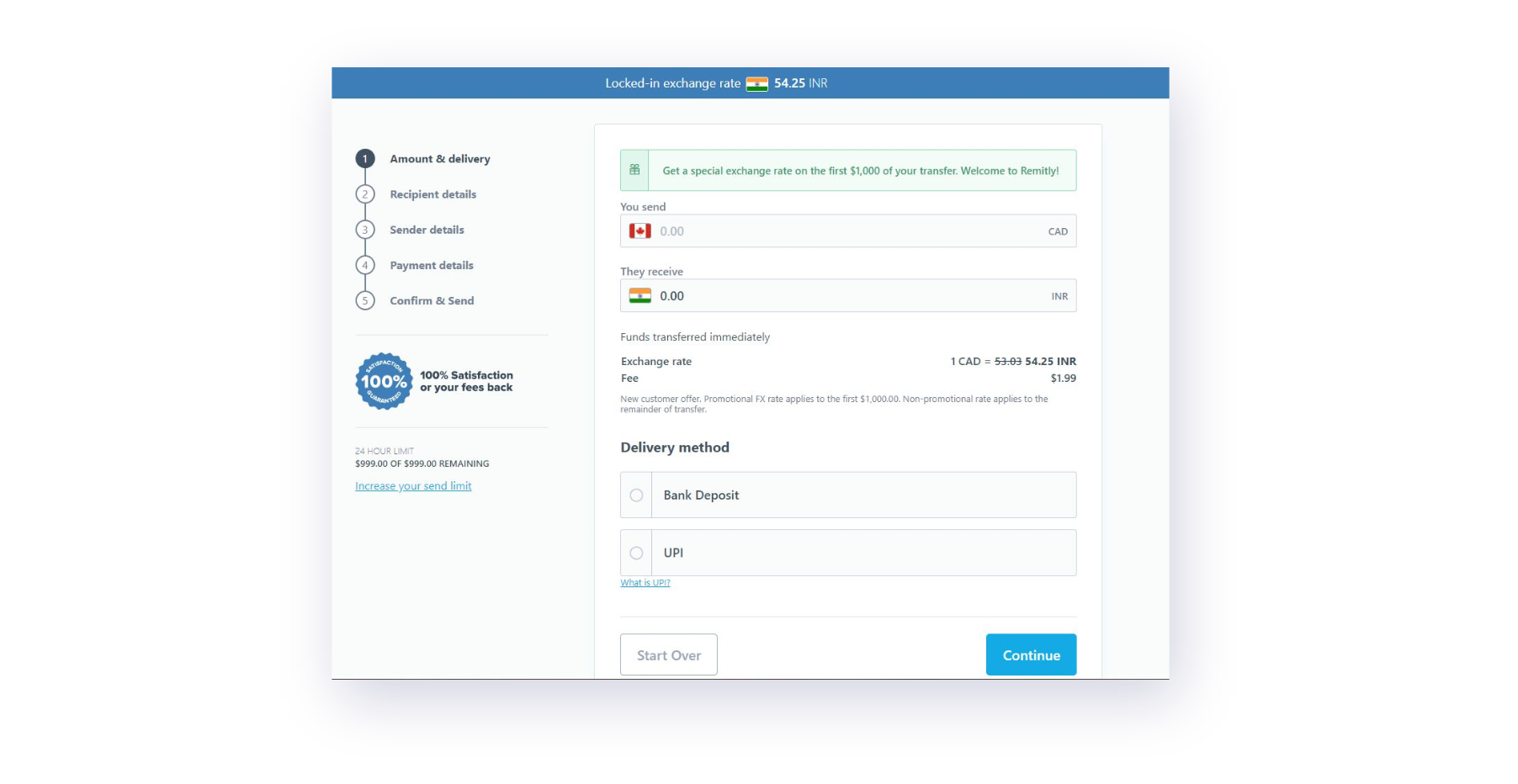 Add your recipient
Next step – adding your first recipient. Remitly will ask you to provide information about the receiver and his bank details. If your delivery method different from the bank deposit, some extra information might required.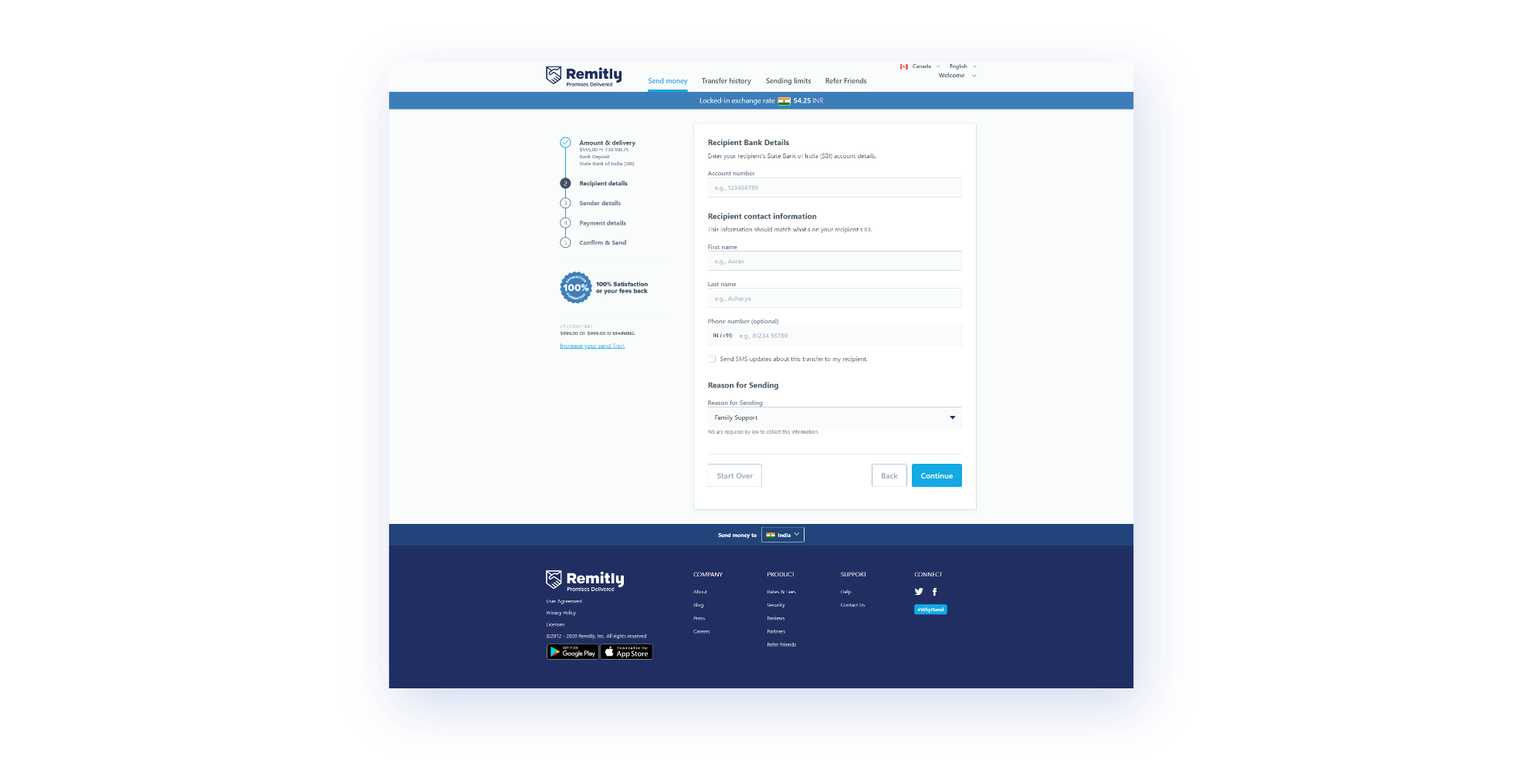 Review your transfer and send
You are almost done! At the end of the process, you need to select a payment method for your transfer and enter payment details (your credit card or bank information). Right after that, you'll prompted to the overview screen. Here you need to overview all the transfer details once again. If everything is correct, you just confirm and pay! That's it, your first Remitly money transfer just completed.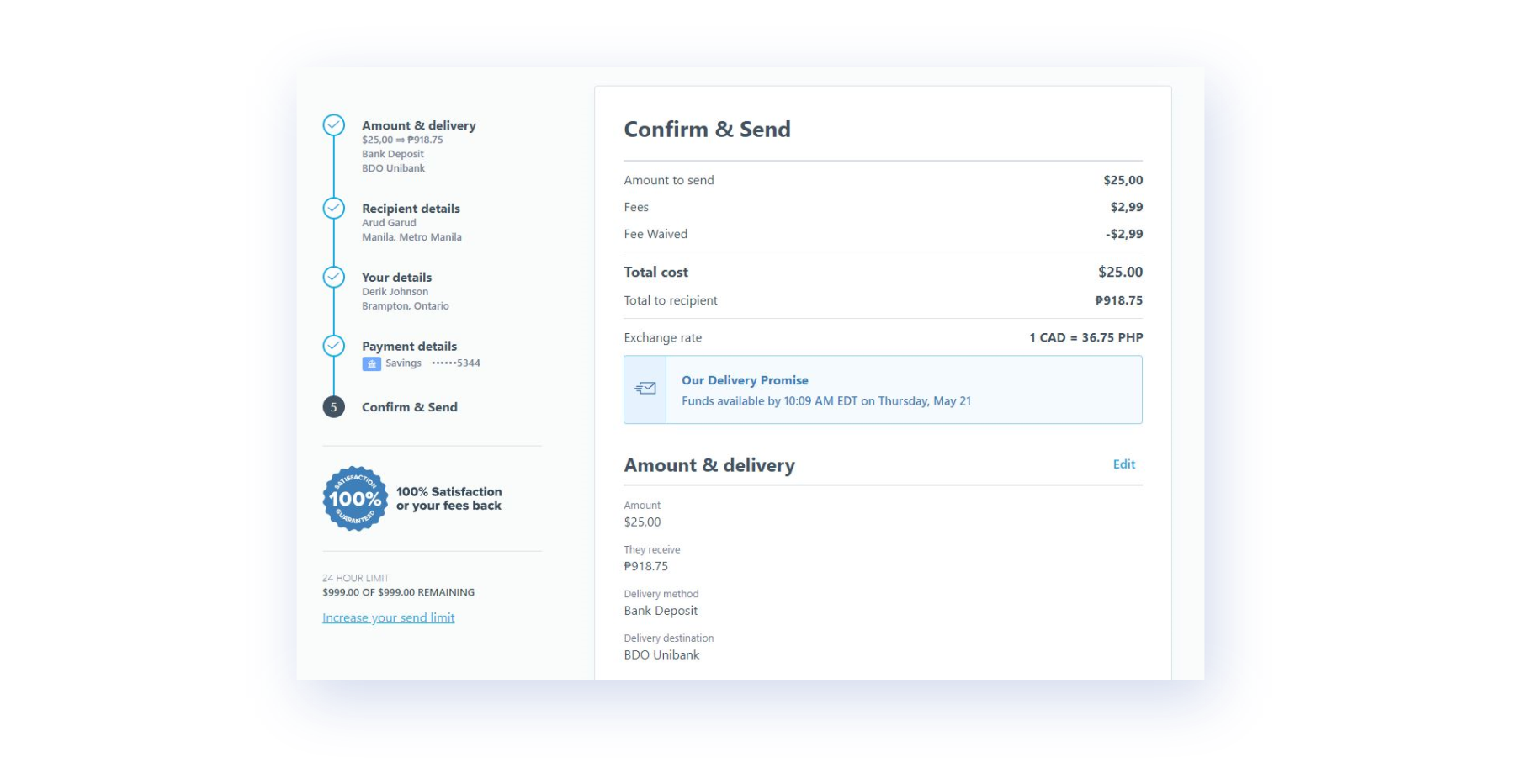 Other Money Transfer Providers

Remitly Exchange Rates
Remitly's exchange rates are competitive with other online money transfer services, typically coming in between 0.5% and 2% worse than general market rates.
The company not only makes money with these exchange rates that are worse than the market, as well as additional fees charged by Remitly.
For example, if you want to send $500 from Canada to the Philippines, you will pay between $2.50 and $10 more to send that money with Remitly over base exchange rates.
The company also charges you fees for sending money instantly with a credit or debit card, as well as fees for transferring money to the Philippines in U.S dollars instead of the native currency.
How Remitly makes money?
Remitly makes its money by charging customers to send money from one country to another. These fees are what you pay based on where you're sending money, how much you're sending, how fast you want the money to get there, and how you're paying to send the money.
The fees Remitly charges are higher than some of their competitors, so shop around before deciding what service to use to send money overseas.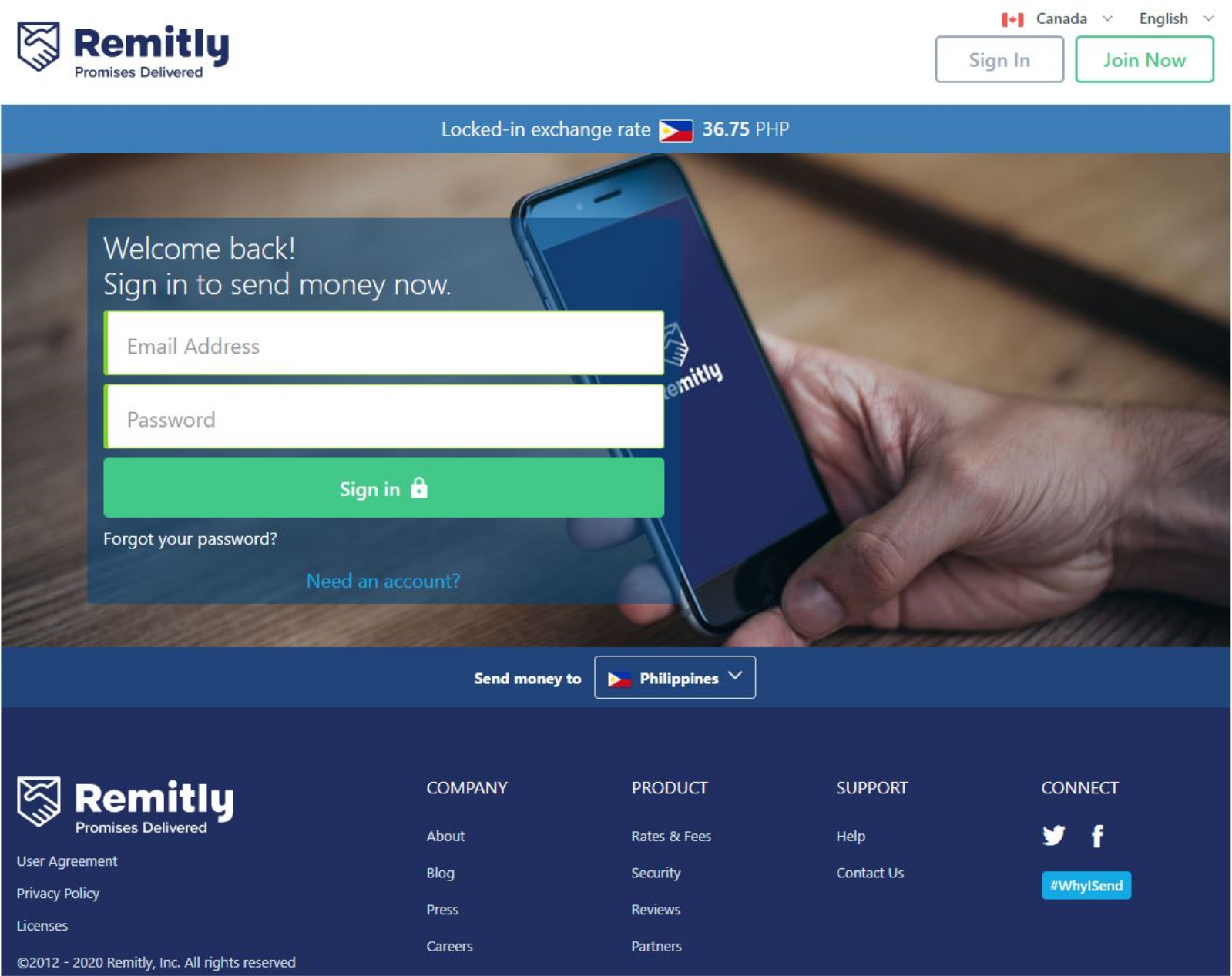 Platforms Where Remitly Is Available
Remitly is available for use on your computer, tablet or mobile device through its web-based platform. Additionally, the Remitly app is available for Android and iPhone devices.
All of Remitly's platforms come highly rated by customers for their ease of use and user-friendliness.
Is Remitly Secure?
Remitly considered a very secure and trustworthy online money transfer provider.
The company is a registered Money Services Business with the United States Department of the Treasury and is a licensed money transmitter. Remitly also authorized to operate in all Canadian provinces, as well as the United Kingdom and Ireland.
Remitly offers a variety of safeguards and security measures to protect your information and your money, including:
All Remitly accounts are verified using a variety of different measures, helping keep them safe and secure while also preventing fraud.
In order to send money through Remitly, users must submit certain documents to prove their identity.
Remitly uses manual and automated fraud detection techniques and risk management procedures, helping them detect and eliminate suspicious account activity.
All transactions protected by strong online security measures, including 256-bit SSL encryption with a 2048-bit signature.
Remitly is financially strong, and it has the backing of a variety of investors including TomorrowVentures, Jeff Bezos, Trilogy Equity Partnership, QED, and DJF. They have raised more than $100 million in venture capital, and completed a second round of fundraising with investors such as Barclays, Bridge Bank, Goldman Sachs, Prudential Financial, and Top Tier Capital Partners.